Extra rail strikes have been scheduled over the Christmas period, the RMT union says.
Staff at Network Rail - about half the workers involved in a pay dispute - are expected to walk out from 6pm on Christmas Eve until 27 December.

A new offer was made by the company on Sunday but the union is urging members to reject it.

Network Rail accused the RMT of using passengers and workers as "pawns in a fight with the government".

"They are playing fast and loose with people's Christmas plans and the new strike dates announced deliberately target vital engineering work designed to improve the railway," Tim Shoveller, Network Rail's chief negotiator said.

The RMT represents rail industry workers at Network Rail, who maintain the railways, as well as workers at train operating companies. The union is involved in two sets of talks in a long-running dispute over pay, jobs and working conditions.

Planned strike action - due to start next week and continue into January - will also go ahead, the union added.

As well as the strikes on 24 - 27 December, industrial action at 14 train companies across four 48-hour periods will take place on:

* 13-14 December

* 16-17 December

* 3-4 January

* 6-7 January

Passengers had already been warned to plan their travel well in advance over Christmas, with some 5% of the rail network shut for engineering works - although many trains do not run over Christmas Day and Boxing Day.

The RMT union is putting a new offer from Network Rail to its members in an electronic referendum, which will close in a week's time. But they are being urged to reject the offer, which its general secretary Mick Lynch said was "not acceptable".

Network Rail had said the latest offer was its "best and final". It includes:

* A 5% pay rise this year and 4% next year

* No compulsory redundancies for workers who are not managers and controllers until 31 January 2025

* A 75% discount on leisure travel for staff and their family members

The inflation rate, which measures how prices change over time, increased to 11.1% in October.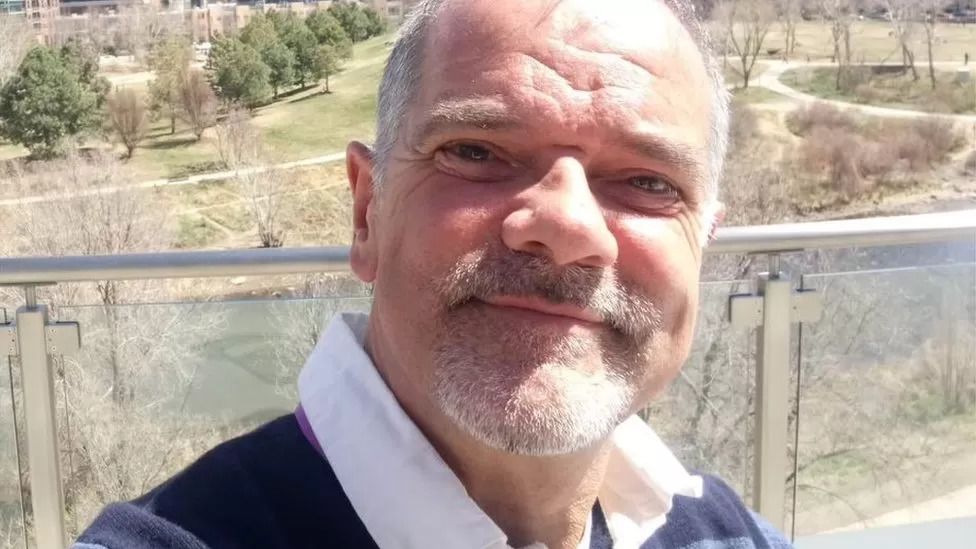 Nigel Goddard says he will not be able to see his son and granddaughter over Christmas

Nigel Goddard in Croydon says the industrial action means that his family's Christmas has been "ruined".

He will not be able to see his son in Newcastle this December, and will miss visiting his six-month old granddaughter over the holidays.

"We have three possible days that we can meet up for Christmas lunch but there are strikes on all three of the days," he told the BBC.

The last time Nigel saw his son was September 2021. He said he will also miss out on his staff Christmas party.

"Mick Lynch needs to get into the real world and realise he is crippling the railways," he added.

The RMT also rejected the first offer from the Rail Delivery Group (RDG).

Its talks are separate to negotiations with Network Rail, which maintains the railways throughout Britain and employs signallers and maintenance workers.

The group had proposed a number of changes to working practices which it said would help to fund a pay rise for staff of 4% this year, backdated to the beginning of the financial year, followed by another 4% next year.

These include repurposing or closing ticket offices, with staff having new "multi-skilled" roles and Sunday working where it is not in place already. Other proposals by the RDG to "secure the future of the industry" included drivers operating the train doors in more areas, although it insists guards would still be on board.

There would also be a guarantee of no compulsory redundancies until April 2024.

'Compelled to take action'

Following a meeting to discuss the offer with the union's executives, Mick Lynch, RMT union general secretary, said it was "unfortunate that the union had been compelled to take this action".

"We remain available for talks in order to resolve these issues but we will not bow to pressure from the employers and the government to the detriment of our members," he added.

Transport Secretary Mark Harper said the latest developments were "incredibly disappointing".

"The RMT has failed to play its part and our rail network now faces more harmful disruption rather than helpful discussion," he suggested, pointing towards the fact that a smaller union, the Transport Salaried Staffs Association (TSSA), is putting an offer to its members from Network Rail.

The TSSA had been due to strike on 17 December, but that has been called off.

The RMT, along with other rail unions who have also been striking, is seeking pay rises that keep up with the surging cost of living as well as improvements to working conditions.

But pubs, restaurants and cafes have said they are worried that if the rail strikes go ahead in the upcoming weeks they will be severely affected, as Christmas is usually their busiest time of the year.

UK Hospitality recently warned that the strike action will cost the sector about £1.5bn in lost sales.

About 40,000 rail workers across Network Rail and train companies are expected to walk out. There is likely to be disruption in the days around the strikes as well due to trains not being in the right places.

The rail industry is under pressure to save money after the pandemic left a hole in its finances, and bosses say reforms are needed to modernise the railway and make pay rises affordable.