The delayed and over-budget Crossrail project will finally open this month, Transport for London (TfL) has said.
The Abbey Wood to Paddington section will open to passengers on 24 May, although initially trains will not run on Sundays or call at Bond Street.

Known as the Elizabeth line, it was meant to start running in December 2018 but the £18.8bn project has missed multiple targets amid ballooning costs.

The railway will link Reading and Essex via central London.

Once the route is open, services in the central London section will run every five minutes between 06:30 BST and 23:00, although a full timetable will not be in place until May 2023.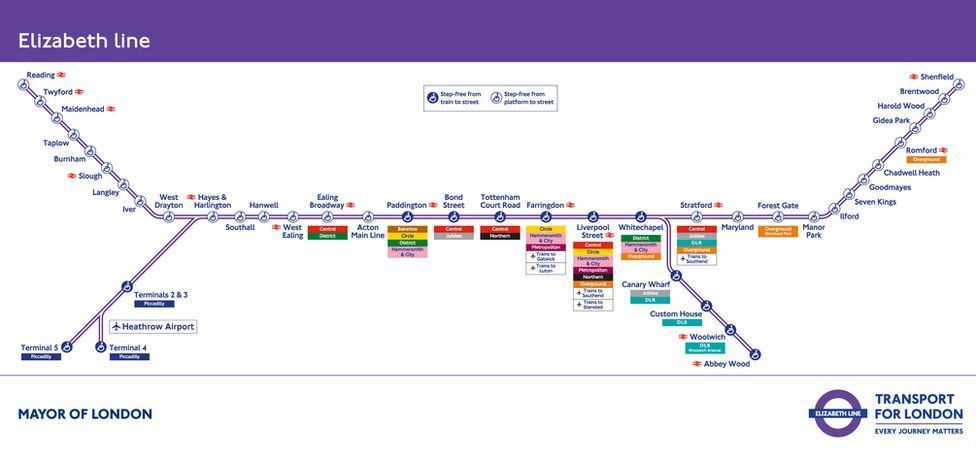 The new line will slash journey times from Abbey Wood in south-east London to Paddington by almost half - to 29 minutes.

Travel times between Liverpool Street and Woolwich will also be halved to 15 minutes, while a trip between Farringdon and Canary Wharf, which currently takes 24 minutes, will take 10 minutes.

However, passengers wishing to travel the length of the line will still need to change at Paddington or Liverpool Street, depending on their destination, until next year.

Although a special service will be in place for the Platinum Jubilee weekend, TfL said trains would not initially run on Sundays "to allow a series of testing and software updates".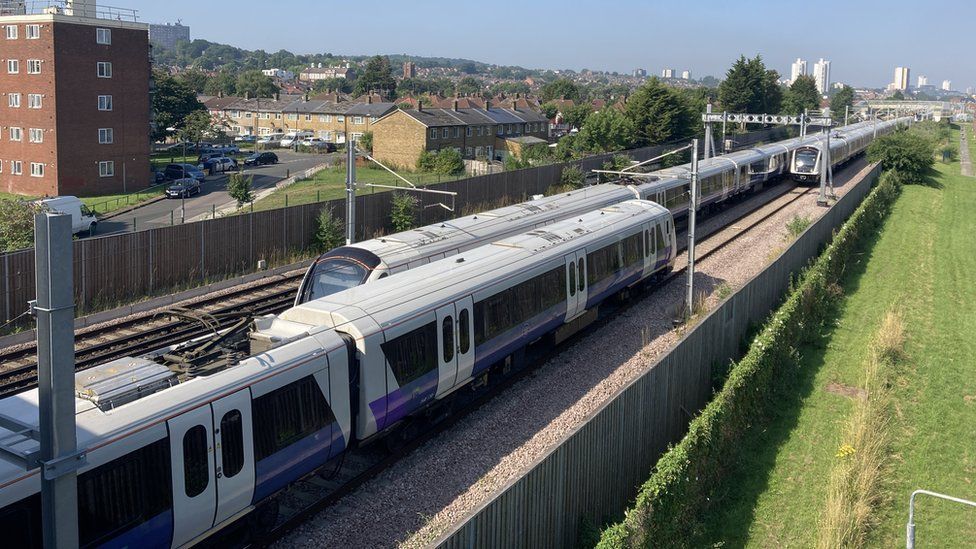 Crossrail trains have been tested throughout 2022

The opening date is subject to final safety approvals being granted.

Previously, transport bosses would only commit to an opening date during the first half of 2022.

It is hoped the Queen - who the line is named after - will be involved when the route begins to operate.

Construction of Crossrail began at Canary Wharf on 15 May 2009, with tunnelling work starting in May 2012.

The project had an original budget of £14.8bn, but the government pledged an extra £4bn to help get it open.

Services which are already running in the east and west sections will continue to operate every day, but they will be rebranded from TfL Rail to the Elizabeth line from 24 May.

Analysis
By Tom Edwards, BBC London transport correspondent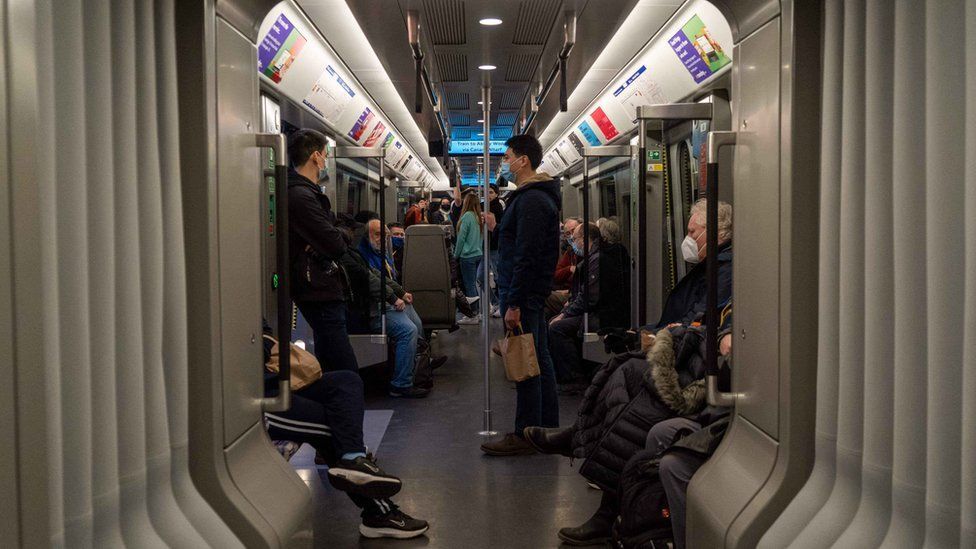 Better late than never. You can almost hear the sighs of relief at TfL. After all the problems - and there have been many - at last Crossrail has an opening date.

The budget has grown from £14.8bn to £18.8bn and the opening date slipped so many times that it became hard to keep track. Some doubted it would ever open.

A new management team was brought in following delay after delay. It will now open nearly four years late.

A lot of the shenanigans, I suspect, will be forgotten when people see the stations and the trains. They are very impressive and big. And if it works, the trains will be very regular - the project will increase central London rail capacity by 10%.

Not only will this be a game changer for travel in London, it'll also bring in much needed revenue for TfL.

Don't forget 70% of Crossrail was paid for by London through TfL, the Greater London Authority and its businesses and fare payers.

Now TfL has to run a good, smooth service.

London's transport commissioner Andy Byford said the next three weeks would be used "to build up reliability on the railway and get the Elizabeth line ready to welcome customers".

He said: "The opening day is set to be a truly historic moment for the capital and the UK, and we look forward to showcasing a simply stunning addition to our network."

Mayor of London Sadiq Khan, who is also chair of TfL, said the Elizabeth line would make London "safer, fairer, greener and more prosperous".

He said: "Green public transport is the future, and the opening of the Elizabeth line is a landmark moment for our capital and our whole country, particularly in this special Platinum Jubilee year."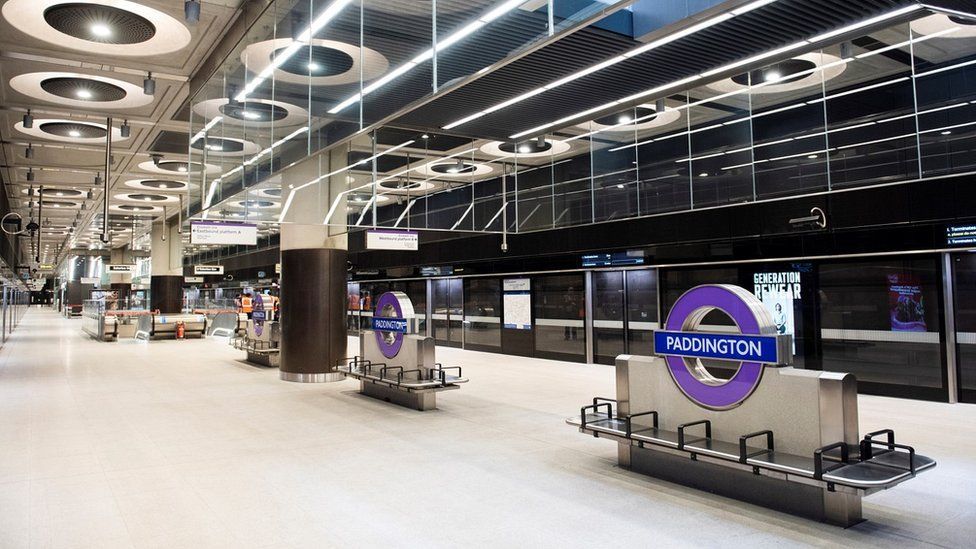 Different architects worked on the various stations to give them their own distinctive character

But Transport Secretary Grant Shapps accused the Labour mayor of breaking pre-local election rules by announcing the opening date a day before local elections take place across London on Thursday.

Mr Khan is chair of TfL, which made the announcement.

Rules restrict what communications activity can take place in the run-up to elections.

Mr Shapps said: "This announcement is an act of breath-taking political cynicism by the mayor.

"I am therefore immediately referring this breach to the Electoral Commission for investigation."

Caroline Pidgeon, the Liberal Democrat chair of London Assembly's Transport Committee, said Crossrail would "transform travel across London".

"While recognising the benefits that Crossrail will provide for the future we should not overlook the mistakes that have been made in the past," she added.
Trial operations have been carried out already