The publication of leaked WhatsApp messages sent and received by former health secretary Matt Hancock has highlighted the issue of government policy on care homes during the first wave of coronavirus.
The Telegraph claims Mr Hancock ignored advice - in April 2020 - to test everybody going into care homes.

His spokesperson disputes this and says he had also been advised that there was not enough capacity to do so.

So, what action did the government take in the care sector in England, where there were more than 40,000 deaths involving Covid-19.

Testing

On 14 March 2020, the government began prioritising the most vulnerable individuals for testing, including those in hospitals and care homes.

If an outbreak was suspected, a handful of residents at a home could be tested.

Reality Check understands that some care providers found access to testing to be very limited at this time.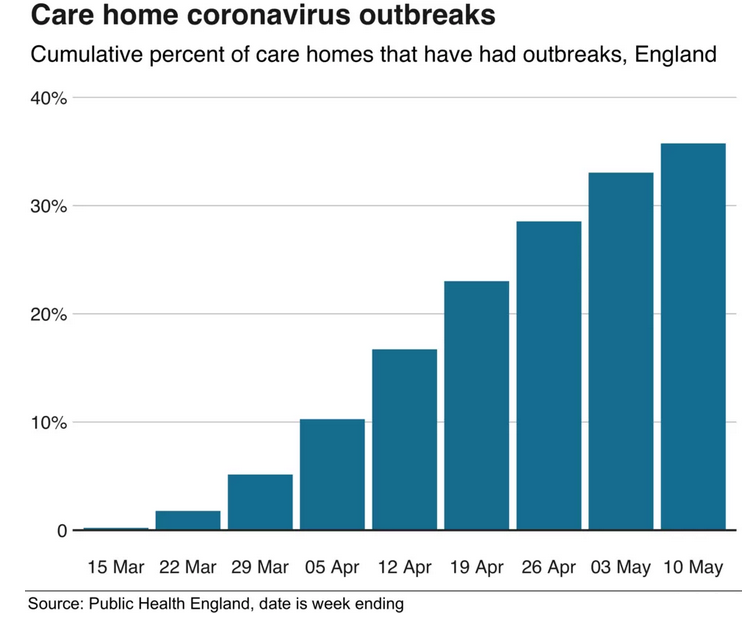 On 14 April, according to messages seen by The Telegraph, which we cannot independently verify, there was discussion of advice from Chief Medical Officer Sir Chris Whitty to Mr Hancock that there should be testing for everyone going into care homes.

It is reported that Mr Hancock initially accepted that advice but later that day changed his mind and said the government should just commit to testing people being moved to care homes from hospitals.

Mr Hancock's spokesperson said this followed an operational meeting at which he had been advised that it was not possible to test everyone going into care homes.

On 15 April, the social care action plan was launched as care home deaths in England were peaking at around 400 a day.

This included a pledge to test all care staff who needed one, for example if they were in a household that was self-isolating.

At that point, just 1,000 care staff had been tested out of an estimated half a million who work in care homes.

The government said it would "move... to a policy of testing all residents prior to admission to care homes", starting with people being moved there from hospitals.

All care home residents with coronavirus symptoms would also be tested.

On 28 April, this was extended to all care staff and residents, regardless of whether they had symptoms.

It's important to remember that early in the pandemic it wasn't widely understood that people who didn't have symptoms could pass on coronavirus.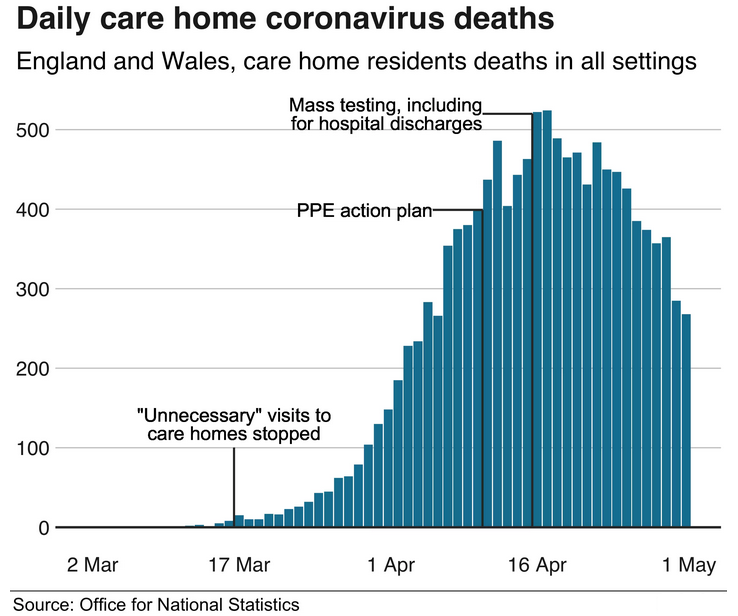 Moving patients from hospitals to care homes

On 19 March 2020, NHS guidance said that "unless required to be in hospital, patients must not remain in an NHS bed".

This policy was implemented to free up beds in advance of an expected surge in coronavirus patients.

On 2 April, the rules on discharging patients to care homes were clarified, saying "negative [coronavirus] tests are not required prior to transfers/admissions into the care home".

Even elderly patients who tested positive could be admitted to care homes, if measures - such as wearing personal protective equipment (PPE) and isolation - were used.

From 15 April, the government said that all patients discharged from hospitals would be tested for coronavirus.

By this time, an estimated 25,000 patients had been discharged to care homes. In July, Panorama gathered data from 39 hospital trusts, which showed three-quarters of people discharged were untested.

Up to this point more than 5,700 care home residents had died in England and Wales (either in homes or in hospital).

Public Health England has published research into the impact of hospital transfers. It found that 1.6% of the lab-confirmed outbreaks in care homes that they knew about by mid-October 2020, had come from people discharged from hospitals.

But it is not clear what percentage of outbreaks up to 15 April (when the testing policy changed) were the result of patients being moved to homes.

And it is important to note that, at this time, there was a lack of testing so not every outbreak may have been recorded. Also, the figures do not count people who were not previously care home residents who were transferred into them from hospitals.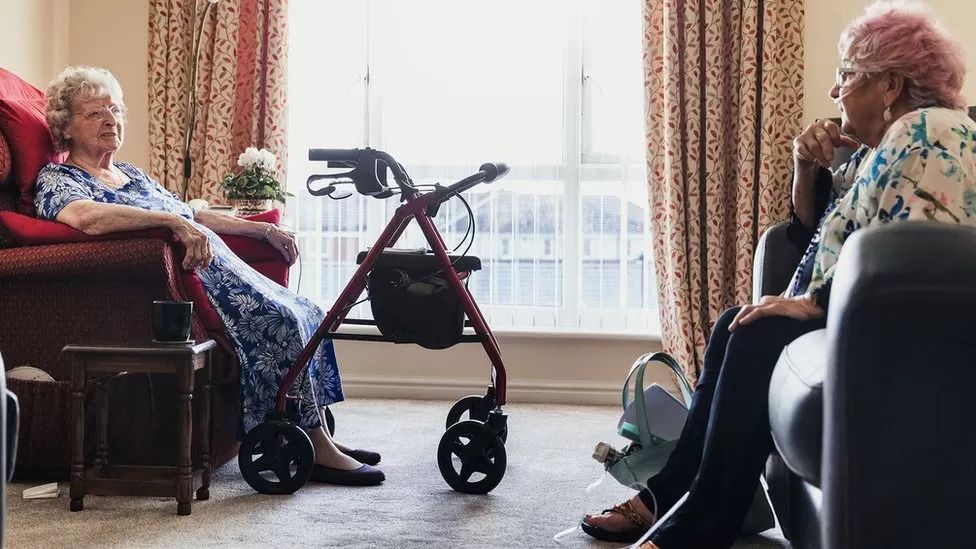 The government has repeatedly said that decisions to discharge patients from hospitals during this time were made by medical professionals on a case-by-case basis.

The government has repeatedly said that decisions to discharge patients from hospitals during this time were made by medical professionals on a case-by-case basis.

Personal Protective Equipment (PPE)

In March 2020, specific guidance related to coronavirus said that the PPE in care homes should be similar to that used in hospital settings.

The government launched the National Supply Disruption Response on 13 March, a centralised line for care and health providers to raise concerns.

This was followed on 19 March by a promise to deliver 300 masks to each care provider.

Concerns over PPE peaked at the end of March and early April, as bodies such as Unison, the Royal College of Nursing and care homes themselves highlighted shortages.

Because care homes are generally privately-run, they are responsible for purchasing their own PPE. Many found their local suppliers were running low and that they were competing with better-funded hospitals.

A letter from the government on 2 April recognised "the challenges providers may have experienced in obtaining PPE supplies over recent weeks," and promised that the supply chain would be bolstered, with support from the armed forces.

On 10 April the government announced a PPE action plan, which included freeing up 34 million pieces of equipment to "local resilience forums" who would then distribute it to care homes through local authorities.

By this point, 3,100 care home residents had died in England and Wales.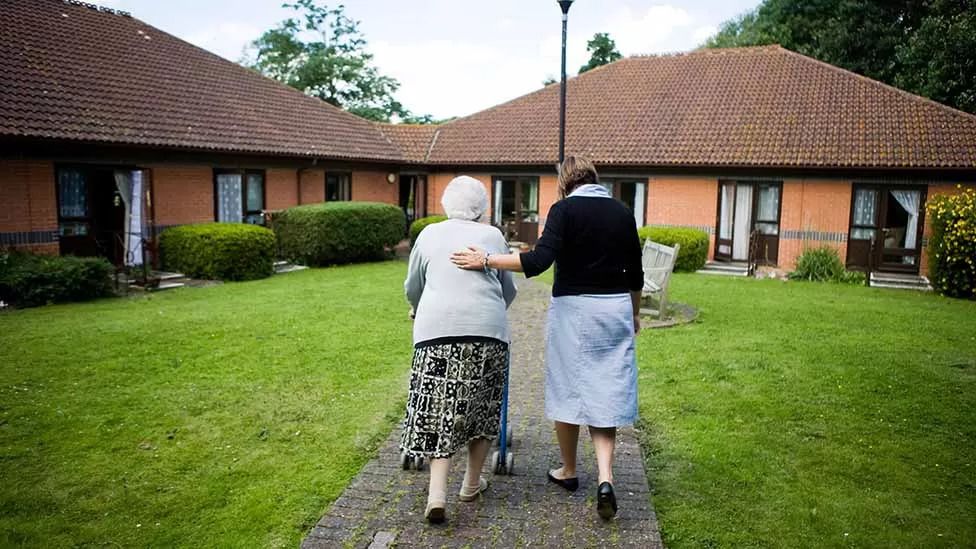 Visiting care homes

General guidance produced on 25 February 2020 included advice for carers on what to do if they came into contact with someone with Covid-19 - but there was nothing advising against visits to care homes.

In one section it said: "It remains very unlikely that people receiving care in a care home or the community will become infected."

Another section said: "Currently there is no evidence of transmission of Covid-19 in the United Kingdom. There is no need to do anything differently in any care setting at present."

However, the government's own Scientific Advisory Group for Emergencies (SAGE) had advised on 10 February that "it is a realistic probability that there is already sustained transmission in the UK, or that it will become established in the coming weeks."

On 3 March, the government released its coronavirus action plan - the document did not mention restricting visits to care homes.

By 5 March, England had had 273 cases of people with the virus.

That day Prof Chris Whitty told a committee of MPs that as there were cases that could not be traced back to people who had come from abroad, it was "highly likely therefore that there is some level of community transmission in this virus in the UK now".

Italy suspended visits to care homes at this point, five weeks after recording its first case. A day later, Nursing Homes Ireland, which represents hundreds of care homes in Ireland, banned non-essential visits, just six days after the first confirmed case in the country.

On 10 March, Prof Martin Green, head of Care England, which represents independent care providers, directed criticism in an Independent article at the government for its response.

"There is no evidence of a plan. I'm not even certain they have these plans and aren't just making them up as they go along," he said.

Some homes were already deciding to close their doors to visitors, with care groups Barchester and HC-One stopping non-essential visits on 10 March and 12 March.

Scottish Care - a representative body for social care in Scotland - advised care homes to close to visits on 11 March.

On 13 March, the government's guidance from 25 February was updated to say that "care home providers are advised to review their visiting policy, by asking no-one to visit who has suspected Covid-19 or is generally unwell, and by emphasising good hand hygiene for visitors".

On the same day, Bupa and Four Seasons care homes stopped non-essential visits.

It wasn't until 16 March that it was announced that social distancing should be carried out by everyone, in particular those aged over 70 and vulnerable people.

That day, the prime minister was asked about care homes and said: "We don't want to see people unnecessarily visiting care homes."

In the period between 25 February and 16 March, 14 deaths of care home residents were reported along with 30 outbreaks in England's 15,000 care homes.

On 21 March, guidance was introduced to encourage medically vulnerable people to remain indoors as much as possible until the end of June - a process known as shielding.

Finally, on 2 April a document from the Department of Health and Social Care said that "family and friends should be advised not to visit care homes, except next of kin in exceptional situations such as end of life".