Thousands of people trying to book their Covid booster jabs in England has led to the NHS website crashing, the government has said.
More than half a million people booked their booster jab on Monday, Prime Minister Boris Johnson said.

It comes after the PM said boosters would be offered to over-18s by the end of the year.

Meanwhile, ordering lateral flow kits from the UK government website has been temporarily suspended amid high demand.

From Tuesday, fully jabbed people will be advised to do daily lateral flow tests after contact with a Covid case.

Health Secretary Sajid Javid told the Commons there was "no shortage of actual tests" but the limiting factor was the ability to deliver them because of "hugely increased demand".

He added that new arrangements were being reached with other delivery companies, including Amazon.

Online bookings for the over-30s opened on Monday, while 18 to 29-year-olds will be able to book their booster jabs from Wednesday.

The NHS confirmed 750,000 people were able to book a booster appointment over the weekend.

Long queues at walk-in vaccine centres in England were reported on Monday after the prime minister announced the expansion to the booster rollout, in response to the Omicron variant.

Senior health sources have said the end-of-year target is highly ambitious and delivery may take longer, BBC health editor Hugh Pym said.

At least one person in the UK has died with Omicron, Mr Johnson confirmed on Monday.

The UK Health Security Agency (UKHSA) said 10 people, aged between 18 and 85, had been hospitalised with the variant in England.

It added all were diagnosed on or before admission to hospital and the majority had received two doses of a vaccine.
At the scene
By BBC reporter Andrew Plant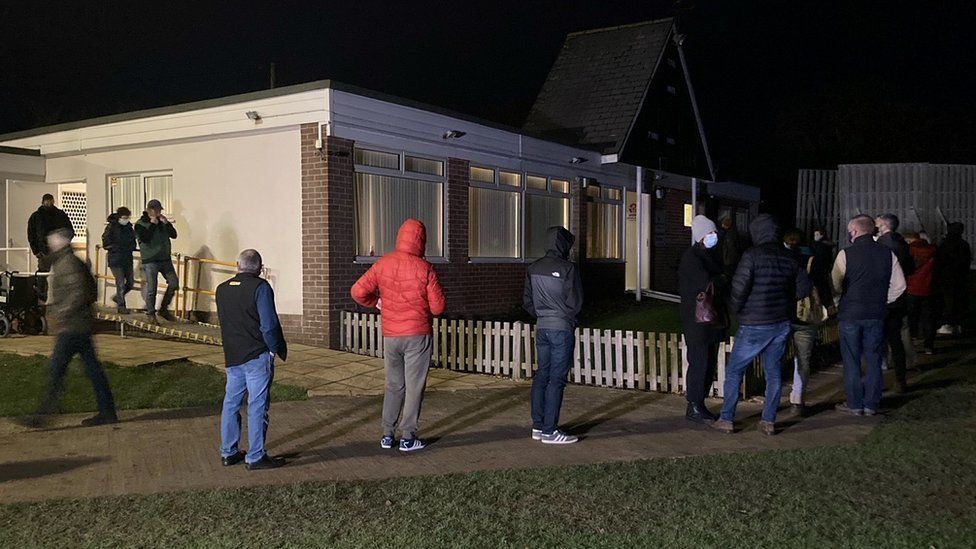 There were long queues for a walk-in vaccination centre in Hungerford, Berkshire

It might be warmer than usual for this time of year - but not when you are waiting for four hours outside.

The queues at Hungerford walk-in centre have snaked around the edge of the football pitch all day. They are open till 7pm, but stopped accepting more walk-ins for booster jabs at 2pm, when the queue was already several hundred people long.

Even the intermittent drizzle and freezing hands didn't seem to put anyone off.

Some told me they had travelled from more than an hour away to come here today. They just want to get their boosters done, as soon as they possibly can.

An NHS Digital spokesperson said: "The vaccine booking service is facing extremely high demand and is operating a queuing system to manage numbers.

"We would advise people currently unable to book to try again later today or tomorrow."

The prime minister's official spokesman said the NHS was making sure there was "further capacity" on the website to book booster jabs in an effort to "adapt to the increased demand".

Jo, 37, from Cambridge told the BBC it had taken her three hours to book an appointment for January and she had gone "round in circles" before managing to do so.

To reach the government's target for all adults in England to be offered a booster by the end of the month, one million doses would have to be administered daily.

More than 500,000 booster jabs and third doses were given in the UK on Saturday, the second day that has happened since the booster rollout began.

Separately, there has been an issue with the ordering of lateral flow tests from the government's website, which earlier said "there are no more home tests available".

The UKHSA said ordering lateral flow tests online had been temporarily suspended to "fulfil current orders" but said there was "no shortage of lateral flow tests".

It added: "Everyone who needs a lateral flow test can collect test kits - either at their local pharmacy, some community sites and some schools and colleges."

Government sources told the BBC the problem would be resolved in a matter of hours after the rapid tests were restocked.

The Welsh government said lateral flows were "readily available through pharmacies and community collection sites".

A spokesperson said: "We would encourage people to use any test kits they may already have at home before ordering more."

The rush for tests followed news that from Tuesday, people who have been in contact with a Covid case will not need to isolate if their daily tests remain negative for seven days, and if they have had at least two vaccine doses.

Anyone who has a positive result from a rapid test should take a PCR test to verify the result, as well as continue to self-isolate.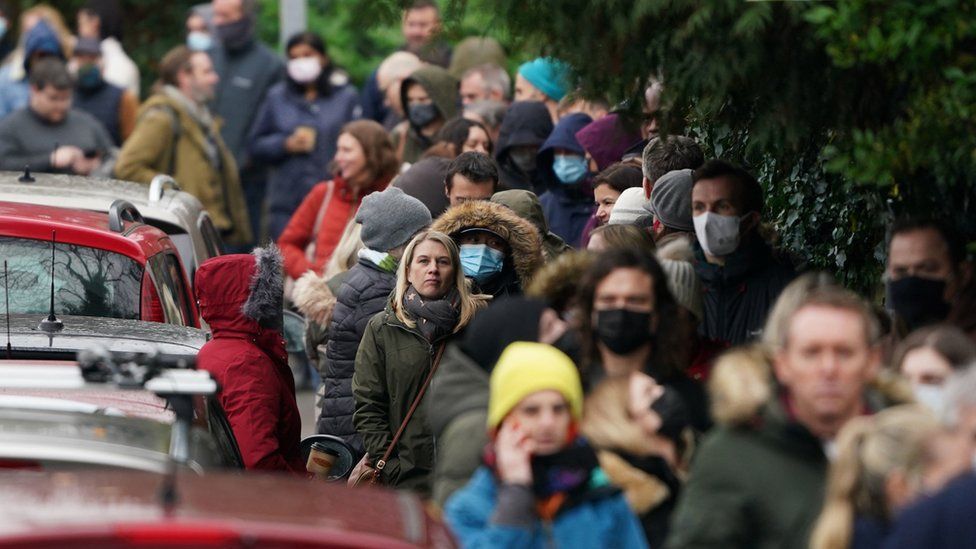 People queuing for boosters outside a pharmacy in Sevenoaks, Kent

Meanwhile, large queues for booster jabs have been forming at vaccination points around England.

At Wimbledon's Centre Court shopping centre in south-west London, the queue for walk-in jabs stretched from one end of the building to the other after just 30 minutes of being open.

By 09:00 GMT, more than 100 adults - mostly under-40s wearing masks and some with babies in buggies - were waiting.

In the West Midlands, a long queue of about 200 people was seen at a car park and side roads at the back of the vaccination centre in Lye, near Stourbridge.

People at the front said they had waited for about an hour to reach the entrance, with some people with booked appointments choosing to leave after being forced to wait.

However, many queuing for a vaccine outside a pharmacy in Bedford have told the BBC that boosters are "worth the wait", with one woman explaining she was try to get hers after a double-jabbed relative was struggling to breathe with Covid.
GPs step up rollout of Covid-19 boosters