Illegal raves will grow in popularity if nightclubs bring in mandatory vaccine passports to enter, an organiser of illicit events has said.
The North East man, known only by his alias Joy Circuit, believes those who are sceptical of the vaccine will turn their backs on high street nightlife.

He has arranged and attended about 100 of the so-called "free parties", where DJs use professional set-ups outdoors.

The Home Office said the events had a "terrible impact" on communities.

Although he is heavily involved in the North East scene, "illegal rave" is not a term Joy welcomes. He prefers to describe his events as being part of the "free party" movement.

'Out of order'

"I suppose it is a counter culture but we aren't anti-authority. It's about coming together, respecting each other and respecting the land, loving the music and having a party," he said.

"We are a very friendly bunch. We're not all raving chavs off our heads on drugs.

"The government said you wouldn't need [vaccine] passports, and now they are. People won't be able to get into the clubs, so what will they do? 'Oh there's a free party there, lets go to that', so I do think it's gonna get more and more."

Video taken at one of Joy's events shows a DJ performing under a marquee, flanked from each side by psychedelic artwork, depicting owls and the hamsa symbol in bright, neon colours.

It's dark, and the scene is illuminated by flashing lights akin to those you would typically find in a nightclub.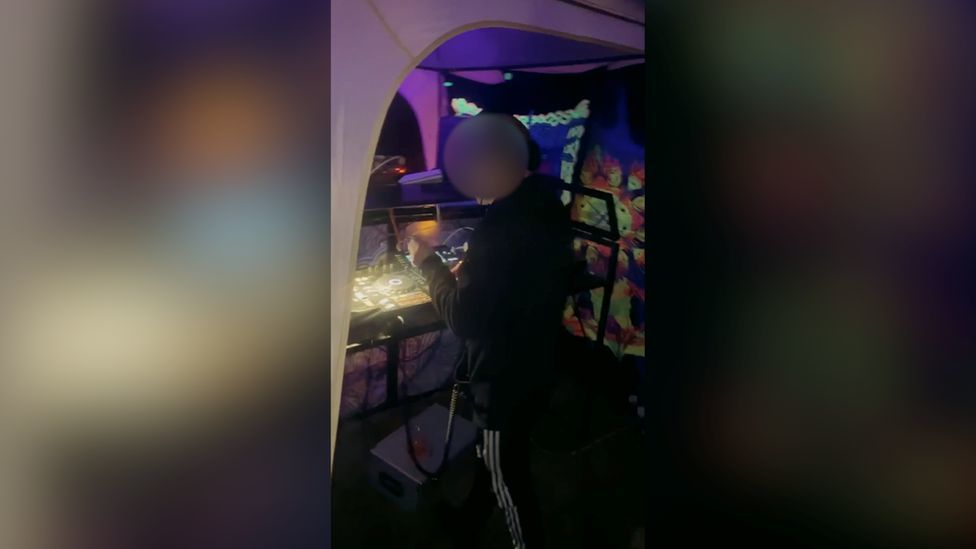 Different "free parties" play different types of music. Joy's are mainly for fans of psy-trance, which he makes himself. It's a sub-genre of electronic music that's high-tempo and hypnotic.

Joy says some friends from London drove up with a huge sound system, which is powered by a diesel generator.

Another video titled "aftermath" appears to show the same spot the morning after the event. The marquee is gone, the speakers are gone and several vans can be seen driving away.

The footage appears to back up Joy's claims that "free party" people take extreme pride in leaving as little a trace as possible.

However, this can't be said for all illegal parties - in June, Sussex Police said it was met with "significant hostility" as it shut down a party in Steyning. A local farmer described livestock distress and "a lot of mess".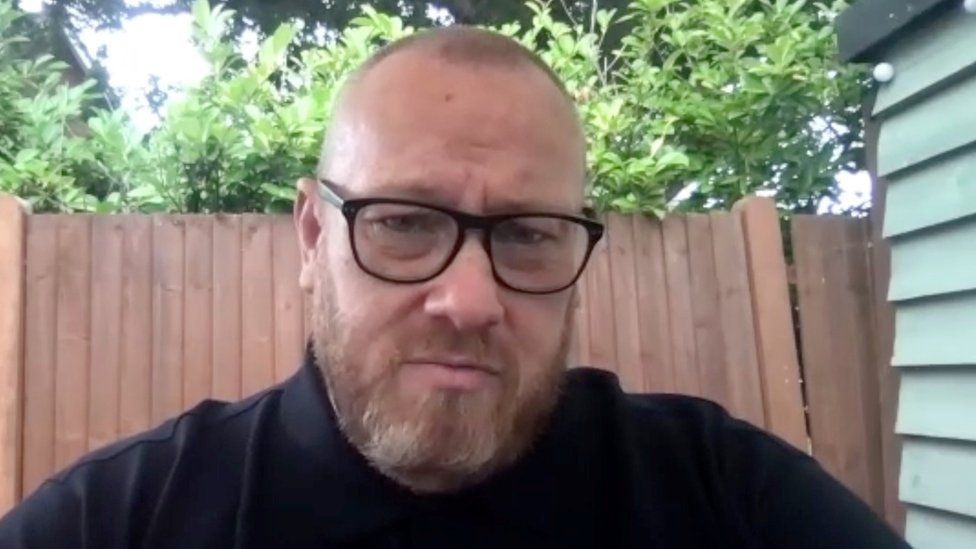 Joy describes such scenes as being "out of order", giving organisers like him "a bad name".

The "free party" scene is tight-knit. To find out about his events, you need to have been told by mutual friends. To attend, you need to have been vetted.

"We have to control who goes. We don't just have everybody. We're nice people. If you're a nice person too then you're welcome," he said.

"There's 18 year olds to 70 year olds. Everything from teachers, to lecturers, to hippies, to chavs. People from all walks of life."

Joy says despite "calming down" in recent times, "free parties" continued to be hosted throughout the coronavirus lockdowns, although he claims they were smaller events.

He says the spread of the virus was not a concern as the people there were "sensible".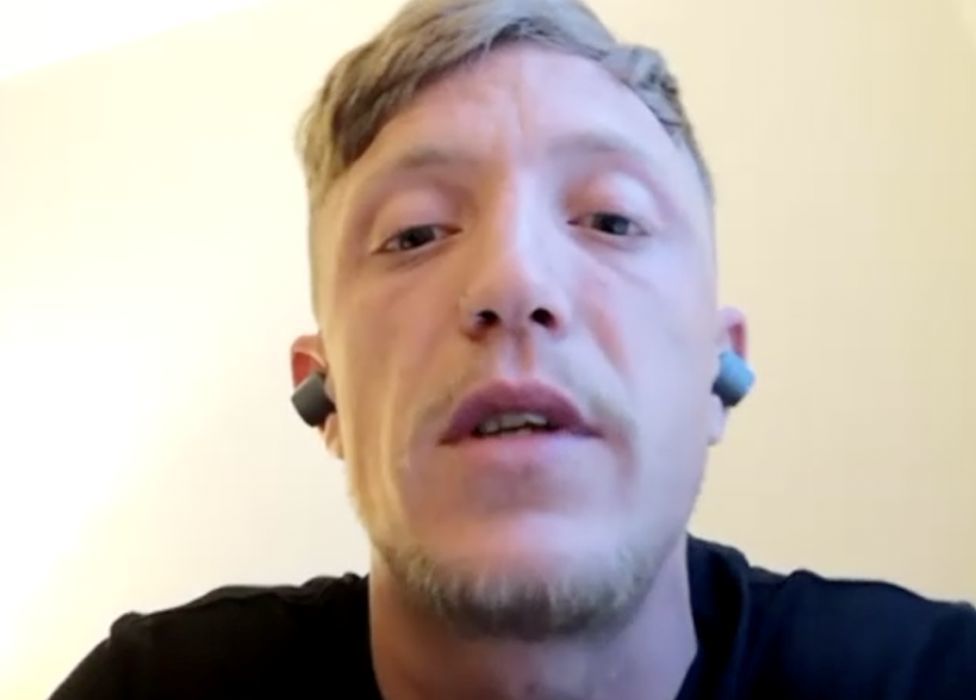 Eth, who is in his late 20s and from the North East, was introduced to "free parties" at a young age by his parents.

He has attended "too many to count" and considers the scene a part of who he is.

"To me, it's a little bit of freedom and a middle finger to everything. To oppression and all that sort of stuff," he said.

"I don't mind going to the pub for a pint with the boys but I wouldn't pay to get into a nightclub to listen to commercial dance music and I haven't for a long time.

"I haven't been to [a free party] in the past few years where the police haven't been there. I've been to some where they've handled the situation very differently to others. A lot of the time they cause more upset than they need to.

"There's no need to ever come in with shields and batons. If they spoke to people in a nice manner I think it would get them a lot further."

Early on I asked if I could come and report from a party but was told that as "everyone is totally against it" I'd not be welcome.

The reluctance to have a journalist at your "free party" is understandable as they are against the law.

An infamous rave in 1992 saw the Criminal Justice and Public Order Act passed two years later, giving police the power to shut down parties and turn away vehicles anywhere within a five-mile (8km) radius.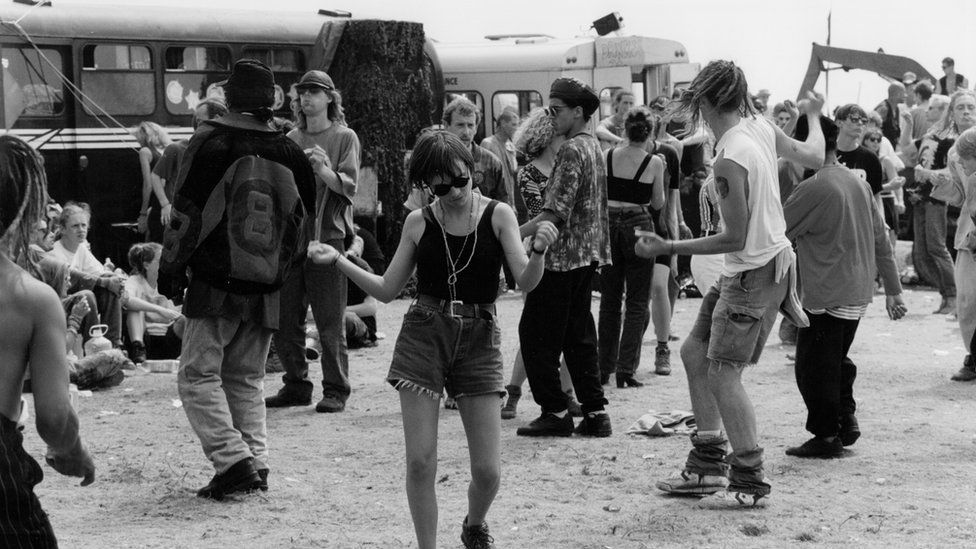 Joy estimates that about a third of his parties end up with police officers in attendance, although "they're normally OK".

Police forces in the North East were unable to disclose how many times they had shut down illegal raves in the region using the Act.

'It was very scary'

Drug taking isn't uncommon at "free parties".

"The young ones tend to take ketamine and cocaine," Joy said. "Personally, I don't like it on the scene as it can turn people aggressive. What we're doing is like LSD and MDMA - all happy, with everyone loved up.

"A few weeks ago a guy had basically taken too many drugs and he had a fit. Luckily there were people on site who'd seen this type of thing before and knew what to do. He's fine now. It was very scary."

Despite being the organiser, Joy says people's wellbeing isn't his responsibility because no one is paying to get in.

Michael Kill, chief exective of the Night Time Industries Association, said: "We are going to see an uplift in illegal events if the government mandate [vaccine passports]. From students having house parties to raves happening in deserted buildings.

"We're already seeing ticket sales drop off for some events after the end of September in the knowledge that it's a possibility."

The Home Office said it recognised "the terrible impact" that illegal raves could have on individuals and communities and that police had a range of powers to "mitigate the impact" of these events.

A National Police Chiefs Council spokesman said: "We will continue our efforts to shut down unlicensed music events and illegal raves, and where possible, stop them before they happen."