Covid restrictions should return to pre-Omicron levels, according to a senior epidemiologist.
Cardiff University's Prof John Watkins said booster jabs meant the threat was no worse than that posed by Delta.

The expert said Omicron cases were more transmissible but less severe and patients were less likely to die.

But the British Medical Association opposed changes and the Welsh government said its current measures were proportionate.

Wales' case rate has hit a new high of 2228.5 cases per 100,000, having more than doubled in a week.

For the last seven days Wales recorded an average of 10,037 positive cases a day, although daily reported cases have fallen slightly since the high mark of 14,327, recorded on 29 December.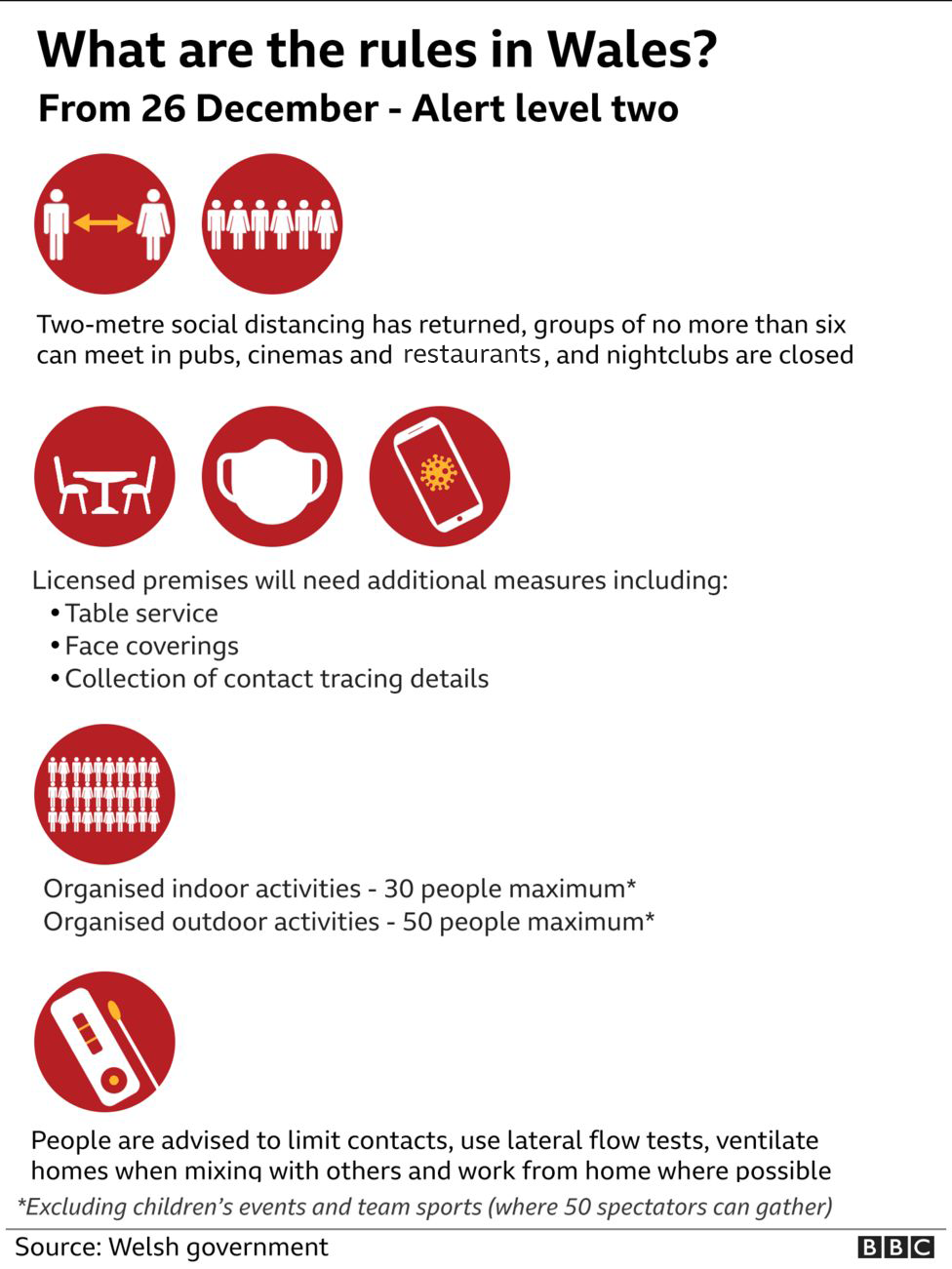 Prof Watkins claimed age remains the "major risk factor for poor outcomes".

That factor is currently mitigated by "80 to 90%" of over 70s having had a booster jab.

"We have moved ourselves back to that position where we were in the autumn," Prof Watkins said.

The Welsh government, he said, should think about moving back to its position in November and perhaps "realign" with England.

"We're now in the same position as we were in the pre-Christmas period, when let's be honest, we saw the autumn internationals," he said.

"We had four weekends where you had 80,000 people in a stadium and many, many more and we didn't see a rise in cases, hospitalizations or death.

"I think we're moving more into that situation so my view would be that it is time to review it and, probably, we should certainly be realigning ourselves with the English."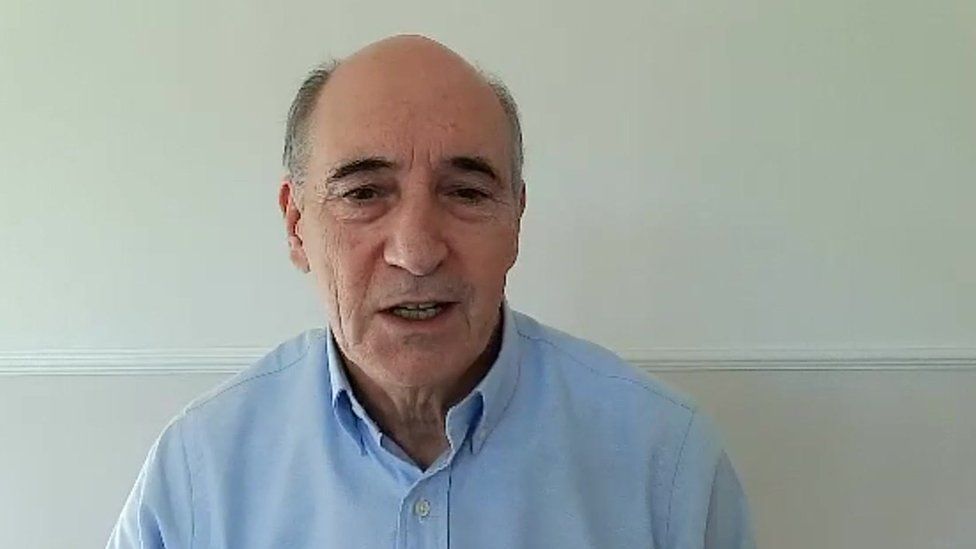 Cardiff University's Prof John Watkins said the current threat was no worse than that posed by Delta last Autumn

Prof Watkins, who has advised the UK and Welsh governments, admitted Omicron infections were stretching the NHS, particularly by causing high staff absence levels.

'NHS tipped over the edge'

However, Professor Philip Banfield from the British Medical Association (BMA) said restrictions should remain in place for the next two to four weeks, "while this wave of Covid plays out".

"We went into the pandemic with too few staff and too few beds, and a social care system that was disintegrating, it takes very little to tip us over the edge and I'm afraid the NHS is being tipped over the edge.

"We're getting feedback for the first time of doctors getting very distressed about their inability to assess patients in the emergency department, I'm getting feedback from GP colleagues saying patients don't want to go into hospital because they fear they will die in the waiting room of the emergency department.

He added that efforts to tackle the backlog of non-urgent care in Wales have been "abandoned".

"There's very little elective work taking place, cancer work is taking place, if you are genuinely ill with something serious we are desperately trying to get people into hospital still - and to do that safely.

"The sheer numbers of people getting this variant at this point in time mean a small number admitted to hospital [could] really stretch the service and threaten to tip the NHS in Wales over the edge."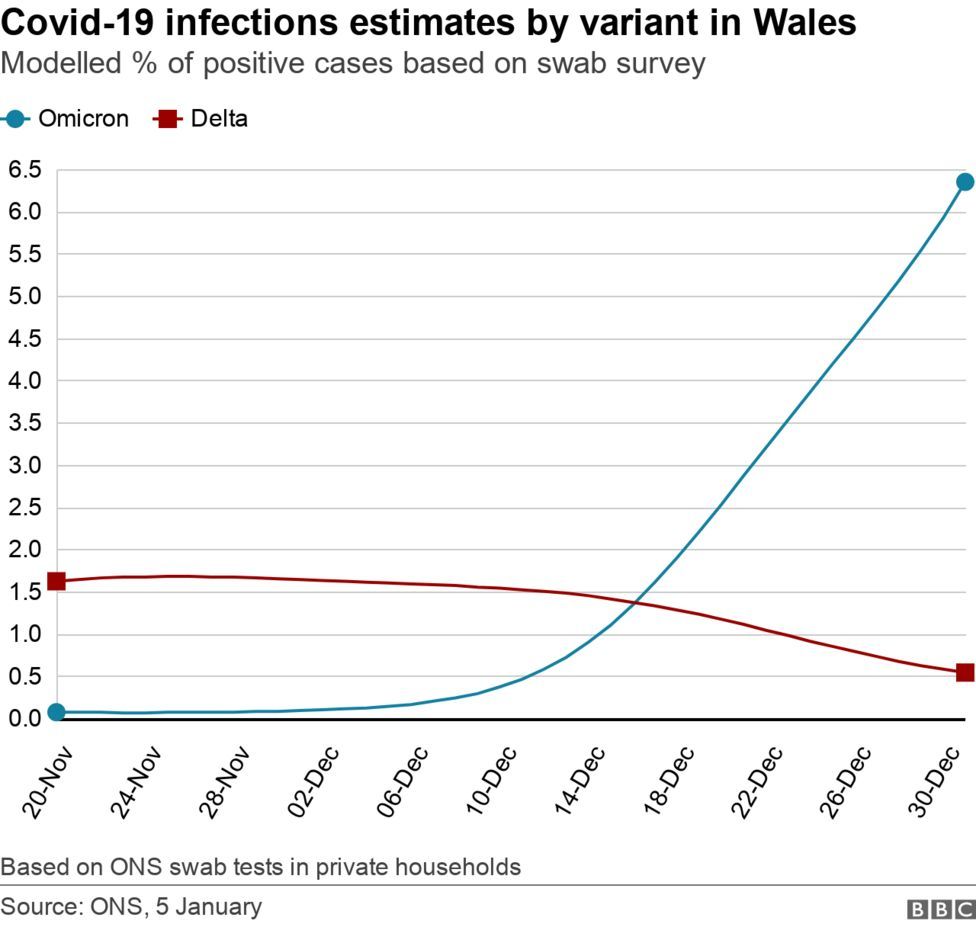 'Quite critical'

Vice President of the Royal College of Physicians in Wales, Olwen Williams agreed with the BMA and that the Welsh Government's Covid restrictions should remain in place "for the next couple of weeks".

She said: "We are aware some people are saying that Omicron is quite a mild disease, but what we're saying is we don't know what that impact is on us, on our elderly, our frail and our unvaccinated and we cannot risk putting people at more harm than is necessary."

On Thursday, Public Health Wales reported six more deaths with Covid, although there were 36 deaths a day at this point in 2021, compared to just over three deaths a day on average now.

There is a daily average of 625 patients with confirmed Covid in hospital beds - an 82% increase on a week ago, although there were two and a half times as many Covid patients in hospital this time last year.

Should vaccines be mandatory

Prof Watkins argues that restrictions alone would not help the health service cope.

Instead, he believes isolation rules should be less strict for the triple vaccinated.

"The triple vaccinated should be able to be more free to go into work, et cetera," he said.

"I think what we can say within the UK and in Wales is that our vaccine uptake of boosters is around 80-90%, so there's high levels of vaccination in this country," said Prof Watkins.

"My personal view is that we probably should move to mandatory vaccinations.

"This is all about being proportionate. Symptomatic disease is one thing, but asymptomatic people who test positive are probably quite a low risk of transmission and are unlikely to place any demand on the healthcare system."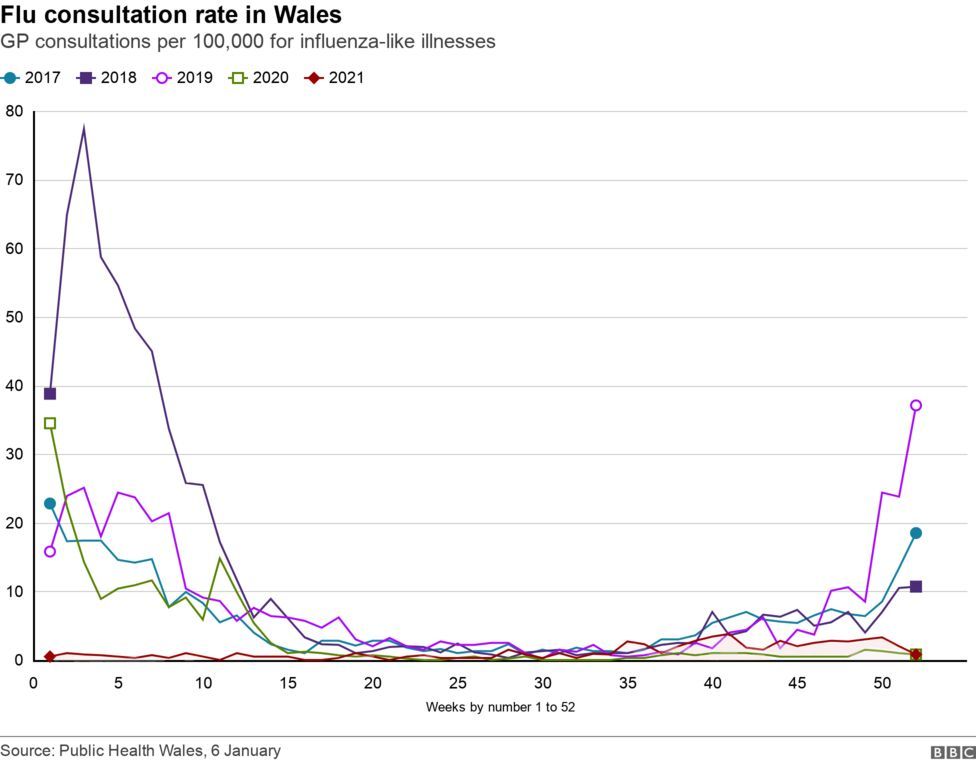 The decline of traditional winter illnesses, Prof Watkins argued, could also help the NHS.

Cold-like illnesses, such as the respiratory virus RSV, and flu had plummeted.

"We saw some RSV in children before Christmas, but that peak has declined and we've seen virtually no influenza," the professor said.

"So actually the demand we would expect at this time of year is a demand that we've seen, and it is nowhere in comparison to some of the worst influenza epidemics of the past."

Prof Watkins did not think Omicron would vanish totally, and said there would have to be a point where life would go "back to normal".

"I suspect that's going to be in 2022 and my hope would be that it was in early 2022, not late,

"We're getting millions of cases a week in this country, so it's going to naturally have spread to most sectors of the population where people are susceptible, and so therefore it's going to naturally, if you like, burn out," he said.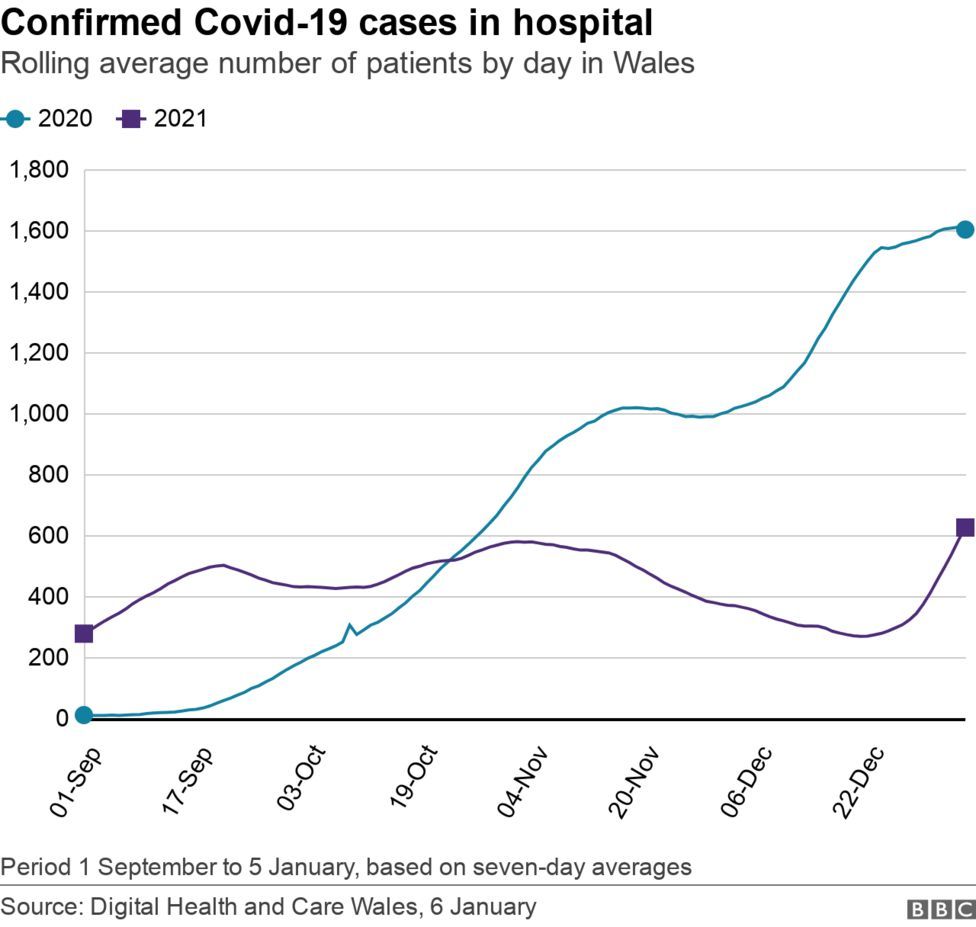 Welsh ministers review Covid restrictions weekly. An announcement is due on Friday.

In response to Prof Watkins' comments, the Welsh government said its responses had always been science and evidence-based.

"Omicron is a fast-moving, highly-infectious form of coronavirus," a spokesman said.

They said studies provided hope about the variant's severity, but large infection numbers had caused knock-on effects to public services and the economy.

Rising numbers were being admitted to hospitals when the NHS was at its busiest, the Welsh government said.

"The measures and strengthened guidance, which were introduced from Boxing Day, are a proportionate response to the public health threat from Omicron," the spokesman said.

"The cabinet keeps all measures introduced in response to Omicron under close review."

'Ridiculous' fines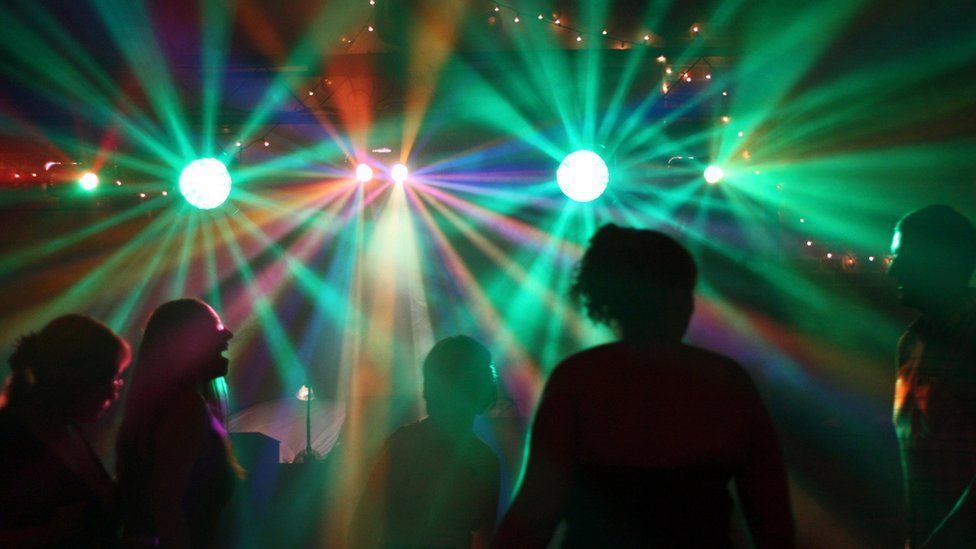 Nightclubs closed their doors on 26 December under current rules

The Welsh Conservatives called on ministers to release support for businesses affected by Covid restrictions "urgently" and for a rethink about the restrictions on outdoor sporting events.

In a statement ahead of Friday's review, Andrew RT Davies, Welsh Tory leader in the Senedd, said: "Business must not wait until the 17 January to apply for support - that funding needs to be released now."

He also called for Welsh ministers to scrap "ridiculous" fines for workers who go into the workplace when they could work at home.

First Minister Mark Drakeford has previously defended the fines saying they were in place the last time there was a work from home obligation, that "no fines were issued at all" during that period and "they are designed to protect workers, not to penalise them".

Mr Davies has also demanded a rethink of the rules restricting numbers for outdoor sporting events.

He said: "We also need the Labour government to seriously examine the logic behind its decisions to limit participation in and attending sports events like Parkrun, not only for the sake of mental health but, so that Wales can play its Six Nations games here and fans can spend their money here."