Courteney Cox has responded to Prince Harry's claim in his recently-released memoir Spare that he "gobbled" magic mushrooms while staying at the Hollywood star's house.
In Spare, the Duke of Sussex said he was invited to stay at the Friends star's house in 2016 through a friend of a friend. He said while staying there, he found a "a huge box of black diamond mushroom chocolates" in the fridge and was encouraged to take them.

"Somebody behind me said they were for everybody," he wrote. "Help yourself, boys. My mate and I grabbed several, gobbled them, washed them down with tequila."

In a new interview with Variety as she was honoured with a Hollywood Walk of Fame star on Monday, Cox confirmed Harry stayed at her house - but denied giving out mushrooms to her guests.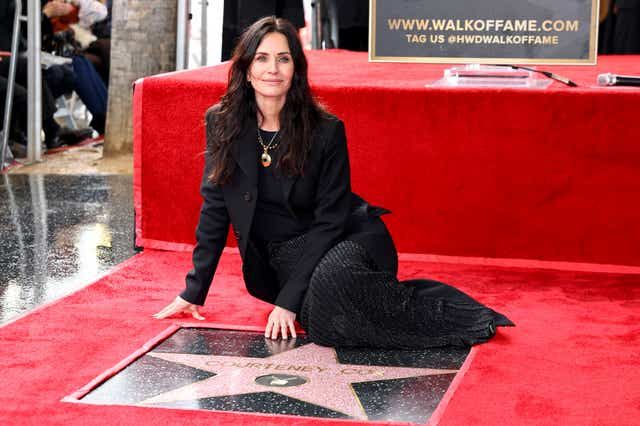 Courtney Cox attends her Hollywood Walk of Fame Star Ceremony

"He did stay here for a couple of days – probably two or three," Cox said. "He's a really nice person.

"I haven't read the book. I do want to hear it, because I've heard it's really entertaining. But yes, it's gotten back to me about it. I'm not saying there were mushrooms! I definitely wasn't passing them out."

In the book, Prince Harry said he was originally told that Cox would be away while he stayed - but then was pleased when she was actually around during his visit.

"No complaints from me. As a Friends fanatic, the idea of crashing at Monica's was highly appealing. And amusing. But then… Courteney turned up. I was very confused. Was her job cancelled? I didn't think it was my place to ask. More: Does this mean we have to leave?"

He said that she insisted: "Of course not Harry. Plenty of room."

Prince Harry also suggested that he had a bit of a crush on the star, by referencing her character's on-screen relationship with Chandler - played by Matthew Perry.

He wrote: "But I was still confused because… she was Monica. And I was a Chandler. I wondered if I'd ever work up the courage to tell her. Was there enough tequila in California to get me that brave?"

Cox's Friends co-stars Jennifer Aniston and Lisa Kudrow joined her for the unveiling of her Hollywood Walk of Fame star.

The actress, 58, became the 2,750th person to be bestowed with the honour on Monday in Los Angeles.

Aniston, 54, who played Rachel, and Kudrow, 59, who played Phoebe, joined Cox for the ceremony and reminisced about the trio's time together on the comedy and the star's impact on the acting world over the past 30 years.

Kudrow said: "Courteney, we just want to say that we are deeply, deeply proud to know you. You are the definition of a truly beautiful, talented, and, what's most important, a truly good and decent human being… Thank you for enriching our lives personally."

Courteney's long-time friend Laura Dern, 56, also made a speech with her partner Johnny McDaid, 46, and daughter Coco Arquette, 18, also there.