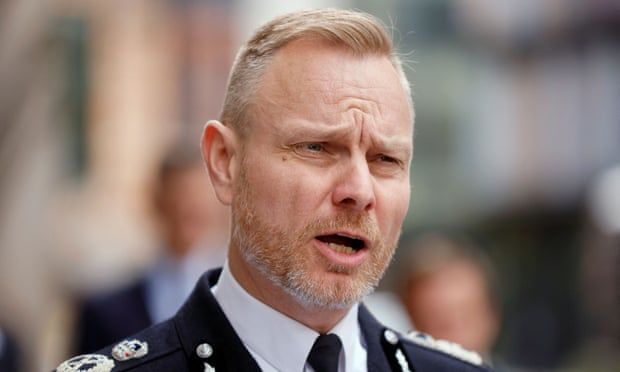 Counter-terror chief reveals 'real threat' of school terror plots
Police stopped 'eight late-stage terror plots' in the past year
Officers have been forced to step in and stop the "real threat" of teenagers plotting US-style attacks on schools, the head of counter-terrorism policing has revealed.

Matt Jukes said there are growing numbers of reports of children fixated on coverage of mass shootings, with more young men – and boys as young as 13 – coming to police attention as potential terrorist threats of all kinds.

He also said police had made several "close calls" by foiling terror plots at the last minute in 2022. These "goal-line saves" were made when would-be attackers had already picked targets and were gathering weapons.

Speaking at a Scotland Yard briefing on Thursday, Jukes said: "We have absolutely seen cases in which we have intervened with young people to prevent them going on, potentially, to carry out attacks in their schools.

"How confident are we at each point that those attacks will materialise? Well, how fine a judgment do you want to make on those points? But it is not a notional threat. It is a real threat which we have seen in individual cases and, absolutely, intervened and dealt with individual cases."

He added police hadstopped "eight late-stage terror plots" in the last year. "And the reality is that a number of those were close calls, I would describe several of them as goal-line saves," he said. "These are cases in which a subject had identified their target, had or was acquiring their weapon and where we have intervened to stop that attack taking place."

Jukes said the number of reports from people with concerns about the potential of a young person to go on and commit an attack at school was numbered in the "hundreds, not thousands". But he said the upwards trend in reports was still a concern.

"I think that has been driven by the visibility of attacks in the US. We know that's the case. It is the glorification of those events which have taken place, which goes to some of the other points about other cultures – whether that's incel or otherwise. And it makes it really toxic mix."

He told reporters a concerning online culture had grown online in recent years. "That is exhibited in a prevalence of misogyny, racism, antisemitism, homophobia. And, clearly, all of that gets mixed in with terrorist ideologies. We're seeing a relatively small number, but increasing number, of references to incel culture, and to school massacres."

Incel, a portmanteau of the term involuntarily celibate, ideology is part of a misogynistic subculture – mainly among young men – that has become of increasing concern to counter-terrorism officers. It has been linked to violent attacks in the UK and elsewhere in recent years.

The domestic threat comes amid a huge increase in Scotland Yard's work countering threats from hostile foreign powers, as well as in other areas, counter-terror officers said.

Jukes said the number of investigations into hostile state threats had "quadrupled" in the last two years, describing it as "unprecedented" and saying it marked a "really significant shift" in focus for teams primarily working on terror investigations.

"Missions outside of terrorism" now account for around 20% of casework after Russia's invasion of Ukraine, to tackle state threats, espionage and investigate war crimes, he said.

He added: "We are shifting, in part, our focus from an exclusive attention to the terrorist threat to a really significant shift in focus on the threat from foreign states. For counter-terrorism policing, that means, at present, that around 20% of our casework is focused on missions outside terrorism. That means countering state threats, investigating war crimes and working with MI5 and other partners to address espionage."

The number of investigations focused on state threats has "quadrupled in recent years", he said, though he stressed that this referred to "dozens" of cases over the last two years, not "hundreds".

But he stressed how "scores" of officers could be working on hostile state threats because of the "intensity" of the investigations, adding that the nature of the cases was "palpably different" from terror investigations.

Last year, the boss of MI5 laid bare the "very real threat" posted by hostile states and set out in stark language the dangers from Russia, China and Iran.

The security agency's director general, Ken McCallum, revealed in a speech in November that there had been at least 10 potential plots since January last year by Iranian intelligence services to kidnap or kill British or "UK-based" people considered "enemies of the regime". Jukes said that number now stands at 15.