Eight more of Scotland's 32 councils have made their final budget decisions for the year ahead.
Aberdeen, Moray, North Ayrshire, South Ayrshire and West Dunbartonshire confirmed a council tax increase of 5% to address rising cost pressures.

In East Renfrewshire it will rise by 6% and in Falkirk by 7%, as the local authority needs to save £63m over the next four years.

Meanwhile, Perth and Kinross Council agreed a 3.9% increase.

Cuts to local services and increases in council tax are likely as authorities grapple with major funding gaps.

A council tax rise of 10% had been recommended in Aberdeen, after the same percentage rise was approved in Orkney.

On Tuesday councillors in Dumfries and Galloway raised council tax by 6%; in East Lothian it will increase by 7%.

Individual local authorities across Scotland have shortfalls ranging from around £7m to £120m, according to research published by the BBC earlier this month.

Council tax only generates about 13% of local government funding, with most of their cash coming from the Scottish government.

Councils have faced a long term squeeze on their finances and argue that they are underfunded.

Deputy First Minister John Swinney announced an extra £100m for councils last week, which he said equated to a 3% real-terms increase.

There will be a Scottish government-led debate at Holyrood on Wednesday focusing on the issue of local government finance.
What decisions are councils facing?

Aberdeen City Council has revealed it needs to make savings of £46.6m to balance its books.

The list of savings options includes plans to cut £160,000 of funding to VisitAberdeenshire.

The tourism agency is funded by the city and Aberdeenshire councils, along with economic development partnership Opportunity North East.

In East Renfrewshire, there is already a £40 charge, on top of council tax, for households that want garden waste removed. This will go up to £50.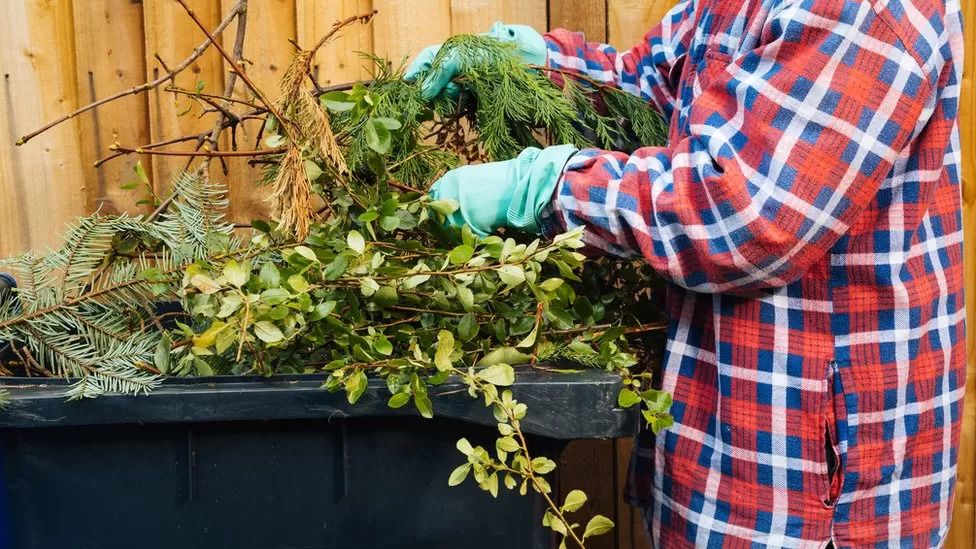 East Renfrewshire Council is considering increasing the charge for picking up garden waste

The council has decided to sell its distinctive civic number plate HS 0 to the highest bidder, with experts estimating it could be worth £150,000-£250,000.

Teacher and school support staff numbers have been protected though there will be a reduction in school janitorial and cleaning services.

Council bosses in Falkirk are set to use cash for paying off privately built secondary school debt to free up £15m to help deal with a £60m budget shortfall.

The "technical" change in how the council pays for the construction of the high schools will allow it to set its budget without drastically slashing services.

The change, approved this year by the Scottish government, effectively means that local authorities can now spread the cost of payments for any public-private finance projects over the length of the building's expected life, rather than the length of any contract.

Falkirk Council has agreed in principle to offload up to 133 ageing properties, a list that includes Polmonthill ski centre and Bo'ness recreation centre, while the future of Grangemouth stadium is also uncertain.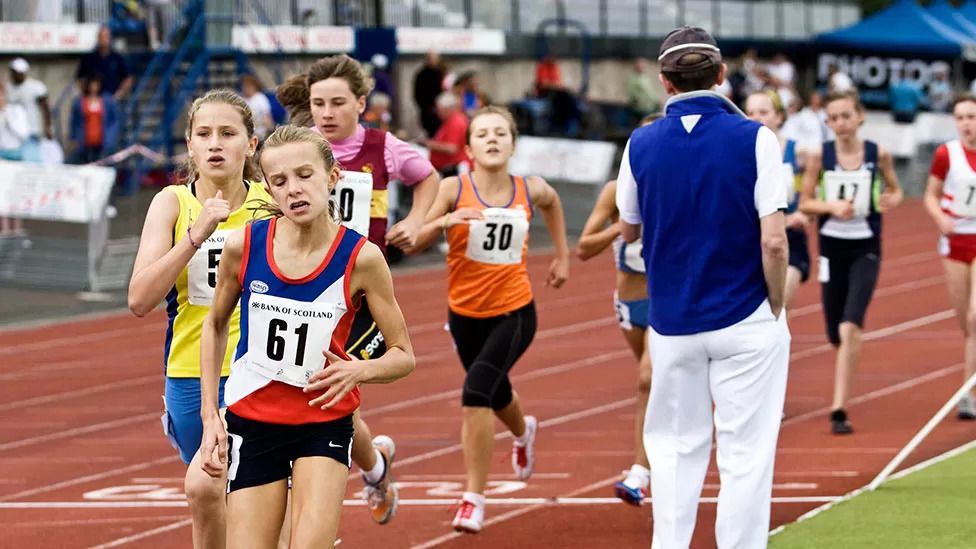 Scottish athlete Eilish McColgan has backed calls for Grangemouth Stadium to be saved

Council tax in Moray will go up by 5% from April, meaning a band D bill will rise by just over £68 a year to £1,430.

The council said £49.6m is expected to be brought in from council tax in the coming year.

Around £28m needs to be found over the next two financial years. Plans include using just under £14.77m in Covid reserves to balance the books.

There is also a proposal to increase temporary accommodation charges by 27%. Another proposal would see a 10% rise in the cost of burying the dead, with charges for the interment of local adults set to rise from £949 to £1,044.

In North Ayrshire, the Arran outdoor education centre could be closed to save cash.

Around 200 full-time equivalent jobs could go at Perth and Kinross Council over the next three years.

However the council said a "small reduction" in staff numbers was likely to be achieved through managing existing vacancies and staff turnover.

A raft of cuts were proposed as council bosses attempt to fill a £31m funding shortfall.

While teachers themselves have been protected from cuts by the Scottish government, schools could still be among the worst hit.

Recommended savings include removing all school crossing patrollers, stopping primary swimming lessons, closing breakfast clubs and raising the price of school meals.

South Ayrshire Council has to find £37.8m in savings over the next three years.

The council has has kept its cards close to its chest but warned of difficult choices, given it has already spent around £7.5m more than it budgeted for last March.

This is largely ascribed to spiralling inflation and a 50% increase in energy prices as well as higher than expected staff pay settlements.

In West Dunbartonshire, Dalmuir Library will be moved to Dalmuir community centre under proposals to plug the council's £21.6m budget gap.

The local authority also confirmed its school clothing grant will revert to £150 per child each year, after it was increased using one-off Covid funding last year.

Further savings will be made from a review of senior early learning and childcare officers and cuts to the budget for grounds maintenance in educational premises.

It also unveiled a new £1m support package to help those struggling financially in the community through measures such as monthly subsidies to food banks.