A mum has kept up her job as a nurse to pay her bills, despite being diagnosed with stage three breast cancer.
After her diagnosis in June, Kerry George from Neath has continued working as an agency nurse while undergoing chemotherapy.

Ms George said Universal Credit support alone was not enough for her family.

The Department for Work and Pensions said it had "a strong financial support system in place including Universal Credit".

Ms George, 48, is currently undergoing aggressive chemotherapy once a week after she found a lump on her breast.

She said Universal Credit wouldn't be enough to keep her family going during the winter months, so she works as an agency nurse twice a week to keep money coming in.

Typical household energy bills will rise to £3,549 a year from October, Ofgem announced on Friday.

"I worked all the way through Covid, I feel very let down. I think the whole profession has been really let down," Ms George said.

Speaking to BBC Radio Wales Breakfast, the mum of two said: "I just can't afford to live on the money that the government has said I'm entitled to, which is £320 a month.

"The mortgage is £470 and you can't get help towards the mortgage payments, so I'm really stuck with that. I've been relying on family and the GoFundMe page to pay the last month."

Friends and family of Ms George set up the GoFundMe page to support her and she said she was overwhelmed by the response.

She continued: "I'm waiting for a Personal Independent Payment (PIP) to go through. I put in for that as soon as I found out I had cancer and I thought that would help. But there's a huge backlog, so we're still waiting for that to go through months later.

"I know I am going to become too sick to work, so hopefully that will help, but I'm just trying to save as much as I can now because I'm so worried about the rising fuel costs in the winter.

"I really don't know how anybody's going to manage to be honest."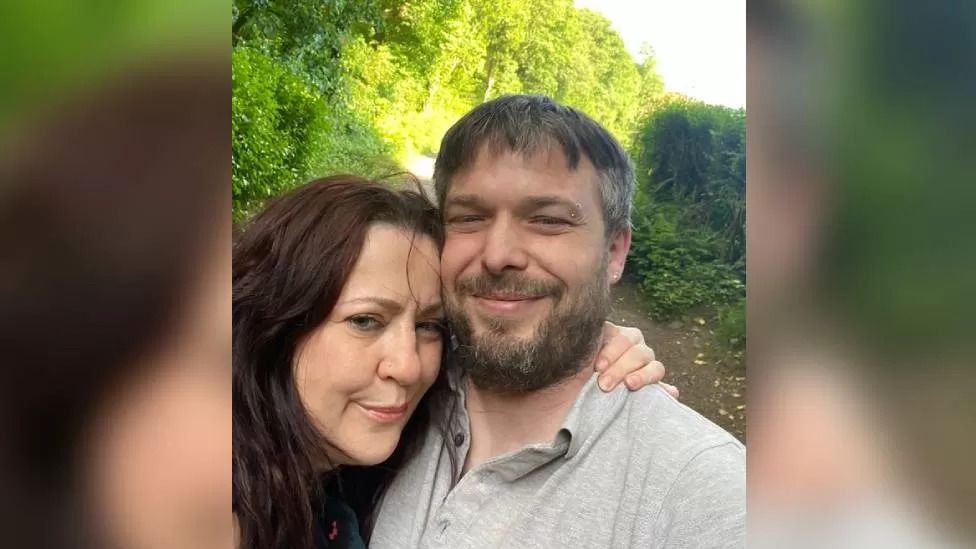 Ms George's fiancé Gareth Jones, 39, is also unable to work at the moment as he has been caring for her

Ms George works 13-and-a-half hour shifts as a nurse and said when she goes into work she just hopes she is fit enough to make it through her shift.

She said: "I'm really conscious of catching any infection. So I'm just constantly making sure that I've got gloves, mask and an apron on at all times.

"There is a time going to come when I do get too sick to work, so I need to get some shifts in so that I have a bit spare then to go off completely."

Ms George's two daughters are aged 16 and 18. She said they are very scared about the future, but she has been as honest as she possibly can with them.

"I can't claim for them because the eldest is in university and the youngest is going to college," she said.

A DWP spokesperson said it closely monitors the progress of PIP cases awaiting assessment and takes all steps possible to ensure claimants receive the vital support they require.

They also pointed out that everyone will receive a £400 discount on their energy bills in October.

The spokesperson said: "We understand how difficult current pressures are for people with a long-term illness, that is why we have put a strong financial support system in place including Universal Credit.

"As part of our £37bn package of support to help cover rising costs , eight million low-income households will also be receiving at least £1,200 of direct payments this year.

"We urge people to check they are getting all the help to which they are entitled."