The Ministry of Defence (MoD) is considering a request to send up to 100 armed services medics to Northern Ireland to help deal with the pandemic.
They could be deployed between Belfast City Hospital and the Ulster Hospital during the month of October.

It is understood a decision will be made next week.

The request from the Department of Health has been made under an arrangement known as MACA (Military Aid to Civilian Authorities).

Health Minister Robin Swann said the health service was "under pressure as never before".

He said he was "determined to activate any measure that can alleviate the situation in any way".

"The current situation is different to the pressures in the earlier stages of the pandemic," he said.

"We have the ongoing and serious Covid threat combined with a growing pressure cooker environment right across health and social care.

"Staff are exhausted, having been facing the pandemic and its repercussions day in, day out, month in, month out, for the best part of two years."

Mr Swann said the "system simply doesn't have the capacity to deal with the levels of need and demand coming in".

Military personnel have been used in earlier stages of Northern Ireland's response to the health emergency.

In total, more than 500 armed forces staff - Army, Royal Navy and Royal Air Force (RAF) - have been deployed in Northern Ireland over the past year.

One request involved 100 medics being sent to the mass vaccination centre at the SSE Arena in Belfast.

Their duties ended in May.

For two months at the beginning of 2021, armed forces personnel also worked alongside nurses at three local hospitals - the Ulster, City and Antrim Area.

Cancellations

The request from the Department of Health comes as it is revealed that 370 red flag cancer operations have been cancelled across Northern Ireland in the past four weeks.

The figures provided by the Health and Social Care Board reveal that a total 1,300 operations were cancelled.

During the same time, almost 20,000 procedures went ahead.

Mr Swann told BBC News NI that "with regards to red flag cancellations, those are being rescheduled as quickly as we can".

He added: "One of steps we've taken with regards to those surgeries is actually looking at them as a regional approach, rather than just trust by trust basis, so we're looking at a regional management system where we can get those surgeries rescheduled as quickly as possible and where there are theatres open and available to do them."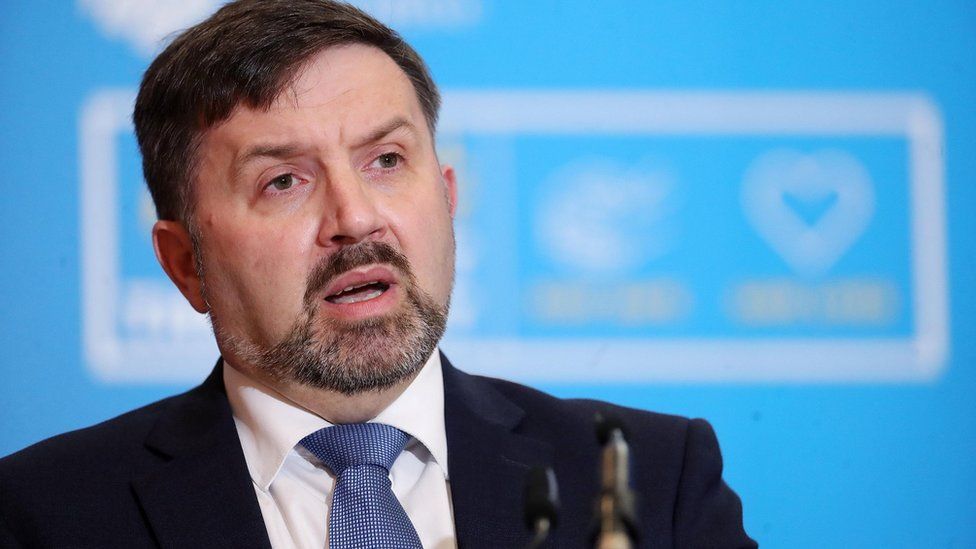 On the prospect of lifting Covid-19 restrictions, Mr Swann said that he does not expect huge changes in the short term.

First Minister Paul Givan has repeatedly said he wants to see all restrictions lifted by the end of the month.

"I don't think it's where we'll be at this point in time because of the numbers that we're seeing," he said.

"In regards to the restrictions that we actually have in place, in regards to face coverings, social distancing in place, we are seeing the benefit of those, we've always seen the benefit of those and I've actually seen elsewhere talking now about actually having to reintroduce those rather than do away with them."