Two British men reportedly captured by Russian forces while fighting in Ukraine have appeared on Russian state TV appealing to Boris Johnson for help.
Shaun Pinner, 48, and Aiden Aslin, 28, were shown in two separate videos on Monday, asking to be exchanged with a pro-Russian politician held in Ukraine.

It is not clear if their pleas to the prime minister, shown on the Rossiya 24 channel, were made under duress.

The Foreign Office called on the Kremlin to treat prisoners humanely.

A source from the department condemned "the exploitation of prisoners of war for political purposes".

In the two clips, Mr Aslin and Mr Pinner address the prime minister, asking to be exchanged for pro-Kremlin politician Viktor Medvedchuk. In his video, Mr Aslin speaks while an unidentified man stands over him.

Mr Medvedchuk has also appeared in a video, released by Ukraine's intelligence service.

Both Britons had been living in Ukraine before it was invaded and have Ukrainian partners.

They had both been serving as marines in Ukraine's military.

In an earlier social media video Mr Pinner, who is originally from Bedfordshire, gives his name and says he was fighting in the besieged port city of Mariupol before being captured.

He says he is now in the breakaway Donetsk People's Republic area in eastern Ukraine. Again, it is not clear if he was speaking under duress.

The family of Mr Pinner say he is a "funny, much-loved, well-intentioned" man.

They said they are hoping for a quick resolution to his situation.

They called for him and Mr Aslin to be treated in accordance with the Geneva Convention.

The convention includes treating them humanely and prohibiting humiliating and degrading treatment.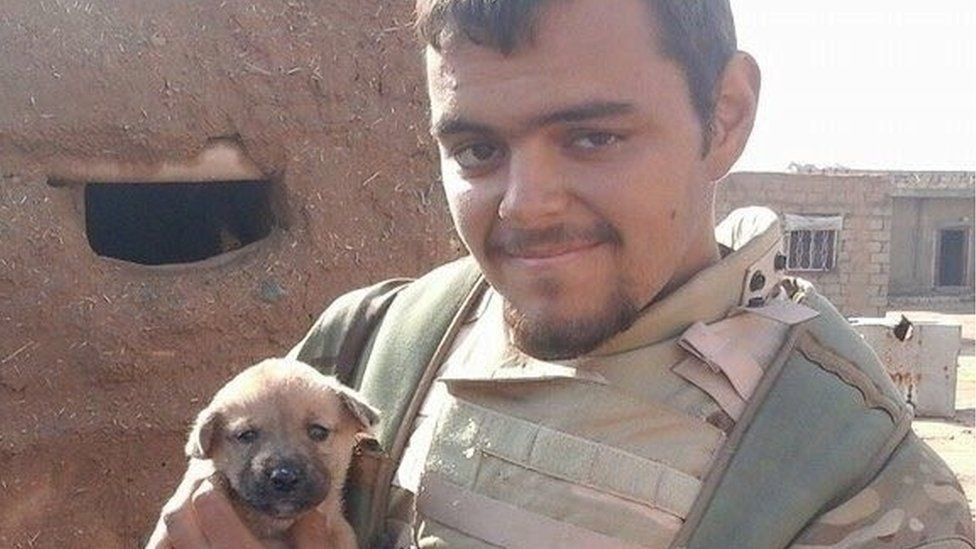 Aiden Aslin, photographed here in Syria, has been fighting alongside the Ukrainian army

In a statement, Mr Pinner's family said he was a "well-respected" soldier in the British Army before he moved to Ukraine four years ago to use his previous experience and training with the Ukrainian military.

He is a "proud member of his unit" in the Ukrainian Marines, they said.

"Shaun enjoyed the Ukrainian way of life and considered Ukraine as his adopted country over the last four years. During this time, he met his Ukrainian wife who is very focussed on the humanitarian needs of the country," they said.

Mr Pinner's three-year contract was due to expire at the end of the year and he was planning to enter a humanitarian role in the country, according to his family.

"Shaun is a funny, much-loved, well-intentioned husband, son, father, brother and friend to many," they said.

"We are hoping for a quick resolution to allow Shaun and Aiden to return safely to their families and we ask for privacy at this difficult time.

"Our hearts go out to all those caught up in this horrific conflict."

A Foreign Office source said it was aware of the detention of two British nationals and had been in touch with their families to support them, adding that it was advising against all travel to Ukraine.

Former care worker Mr Aslin, who has a Ukrainian fiancée and dual citizenship, is also believed to have been captured in Mariupol.

Fighting has continued in the city despite an ultimatum from Moscow for the remaining fighters to give up.

Ukraine's Prime Minister Denys Shmyhal said the defenders would fight to the end against Russian forces.

Mariupol is seen as a major strategic prize for Russia as it would gain control of a vast swathe of southern and eastern Ukraine.

The situation for civilians in the city is desperate, with homes destroyed and widespread water shortages.