Boris Johnson has until 22:00 GMT on Friday to answer the Metropolitan Police's questionnaire about whether he broke lockdown rules at Downing Street parties.
The prime minister has been consulting lawyers about his response.

It is these private lawyers who are overseeing communications with the Met Police.

Sources close to Mr Johnson say he is funding that himself. The No 10 machine is being kept in the dark to avoid what one insider called a conflict of interest.

The prime minister has made it clear what his defence will be: that he both lived and worked in Downing Street, so had a reasonable excuse to be in the building and around the garden when controversial drinks gatherings took place.

Mr Johnson hopes that will be enough to get him off the hook - if it doesn't, there could be a new wave of political crises for the prime minister and more Conservative MPs could try to force him out.

Among Mr Johnson's allies, there is a frank admission that they just don't know for sure whether his explanation will work. But here's how they think it might.

Firstly, there have not been many retrospective prosecutions for breaking lockdown laws.

Secondly, the prime minister has argued both publicly and privately that the events he was at can be reasonably seen as work. If he makes that case, will the Met have enough evidence to conclude he is wrong? The bar, some believe, is likely to be high.

Some of the argument delves a bit deeper.

Glasses of wine

It starts with the fact that the prime minister and some staff were required to be in the office to oversee the Covid response.

If they had a glass of wine at the end of the day - in an office they had a good reason to be in - was that really an illegal gathering?

Part of the answer to that, some think, might rest on just how many glasses of wine a certain person had.

The argument goes: if someone can prove they were at a gathering for a short period of time, then went to a meeting or to do something else for their job, this would still be classed as being at work.

That might be judged differently if they went on to get drunk late into the night - or, for example, if they broke the prime minister's son's swing, as has been alleged happened at one event in the Downing Street garden.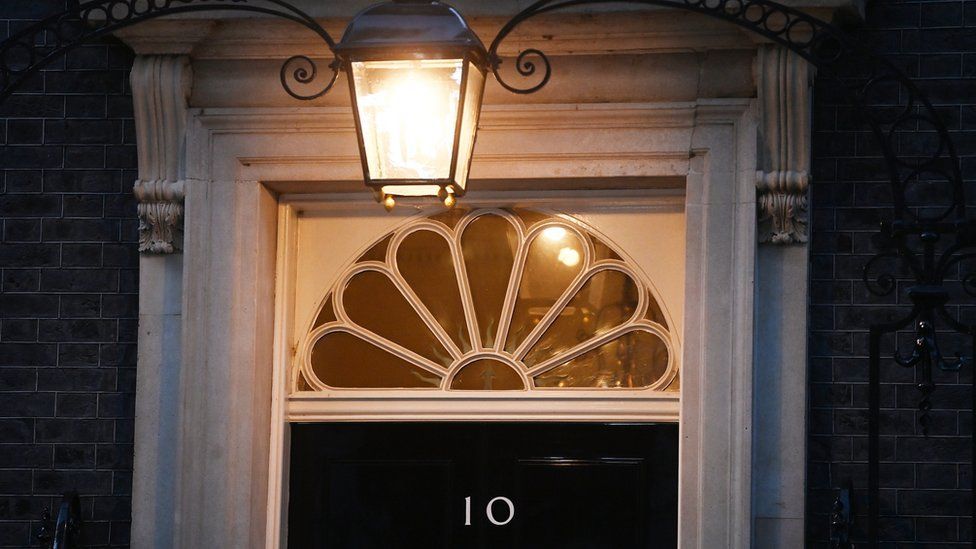 Police are investigating several gatherings in Downing Street as part of their probe

That's the thinking from some of the PM's political supporters.

His lawyers will decide what legal case to make - and then it's for the Met to decide whether they buy it. That process could take a few weeks.

Then there's the politics - what happens next?

At the moment, things are considerably calmer in the Conservative Party than they were a fortnight ago. That's in part because Parliament is on a week's holiday, meaning MPs are not meeting up to chat - and maybe even plot - about the PM's future.

There are, very broadly, three key groups:

*  Many Conservative MPs are loyal to the prime minister and it would take a lot for them to change their minds. They argue it's time to move on to bigger issues - like Ukraine and the cost of living

*  A smaller group who want Boris Johnson gone and have made their minds up. They say the prime minister has lost the trust of the public and his position is untenable

*  A group who have not made up their minds. This group matters most just now. Their reaction to any fine issued by the police would be crucial.

Former Tory leader Sir Iain Duncan Smith - an MP who knows how the party works and what the mood in Parliament is - has said it would be hard for any leader to survive having been found to have broken the rules.

Others hold a similar view.

One former cabinet minister said that if the prime minister is found to have broken the rules that he introduced, the number of MPs calling for a confidence vote is likely to increase quickly.

At least 54 MPs must write a letter to Sir Graham Brady, chairman of the backbench 1922 committee, to trigger such a vote, which could lead to a leadership contest.

But our senior Tory source also suggested the prime minister was more likely than not to find a way to get himself off the hook and last at least until May's local elections, when it could become clearer if the "partygate" rows have had an electoral impact.

'Not over'

Another MP still making their mind up agreed it was quite plausible the PM could survive, saying: "If there is anyone who could ride it out, he can."

This MP went on to argue that changes to the No 10 operation - like the new chief of staff and communications director - could help steady the ship. They argued that Mr Johnson could survive even if he gets a fine.

It's worth noting that a prime minister being found to have broken the rules they introduced would be a significant blow. Some question whether even Boris Johnson, with his reputation for defying political gravity, could get past that.

But the simple fact is, nobody knows for sure what is going to happen next.

Among Mr Johnson's staunchest allies, there is a feeling that things have cooled down. But that doesn't mean they won't heat up again.

In the words of one: "It's not passed - it's not over".