The surprise hotel birth happened after hospital staff said his mother 'wasn't in full labour'
A boy who was born in a four-star London hotel on Tottenham Court Road visited the establishment with his parents on his 10th birthday.

George Eades, his father and mother – who gave birth with just two paracetamol tablets – visited staff at the Radisson Edwardian Grafton Hotel who remembered the special day.

The expectant Michelle Eades checked into the hotel near Warren Street Tube station after being told by hospital nurses that she "wasn't in full labour".

But she gave birth to her first child just four hours later in a hotel bathroom and George was delivered by his father Richard Eades.

George was given the middle name Reg, after the initials of the hotel name.

Mr Eades told the Camden New Journal: "It was really sweet that [staff] invited us back and it was fun for us to look around.

"There were people there that remembered us and they said it had never happened before."

He and Michelle got married in Primrose Hill last year, he told the Camden New Journal, and he wove the unique birth into his wedding speech.

George said his birth story is "cool but weird", adding that when his friends didn't believe him he told them to Google it. The 10-year-old still has the same teddy from the day he was born.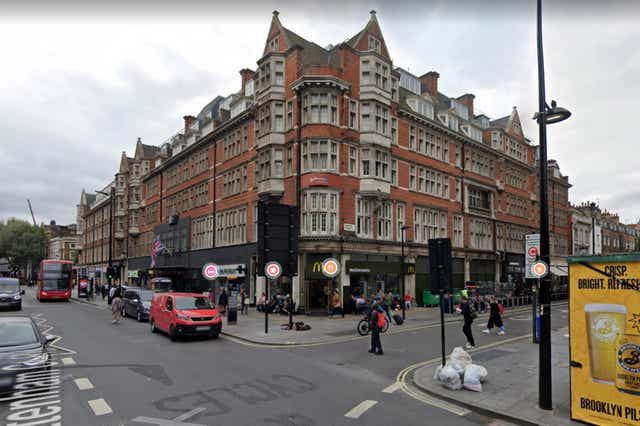 The Radisson Edwardian Grafton on Tottenham Court Road

Peter Wardley, who was hotel manager at the time of the birth, told the Journal: "It gives us great pleasure to welcome George when he visits. All the team have fond memories of the day George arrived."

Instead of hospital drugs and a top clinical team, the now Mrs Eades took two paracetamol, closed the curtains and listened to hypnotherapy CDs with Mr Eades to relax her.

The couple had caught a taxi from their Hackney home to University College Hospital in Bloomsbury, where she was due to give birth.

But Mrs Eades was sent away and told to come back when she was in "full labour".

"Basically, they said there was nowhere for us to go in the hospital," she said in 2013.

"I couldn't face the journey back down the Euston Road and then over all the speed bumps."

Mr Eades added at the time: "She was in a lot of pain.

"We chose UCH instead of our local hospital as it is a top teaching hospital and because Michelle is a bit older and had some complications early in her pregnancy."

He decided to check his wife into the nearby Radisson Edwardian Grafton hotel about 100 yards across the road.

Mrs Eades said: "All the staff were brilliant and upgraded us and we joked about room service, and promising them we won't have a baby."

They used hypnobirthing techniques learned in "excellent" sessions at UCH to reduce the fear of labour in first time mothers.

Mrs Eades said: "I was making quite a lot of noise and was worried about getting thrown out of the hotel.

"At 2.30pm I was in the bathroom and I had the urge to push, but thought it couldn't be the baby.

"The baby came and Richard caught him.

"We were completely elated and there were a few tears."

Mr Eades said: "I phoned reception and said: 'This is room 239, we've just had a baby, would you kindly send some paramedics'."

The duty manager was followed by a paramedic on a pushbike, two ambulances and another six paramedics.

After the umbilical cord was cut, the parents and baby George were driven to UCH as they recovered from the drama on March 15.