Cabinet ministers have pledged their support for Boris Johnson, as he faces calls to resign after admitting attending a drinks party in lockdown.
Meanwhile, the PM cancelled a visit to Lancashire after a family member tested positive for coronavirus.

Scottish Tory leader Douglas Ross and other senior backbenchers have urged him to stand down.

But cabinet ministers have urged MPs to wait for the outcome of an inquiry into alleged Covid-rule breaking at No 10.

And Commons leader Jacob Rees-Mogg dismissed Mr Ross as a "lightweight".

Mr Ross has written to the 1922 Committee, which oversees Tory leadership contests, to say he has no confidence in the prime minister.

If 54 or more of the party's MPs do so, a vote of confidence in Mr Johnson can go ahead - and if he loses, a leadership contest takes place. The chairman of the 1922 committee, Sir Graham Brady, does not reveal how many letters he has received until they have reached the threshold.
Northern Ireland Secretary Brandon Lewis told BBC Breakfast he "absolutely" backed Mr Johnson, adding: "You've got to let these investigations get to the full details and the full facts."

Foreign Secretary Liz Truss said she stood behind the prime minister "100%", while Chancellor Rishi Sunak said Mr Johnson had been "right to apologise", adding that he supported his call for "patience" while senior civil servant Sue Gray completes her investigation.

Health Secretary Sajid Javid said "most people have accepted" the need to wait for Ms Gray's findings and Culture Secretary Nadine Dorries told the BBC: "I absolutely trust the prime minister."

"The colleagues calling for his resignation have a track record of consistently not supporting the prime minister and making similar calls on a regular basis," she added.

"We are the party of government. Everyone needs to have calm heads."

Meanwhile, the Metropolitan Police said it would wait to see if Sue Gray's inquiry pointed to evidence of potential criminal behaviour.
"If significant evidence suggesting a breach of the regulations becomes available, officers may review and consider it," the statement said.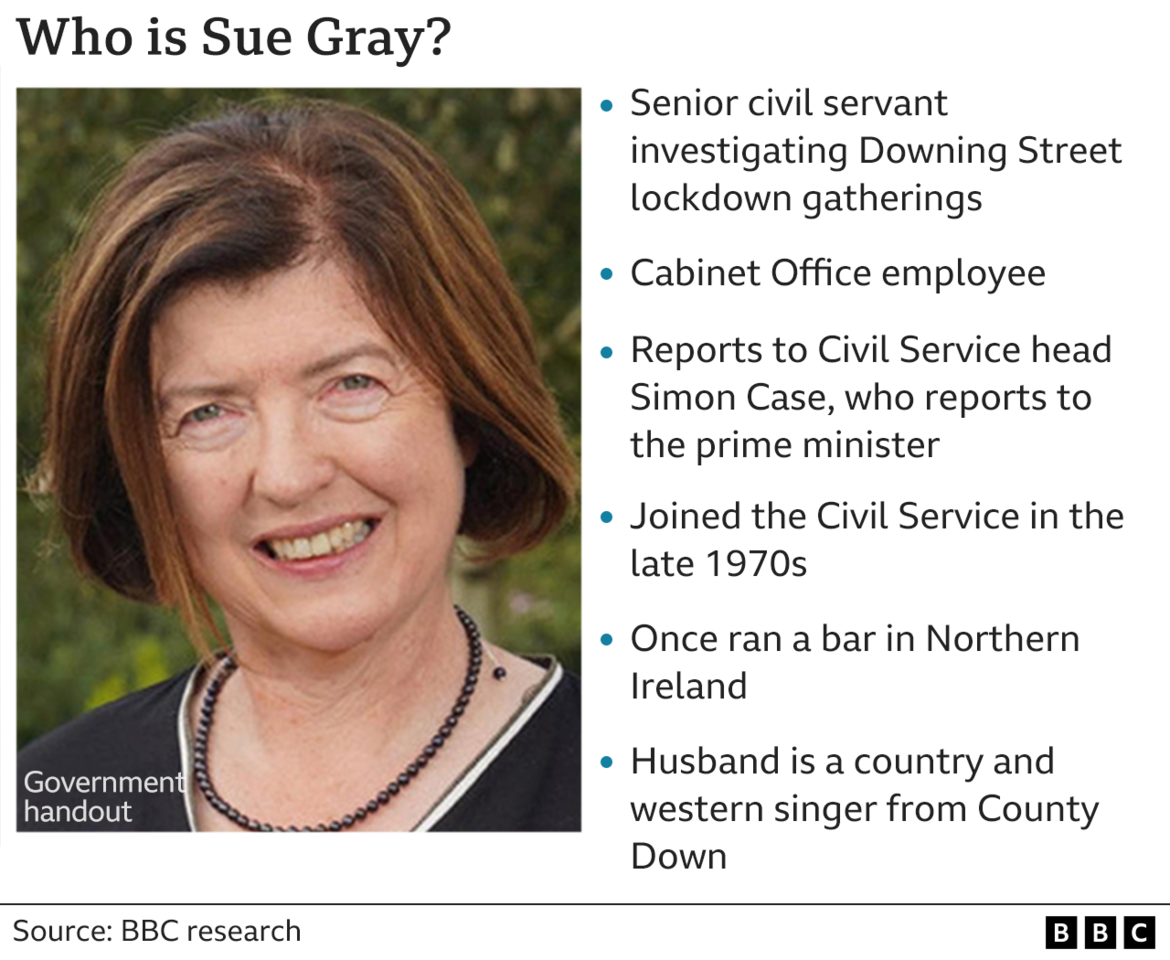 In the Commons, Mr Rees-Mogg said a future full inquiry into the pandemic would look at whether Covid restrictions had been "proportionate" or "too hard on people".

"I think everybody understands, on all sides of the House, that people were obeying the rules, and these rules were very hard for people to obey," he added.

Mr Johnson's planned visit on Thursday to a vaccination clinic in Lancashire was cancelled and he will follow official guidance, including taking daily tests and limiting contact with other people, a Downing Street spokesperson said.

Mr Johnson admitted at Prime Minister's Questions on Wednesday that he had joined colleagues for drinks in the Downing Street garden on 20 May 2020 for around 25 minutes, to thank them for their hard work during the pandemic, but had "believed implicitly that this was a work event".

He apologised for his handling of the event, saying he understood people's "rage".

The gathering, described in the invitation as socially distanced, was attended by around 30 people, who were invited to bring their own alcohol. Food, including sausage rolls and crisps, was reportedly laid out on trestle tables.

Sunak's support

The chancellor tweeted his support for Boris Johnson eight hours after the prime minister's apology at Prime Minister's Questions on Wednesday.

And unlike other senior ministers, Rishi Sunak was not at Boris Johnson's side in the Commons.

Some newspapers have interpreted the timing and content of his message of support as lukewarm backing for his boss and neighbour in Downing Street.

Sources close to the chancellor point out the language he used about waiting for the report into lockdown-busting parties in Whitehall is almost identical to the messages posted by other cabinet ministers.

A peek at his diary also reveals a man with a genuinely busy day, which included a trip to Devon in the morning and a meeting with the prime minister in the evening, then more meetings with MPs worried about energy bills.

But Mr Sunak is seen as one of the favourites to succeed Mr Johnson, if and when he goes, even though the chancellor himself has said he is not interested in the top job.

The chancellor's colleagues may be frustrated with the media's obsession with this, but they'll just have to live with the fact that a leadership contender always attracts more rune-reading than a lower-profile cabinet minister.

And supporters of the prime minister have started gently putting the pressure on the chancellor to speak out on other big issues facing the country.

"Problems with the cost of living? I'd have thought that was one for your finance minister, wouldn't you?" said one adviser to a Johnson ally.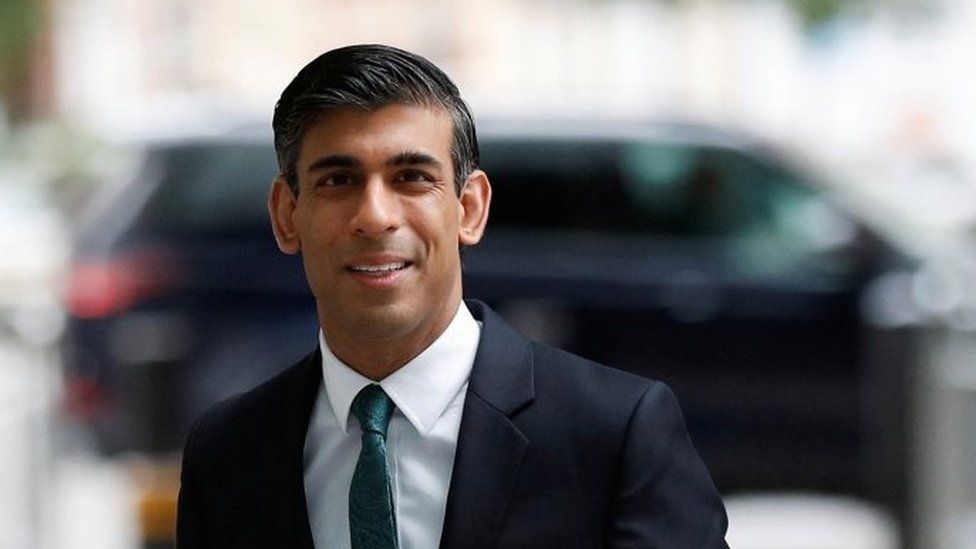 The chancellor is seen as one of the favourites to succeed Boris Johnson

Labour, the Liberal Democrats and the SNP have called on the prime minister to resign, claiming he broke Covid rules.

Shadow health secretary Wes Streeting told the Commons: "The prime minister's not fit to lick the boots of NHS staff in this country."

And Labour deputy leader Angela Rayner has written to all members of the cabinet, asking whether they attended any gatherings during lockdown.

Mr Johnson's statement and apology received a mixed reaction among Conservatives.

William Wragg, a backbench MP who chairs an influential select committee, called the prime minister's position "untenable".

Fellow Tory Caroline Nokes, who chairs another Commons committee, said Mr Johnson should resign, as he was "damaging the entire Conservative brand".

The former minister, who has previously been critical of Mr Johnson's leadership, told ITV's Robert Peston: "Regretfully, he looks like a liability. And I think he either goes now, or he goes in three years' time at a general election."

But Lia Nici, Tory MP for Great Grimsby, accused the Civil Service of trying to "stitch up" the prime minister over the Downing Street drinks.

She told BBC Radio Humberside that Mr Johnson's principal private secretary, Martin Reynolds - in whose name the invitations were sent out - should be investigated.


Timeline: The alleged government gatherings

The government is facing mounting pressure over several events that are alleged to have been held during lockdowns in 2020. Here is what we know about them and the restrictions in place at the time:


10 May 2020
Boris Johnson announced a plan to take the "first careful steps" out of the lockdown that began in March 2020. But he said people should continue to "obey the rules on social distancing and to enforce those rules we will increase the fines for the small minority who break them".

Legal restrictions at the time said you could not leave your house without a reasonable excuse and government guidance was that you could meet one person outside of your household in an outdoor setting while exercising.


15 May 2020
A photo from May 2020 showed the prime minister and his staff with bottles of wine and a cheeseboard in the Downing Street garden. When asked about it, Boris Johnson said, "those people were at work talking about work".


20 May 2020
About 100 people were invited by email to "socially distanced drinks in the No 10 garden" on behalf of the prime minister's principal private secretary, Martin Reynolds.

Witnesses told the BBC the PM and his wife were among about 30 people who attended.

Boris Johnson has confirmed he attended the event, saying he was there for 25 minutes and "believed implicitly that this was a work event".


17 July 2020
Boris Johnson announced plans for a "significant return to normality" in England by Christmas "through targeted, local action" instead of national lockdowns.

But he added that the timetable relied on "every one of us staying alert and acting responsibly".


5 November 2020
With cases of coronavirus rising again, the prime minister told people in England that "we are once again asking you to stay at home" as a new national lockdown began.

He said people should only leave their homes "for work if you can't work from home, for education, and for essential activities and emergencies". Indoor gatherings with other households were banned, unless they were for work purposes.


13 November 2020
Sources told the BBC that Downing Street staff members attended a gathering with Carrie Johnson in the flat where she and the prime minister live. A spokesman for Mrs Johnson denies the party took place.


27 November 2020
A leaving event was held for No 10 aide, Cleo Watson, where people were drinking, and Mr Johnson made a speech, according to sources.


2 December 2020
The second national lockdown ended after four weeks but Boris Johnson replaced those restrictions with "tough tiers to keep this virus down".

London was placed in tier two, which banned two or more people from different households from meeting indoors, unless "reasonably necessary" for work purposes.


10 December 2020
The Department for Education has confirmed it had an office gathering to thank staff for their work during the pandemic. It says drinks and snacks were brought by those who attended and no outside guests or support staff were invited.


14 December 2020
The Conservative Party has admitted that an "unauthorised gathering" took place at its HQ in Westminster. It was held by the team of the party's London-mayoral candidate, Shaun Bailey, who has since stepped down as chair of the London Assembly police and crime committee. The Metropolitan Police is to speak to two people who attended the party.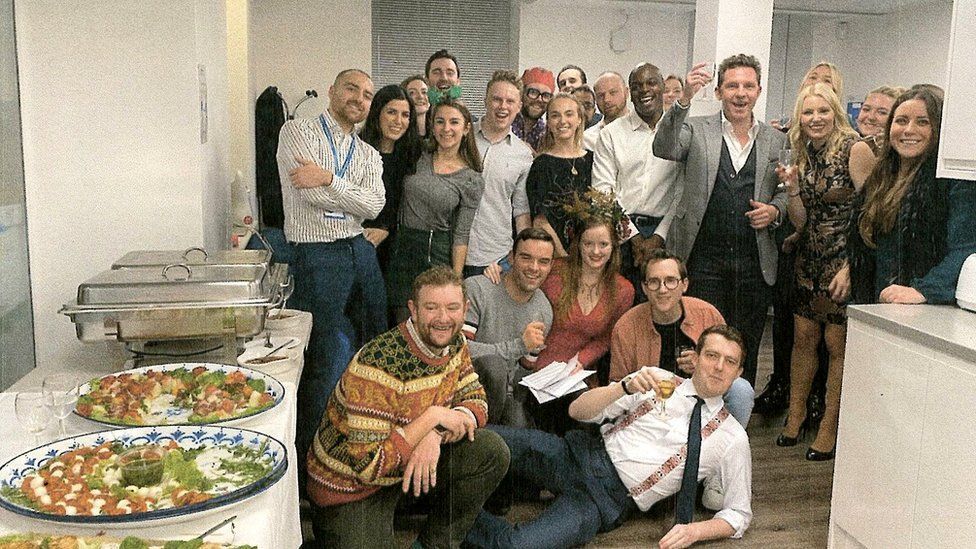 15 December 2020
Multiple sources have told the BBC there was a Christmas quiz for No 10 staff last year. A photo - published by the Sunday Mirror - showed Boris Johnson taking part and sitting between two colleagues in No 10. Mr Johnson has denied any wrongdoing.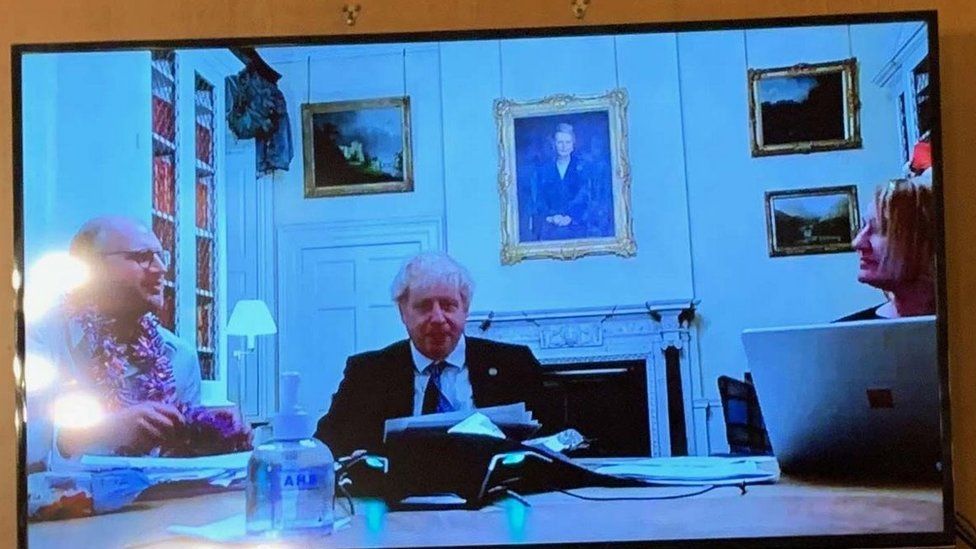 Mr Johnson was pictured in the No 10 library under a portrait of Margaret Thatcher
16 December 2020
London moved into the highest tier of restrictions and Matt Hancock, who was health secretary at the time, said it was important "everyone is cautious" ahead of the festive period.

The Department for Transport apologised after confirming reports of a party in its offices that day, calling it "inappropriate" and an "error of judgment" by staff.


18 December 2020
Downing Street originally denied a report by the Daily Mirror that a party took place in Downing Street.

However, a video obtained by ITV News showed the prime minister's then-press secretary Allegra Stratton, joking about reports of an event, saying: "This fictional party was a business meeting and it was not socially distanced."
Watch: Nadine Dorries says some colleagues have a "track record" of not supporting PM