Boris Johnson and Joe Biden are holding face-to-face talks in the White House.
The UK prime minister and US president are expected to discuss a number of topics, such as climate change and the recent submarine deal with Australia.

It is not known if the pair will discuss the ongoing post-Brexit trade negotiations between the two countries.

But the BBC understands the UK government may consider joining a trade pact with the US, Mexico and Canada instead of pursuing a separate deal.

Earlier, Mr Johnson downplayed the chances of securing a trade deal with the US before the next general election.

Then during a joint appearance Vice President Kamala Harris , he told reporters there had been "real progress" on UK and US talks.

But a source familiar with the government's thinking suggested to the BBC's Laura Kuenssberg that the UK could instead negotiate entry into an existing trade arrangement between those three countries - known as the USMCA - set up after former US President Donald Trump tore up its predecessor, NAFTA.

"There are a variety of different ways to do this," the source said.

"The question is whether the US administration is ready. The ball is in the US's court. It takes two to tango."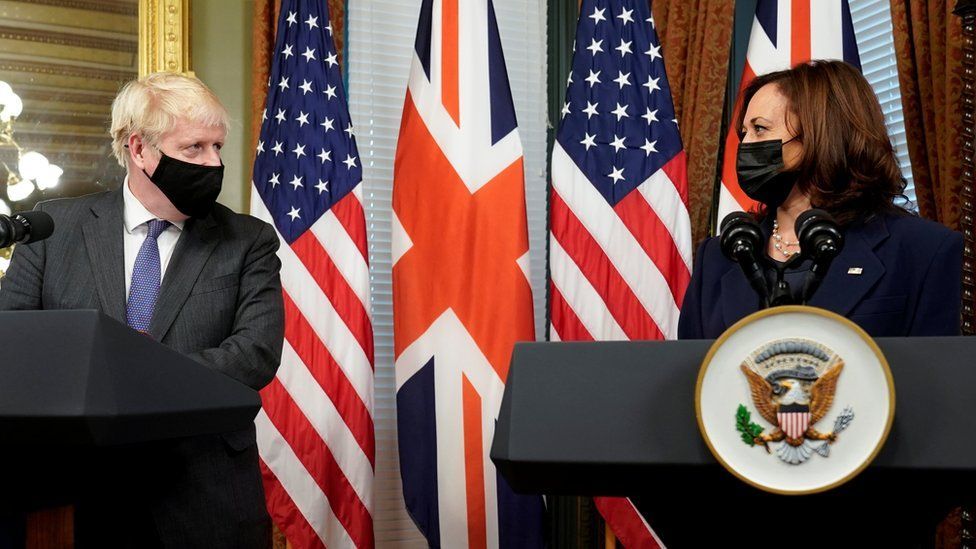 The meeting between Mr Johnson and Mr Biden is the second time they have met in person, with the first being at the G7 summit in Cornwall earlier this year.

And it comes ahead of a third face-to-face meeting in Glasgow for the COP26 climate summit in November.

The event, which will see global leaders gather to discuss the issue, is seen as a crucial moment to bring climate change under control.

Earlier, Mr Biden announced the US would double its climate finance pledge and increase funding for developing countries to $11.4bn (£8.3bn) by 2024.

Mr Johnson said the US had "stepped up to the plate" with what he called a "massive contribution" towards the $100bn goal for countries to raise.