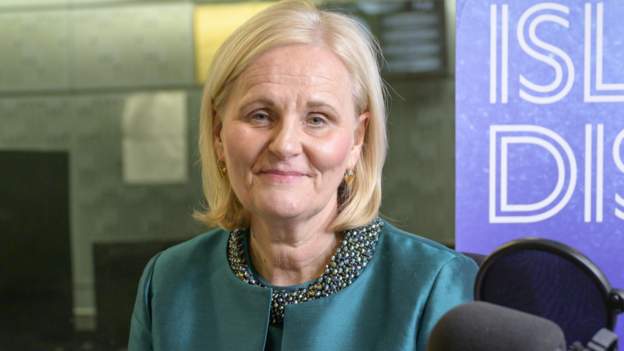 Blanc reveals misogyny experience at WRU
Former Professional Rugby Board (PRB) chair Amanda Blanc has spoken about the misogyny she endured at the Welsh Rugby Union (WRU).
In November 2021, Blanc stood down from the WRU board and PRB role she had held for less than two years.

Aviva Group CEO Blanc says she was not listened to at the WRU.

"I spent two years on the Welsh Rugby Union board, and I would say that I'm a reasonable businessperson," Blanc told BBC Radio 4's Desert Island Discs.

"I've been in business for a long period of time, but when you are just simply not listened to, some misogynistic comments.

"There was one which was 'what do you know about governance?'. Well, quite a lot actually. I've got 32 years of experience and I operate in a regulated business.

"Nobody else was asked that question, but I was. I got an apology for that actually, a written apology for it."

The PRB includes representatives of the WRU and the four Welsh regional teams, Cardiff, Dragons, Ospreys and Scarlets.

A BBC Wales investigates programme highlighted accusations of sexism and misogyny within the WRU and questioned why a critical report into the women's game in 2021 has not been published.

The WRU says it does not have the permission of the author or participants to publish the review.

The scandal ultimately led to the resignation of former chief executive Steve Phillips, while chair Ieuan Evans and acting chief executive Nigel Walker have ordered an independent taskforce to look into the WRU's culture.

The programme revealed how Blanc, a UK government Women in Finance champion and Sunday Times Businessperson of the Year, stepped down because she felt she was "not being listened to" and the WRU "needed modernisation".

In her leaving speech, Blanc recalled a "truly offensive discussion" about reducing the sanctions for an elected WRU member after he had made misogynistic comments in public, including that "men are the master race" and women should "stick to the ironing".

Welsh rugby's governing body has called an extraordinary general meeting (EGM) for 26 March to try and instigate major change in the way the organisation is run.

Blanc believes this crisis could have been averted.

"I still feel that genuinely, and I don't say this very often, if I had been listened to then we wouldn't have had the situation that would have happened over the last number of weeks, particularly in respect of the women's game," added Blanc.

"There was a women's review which was undertaken about the way that women were treated very differently to men.

"I called for the women's review to be made public and I called for the board's governance to be modernised, neither of those two things have happened and we find ourselves now in the situation where a lot of women have come forward to say that they were badly treated.

"It left me feeling deeply frustrated, very sad actually. But I am hopeful that with the review that's now being undertaken and I hope that I am asked to contribute to that review, that there will be change, but it needs to change."