Zealots hail their green credentials while critics cry they're a menace to the roads. As Lime's electric two-wheelers prepare to land in the capital next week, Simon Usborne takes one for a test ride
More than a century after rail deliveries of coal to the depots of King's Cross fuelled London's industrial growth, the cobbles of the reborn Coal Drops Yard are, on a humid Thursday afternoon, the bumpy stage for a purported revolution in clean transport.

With a push of my left leg, a slight wobble of my right and a gentle thumbing of an accelerator, I am among the first Londoners to test new electric scooters that will be part of hire trials starting on Monday.

As lunchtime trade peaks outside Waitrose during a preview event, a Silicon Valley tech start-up is hoping that I am zipping silently — at a strictly limited 12.5mph — into a new future.

Lime is one of three operators granted licences by Transport for London (TfL) to unleash their app-linked scooters in a year-long trial. It starts in Canary Wharf, the City of London and four boroughs (Kensington and Chelsea, Ealing, Richmond and Hammersmith and Fulham).

TfL has heralded the vehicles as a key part of the city's sustainable future and pandemic recovery. But e-scooters have had a difficult birth in cities around the world, raising concerns about safety, street clutter and their vexed legal status.

Lime's scooters, which will cost £1 to unlock and 16p per minute, feel reassuringly sturdy to this newbie. Despite being slower than Mo Farah's running pace, it would be nippy enough to take me places — and with a lot less sweat. It's also hard not to smile while riding it.

The scooters, 200 of which are being made available initially, can be unlocked via the Lime app at marked bays on wider pavements or in converted car parking spots.

More than 40 UK towns and cities, including Birmingham and Manchester, are already taking part in a government e-scooter trial after a change in legislation last year. But the size and political complexity of the capital have delayed the pilot here.

That complexity is clear in King's Cross. While I'm okay to do loops of a privately-owned, gentrified coal shed, which Lime has hired, I'm not allowed out onto the roads.

Why? Because the trial hasn't started. But also because Camden, the borough I am in, isn't part of it. Until Monday, any e-scooter is also illegal in London.

The trial scooters, which are manufactured to strict standards, then enjoy an exemption. But privately-owned e-scooters have always been prohibited on public UK roads and pavements.

Thriving online e-scooter stores say this, usually in the small print. But the vehicles, many of which can exceed 30mph and have feeble brakes, are now a common sight in London. Awareness of the law remains low.

"They are absolute death traps," says Simon Ovens from the Metropolitan Police's road and transport policing command. He tells me his officers have seized about 800 e-scooters this year.

Riders face a £300 fine and points on any current or future driver's licence. Intoxicated e-scooter riders are being prosecuted under drink-driving laws. E-scooters are classed as motor vehicles. They need insurance, which the hire companies cover. While anyone can rent an e-bike, which are still classed as bicycles, Lime's scooter customers will have to be aged over 18 and upload a driver's licence.

That's not the only restriction in the trial. From Monday, a rider scooting into a non-participating borough will come to a stop as a GPS tracker disables the motor.

If it has been a headache to get even this far, Alan Clarke, Lime's polished director of policy, is showing none of it at King's Cross (the former lobbyist for Uber is perhaps used to controversy around tech-enabled transport).

"I think the important thing is that we have the right trial, not a quick trial," he says. He also says boroughs including Southwark and Lambeth are aiming to join this summer.

He is confident that the need to complete journeys in marked bays should limit street clutter, which has been a problem elsewhere.

If the trials are deemed a success, thousands more e-scooters may arrive in London. Proponents say they appeal to a wider demographic than cycling, including more women and younger men.

"We're seeing a cultural thing where for some communities bikes aren't aspirational, but, because of their newness and innovation, e-scooters are seen as cool," says Lorna Stevenson, an e-scooter researcher at the Active Travel Academy at the University of Westminster.

Lime is pushing for better awareness of e-scooter laws. The Met supports the trial and has also vowed to increase enforcement. But is there a risk that the trials exclude people for whom e-scooters have become an affordable means of getting around?

"What we don't want to do is marginalise certain groups by requiring them to have a form of ID they might not have," says Clarke, who would welcome a review of the requirement.

He also points out the irony in the need for a driver's licence for a green mode of transport in a city trying to kick its car habit.

Lime is mainly shouting about safety. Accidents on private scooters, while rare, have grabbed headlines. Trial e-scooters have bigger wheels and suspension to absorb potholes, and a two-metre stopping distance.

TfL, Lime and the other two London operators — Dott and Tier — have also agreed to a 12.5mph limit, lower than the 15.5mph maximum the trial schemes permit. Clarke says this better suits London's busy roads. Accidents are also bad for business.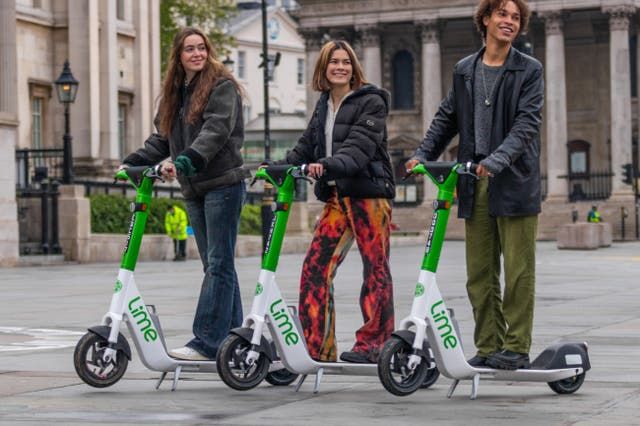 Lime

I'm surprised by how safe an emergency stop feels in King's Cross, where I have quickly got the hang of my new ride. I'm a dedicated cyclist but I can see the appeal of an e-scooter for anyone who can't pedal or doesn't want to sweat.

There's something about standing on a lump of metal rather than sitting astride it that feels natural. Toddlers tend to scoot before they cycle, after all.

We will know in a year if London decides to become a city of rental e-scooters — and whether the police will win the war on illegal vehicles.

If a new transport revolution does arrive in the capital, we know only this — it will travel at 12.5mph.