Anoosheh Ashoori still has to pinch himself to be sure that he really is safe at home with his wife in south London and no longer in the "hell" of Evin jail in Tehran.
"I still can't believe sometimes that I am back," he told me from his living room in Lewisham. "When I was in my cell I used to pinch myself when I was dreaming that I was with Sherry. Then I would wake up to the reality of being in my cell. Here, it's the other way around. "

It's a big - but happy - adjustment to a new life of freedom, which began with his favourite beer and a full English breakfast.

"Even when I'm awake, for example sitting in the garden, I sometimes say this cannot be true, this cannot be happening. I must be in my cell and I'm expecting any moment to wake up. So I'm preparing myself not to be too upset when I wake up. It's still quite a challenge for me to be easy with being here.

"Still at night sometimes I touch Sherry's hand to see if this is real, if this is happening."

In August 2017, the 68-year old was visiting his elderly mother, who had just had a knee operation, when he was bundled into a van, blindfolded and later accused of spying for Israel.

At first he and his family assumed it was a mistake. The retired engineer had never been involved in politics. Among his inventions: a product to protect Iranian homes after a devastating earthquake in 2003, and self-heating boots for his daughter's cake stall in Greenwich Market.

"You always ask - 'why me?'" he says. "It's like when there is an aircraft accident and somebody's child is in that aircraft. The mother may ask 'why me?' Why my child?"

It was only later that he realised that he was being held as a bargaining chip.

Iran wanted something from Britain - the repayment of a decades-old military debt.

"It wasn't me who was important," he said. "It was the passport that was being arrested - but the holder of that passport was me."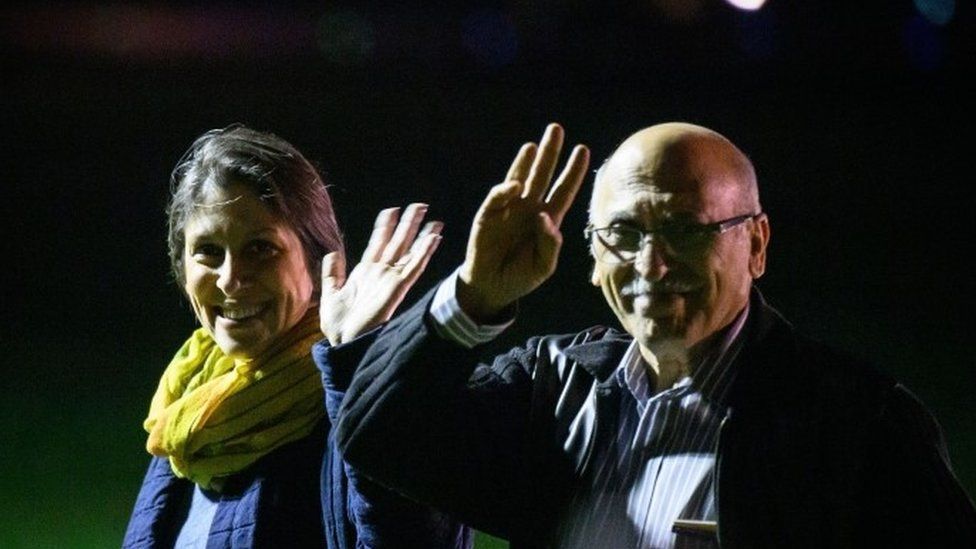 Anoosheh Ashoori and Nazanin Zaghari-Ratcliffe arrived back in the UK earlier this month

On 17 March, two British-Iranian nationals - Mr Ashoori and Nazanin Zaghari-Ratcliffe - walked down the steps of a plane at RAF Brize Norton.

Their release came after the UK finally paid back the money it owed Tehran for a tank deal which, after the Islamic Revolution of 1979, was not fulfilled. Although both the British and Iranian government have said the two issues should not be linked.

But British-born wildlife conservationist, Morad Tahbaz, was left behind and Mr Ashoori says he can't celebrate while such a "good" man is still behind bars.

"He's ill and needs medical attention," he said. "Sometimes I think it should have been him instead of me on that plane, and the guilty feeling you have that you have left all these good people behind is really painful. That is something I cannot come to terms with. I urge Mr Johnson to complete this good work and to make sure that they are back - Morad and the other British nationals."

He knows painfully well the conditions which they are enduring in Evin jail. He shared a cell with cockroaches, bedbugs and 14 or 15 people - making his own headphones out of wire and foam to block out the sound of other inmates' snoring.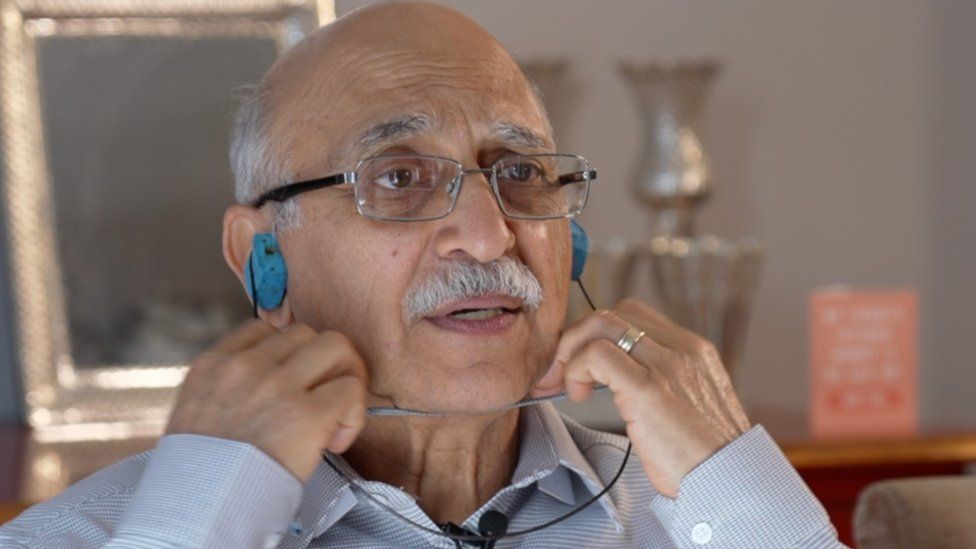 Mr Ashoori made his own headphones to block out the sound of other inmates' snoring

"Although many of them are highly educated it is very difficult for all of you to always live in peace together. So sometimes fights happen. But then we learn to live with each other because we don't have any other choice."

The hardest part of his ordeal was at the start - when he was held in solitary confinement and interrogated for hours at time. "I've put that behind me. I try not to think about it much," he says.

Threats were made against his family and he tried several times to take his own life, thwarted only by prison guards.

But he says the most painful part of the experience was seeing the suffering of other inmates driven mad by their incarceration.

"There are people there who are like zombies," he told me. "They just go back and forth in the yard. Sometimes you see them talking to themselves and gesticulating. They're in their own world."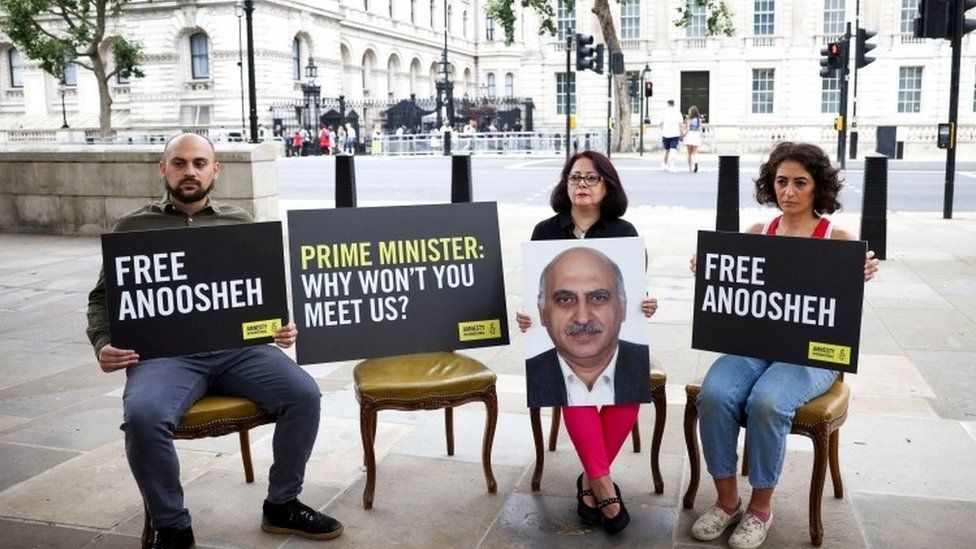 His family consistently protested for his release

Then there's "the shrapnel" that hits the family members of those wrongfully imprisoned. Mr Ashoori is well aware of the price his wife and children have paid, as they campaigned to get him free, often struggling for media and government attention.

It was memories of his family, and the camaraderie of fellow-inmates, that kept him sane. "When you are in your cell, you're always looking behind you. You're always trying to remember all the good memories that you had with your family. You're living in your memories."

To pass the days, he exercised religiously, wrote copious diary entries and formed a poetry society.

"It ended up with eight of us who would regularly meet in one of the rooms. Among us was a satirist. He said he could teach us how to write short stories. So then we had another class - short story writing. This initiated the thought that to fill up our time we could form other societies."

Mr Ashoori added: "There was this friend who had a PhD in physics. So he started teaching us quantum mechanics. We had this very close friend who was a professor at university, teaching economics. So he started teaching us macroeconomics, microeconomics, managerial economics. We had another inmate who had served as a diplomat in Venezuela. He had learned how to speak Spanish so we started having Spanish classes. We started having a philosophy class just before I left."

He calls it "the University of Evin".

"You really learn how to be resilient because you have so many challenges from the time you get up," he says.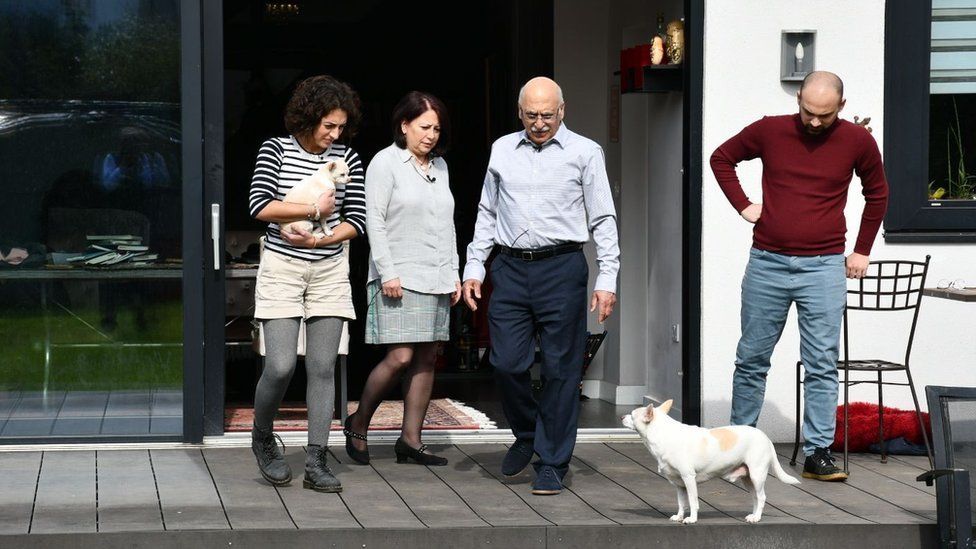 Mr Ashoori is looking forward to getting back to family life

His task now is to learn how to live a normal life again.

"He keeps asking permission for stuff - to take mugs, to do very normal things that you don't ask permission for," says his wife, Sherry. "He's very sensitive to sounds, I've noticed. For example, if we close the fridge door he'll jump."

But the couple are looking forward to "just getting back to our ordinary life", she said.

"Obviously we'd really like to have a nice holiday but for the moment even the daily routine of life is nice. Just having a cup of tea is nice. Sitting together watching a film or series is nice. He's missed so much over the past four and a half years. I look forward to reintroducing him to them."

The question in her mind, and in that of Mr Ashoori, is why it has taken so long to get him back home.

"They could have done this much earlier. Nazanin could have seen her beautiful daughter much earlier. I could have been back with my family," he says.

"This was a debt that had to be paid. Why didn't you do it earlier? Why did we have to go through all these years? Could they stand even one day of it in Evin prison? If they had actually experienced that they would have done it much earlier."

A government spokesman told the BBC: "From the Prime Minister down, this government has been committed to securing the release of Anoosheh Ashoori. It was always entirely in Iran's gift to do this, but UK ministers and diplomats were tireless in working to secure his freedom and are delighted that he is now home.

"Our consular team were in close regular contact with Anoosheh's family, with officials available to them at any time throughout his ordeal."
Watch Anoosheh Ashoori describe returning home after spending five years in Iranian jail