Chief architect of Moscow Sergey Kuznetsov creates an alluring hideaway in Nikola-Lenivets Art Park.
In the Kaluga region of Russia, architect Sergey Kuznetsov has created a mirrored metal cabin that perches above the landscape like a massive telescope. Kuznetsov designed the retreat for the Archstoyanie Festival (sometimes referred to as Russia's Burning Man), which takes place at Nikola-Lenivets Art Park.

Clad in stainless steel that reflects its wild and verdant setting, the tubular home features a large, round door that opens to a covered terrace. "The reflective quality of the stainless steel helps the home blend with, and disappear in, nature from some points of view, making it very connected to nature," Kuznetsov says. "At the same time, it's manmade and opposite to nature. This creates an interesting binary and pushes people to think."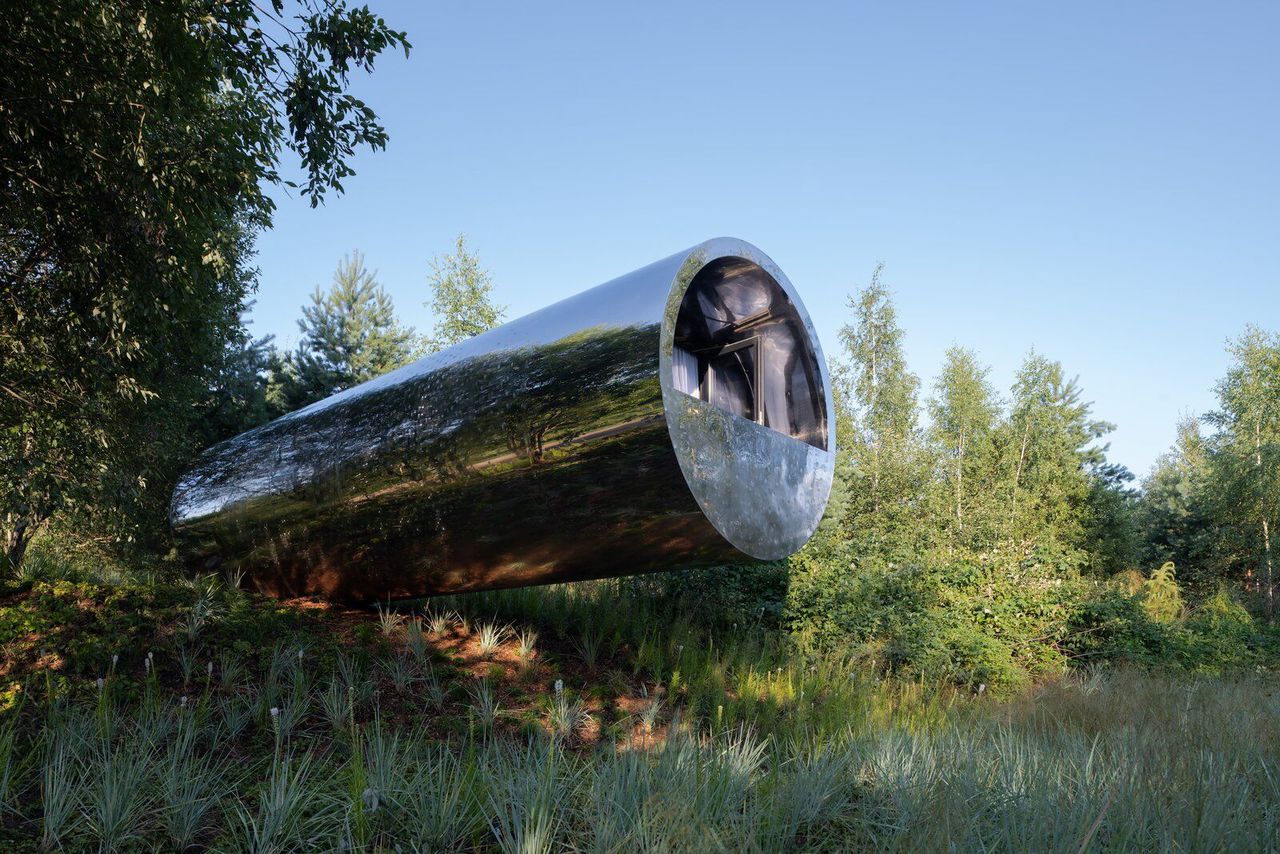 The stainless-steel cabin cantilevers over a hillside and reflects the foliage of Nikola-Lenivets Art Park.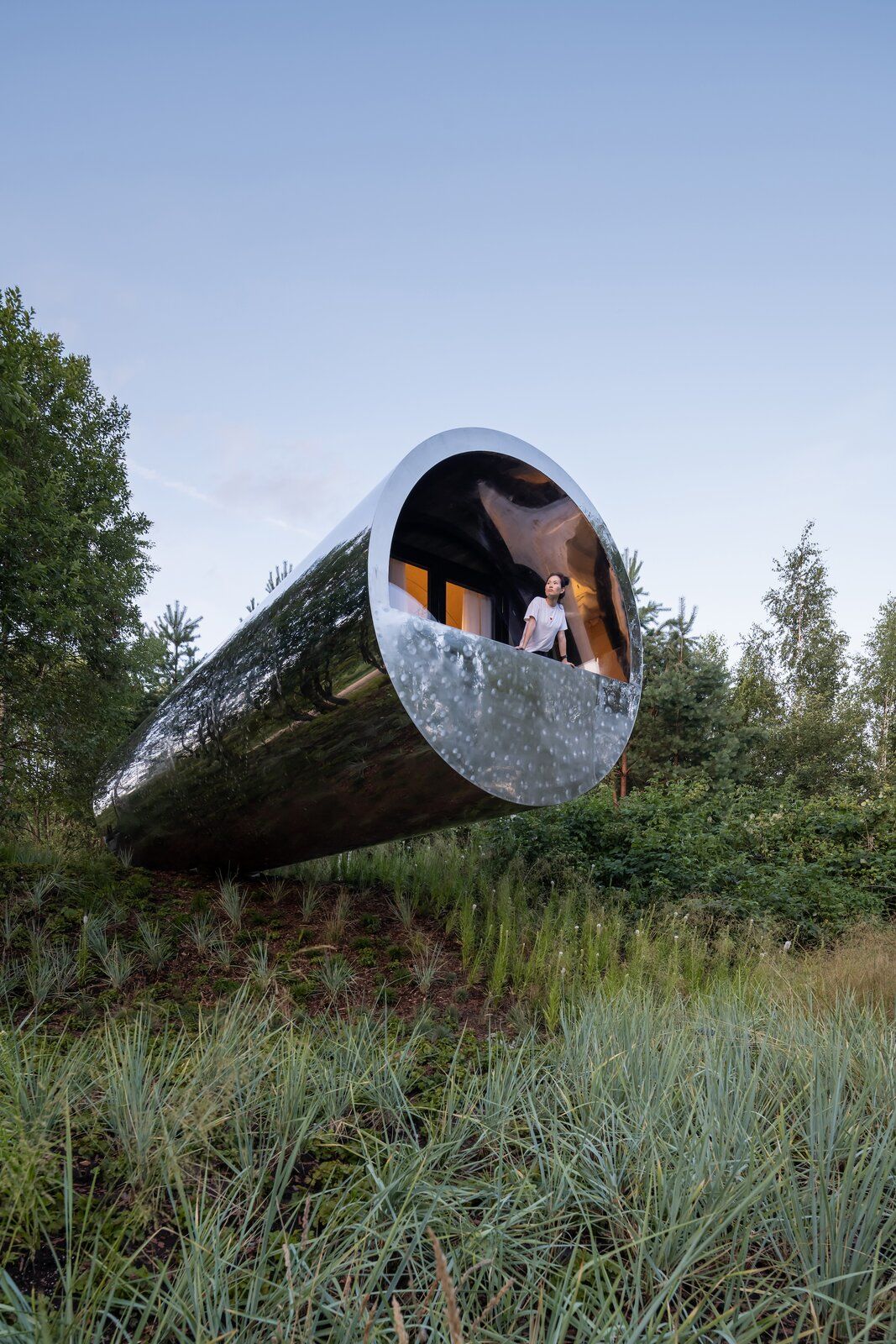 A terrace at one end of the cabin provides an indoor/outdoor living experience.

The home's shiny cladding also offers structural benefits. "We needed something that could be produced in a factory, like they do with airplane or ship building," Kuznetsov says. "And, of course, our goal was to create a home that cantilevers, and this was easier to achieve with stainless steel."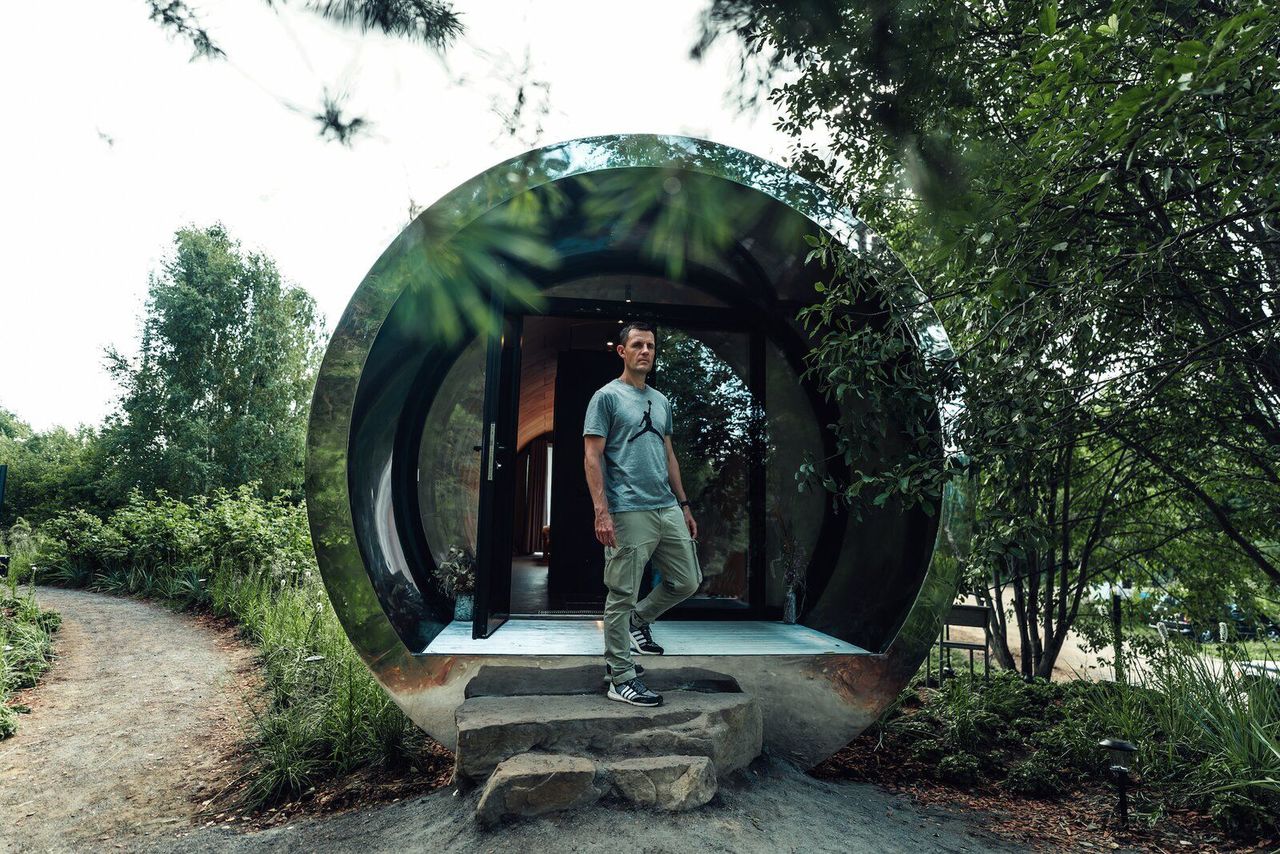 Sergey Kuznetsov (above), the chief architect of Moscow, designed the metal cabin for the Archstoyanie Festival, which is sometimes referred to as Russia's Burning Man.

The pipe-shaped cabin weighs almost 12 tons, and it has a diameter of 11 feet and a length of a little over 39 feet. "The metal frame is formed using transverse frames or load-bearing ribs installed at a pitch of 500 millimeters and connected by stringers or horizontal guides, like in the body of a ship," says Kuznetsov.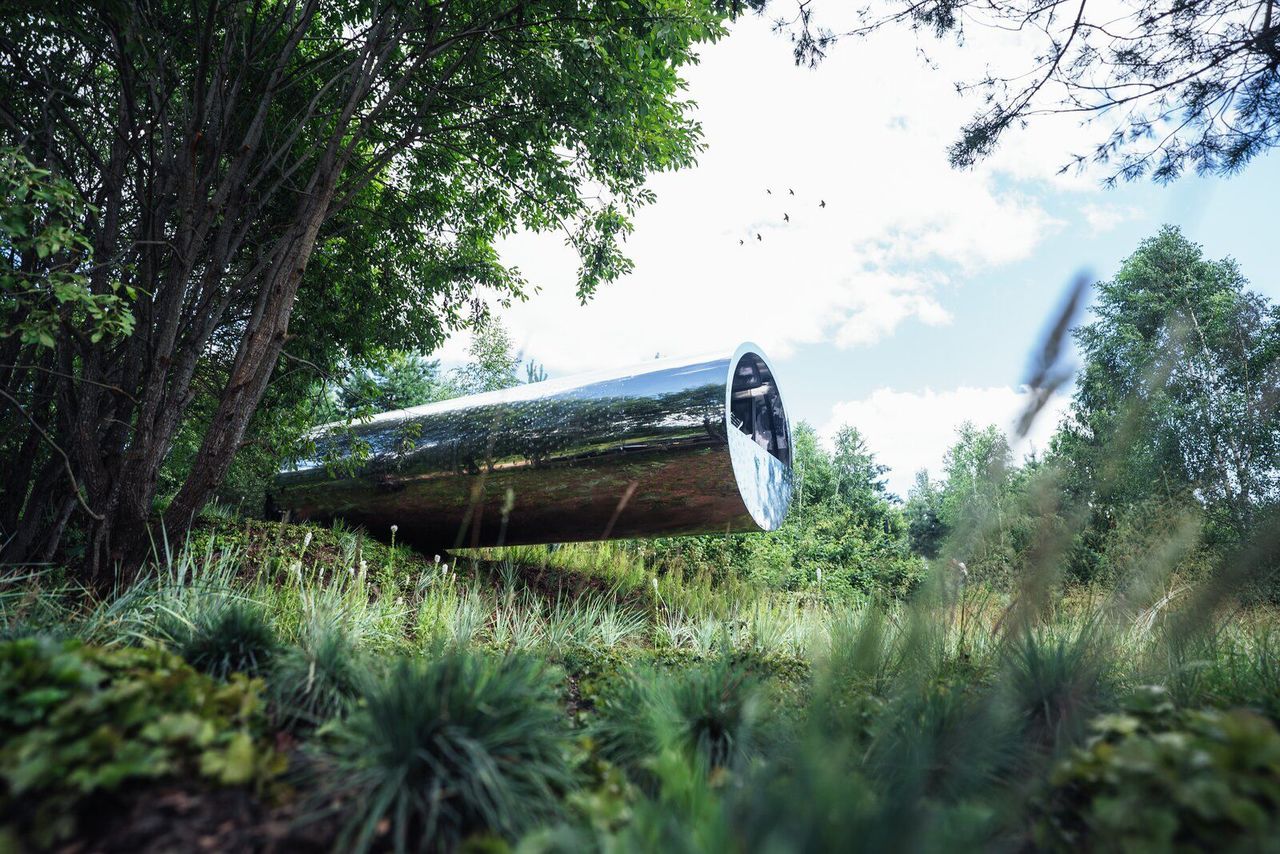 The cabin's cladding consists of a single sheet of stainless steel.

The cabin's concrete foundation is buried, which makes the cantilevered end seem like it's floating in midair. "We covered it with soil, so it's hidden in the hill," he says. "I love this feeling of flying, this idea of a cabin suspended in the air."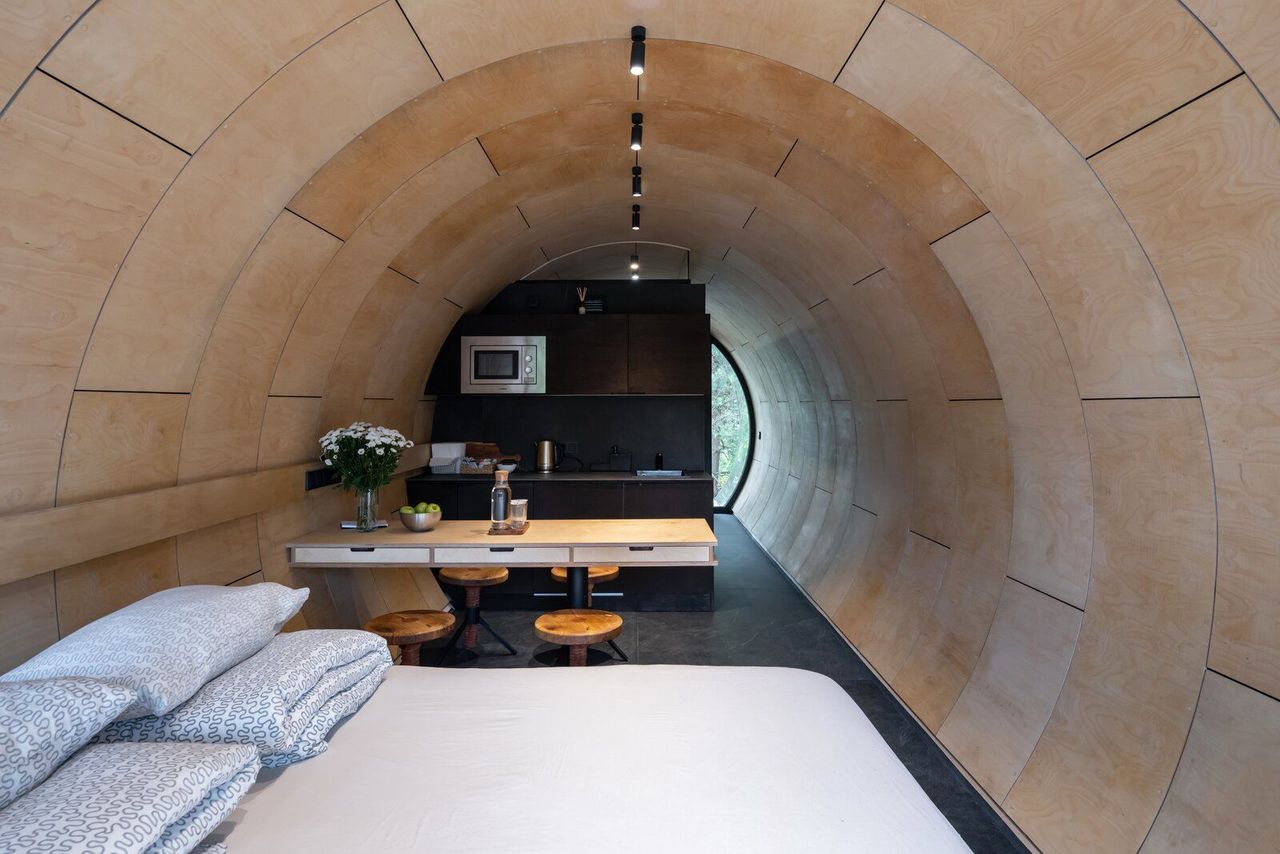 The cabin's interior walls and ceiling are finished with wood panels that lend texture and warmth.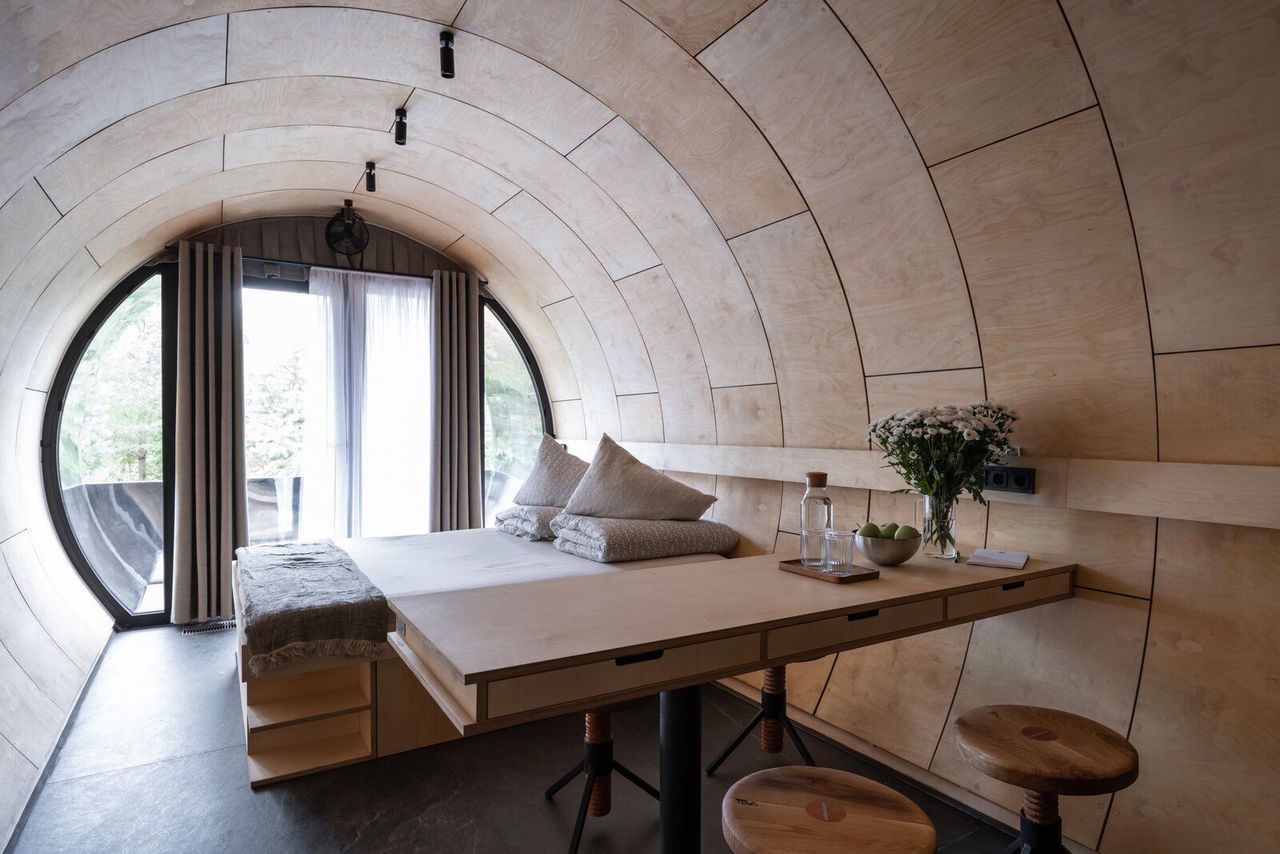 The sleeping area is flanked by a kitchen/dining area and a sliding glass door that opens up to a terrace and the landscape beyond.

Inside, the curved walls and ceiling create a cozy feeling and direct the eye toward views of the landscape. "Nikola-Lenivets Art Park is a place where nature and art create real magic," Kuznetsov says. "There are a couple of houses in the distance, but you can't see them. You just see trees and sort of a forest effect."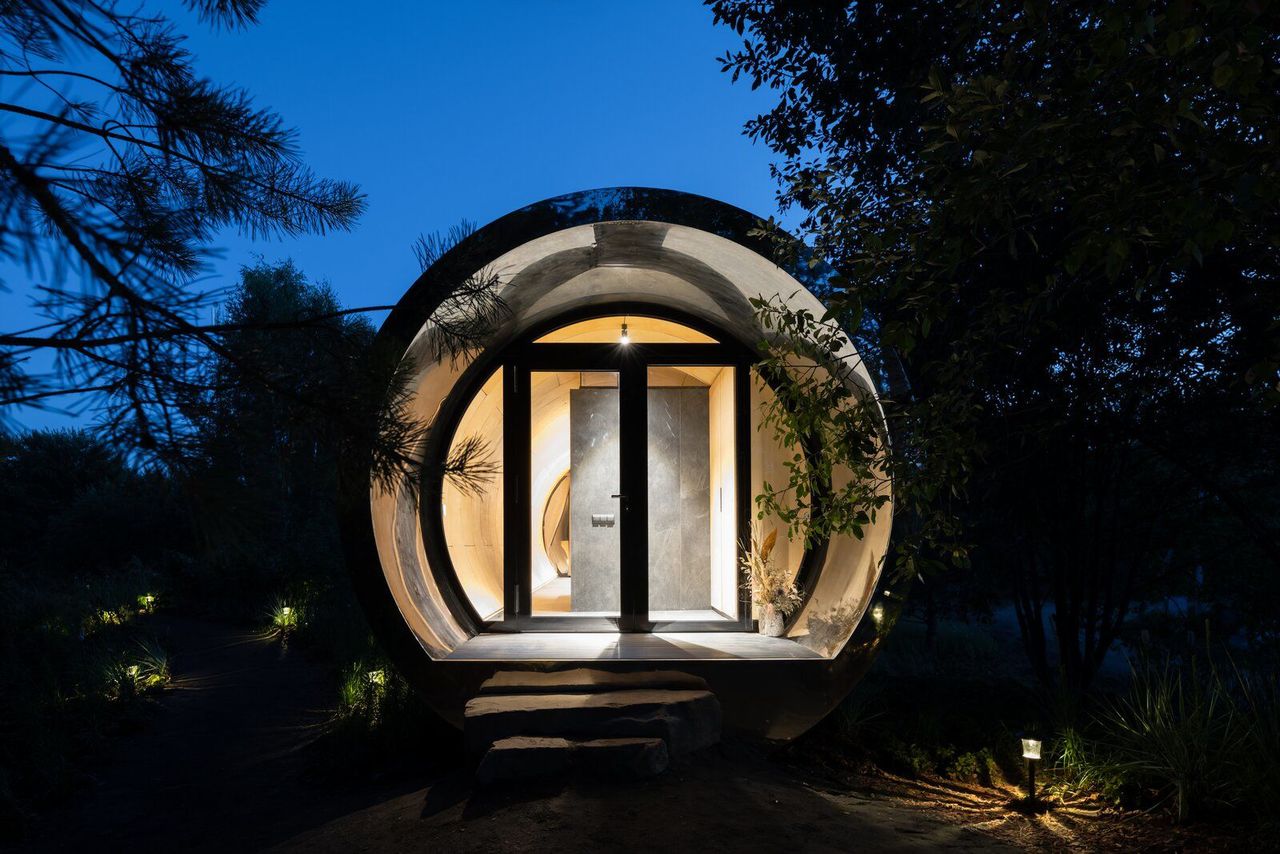 Stone steps lead to the cabin's round front facade and entrance.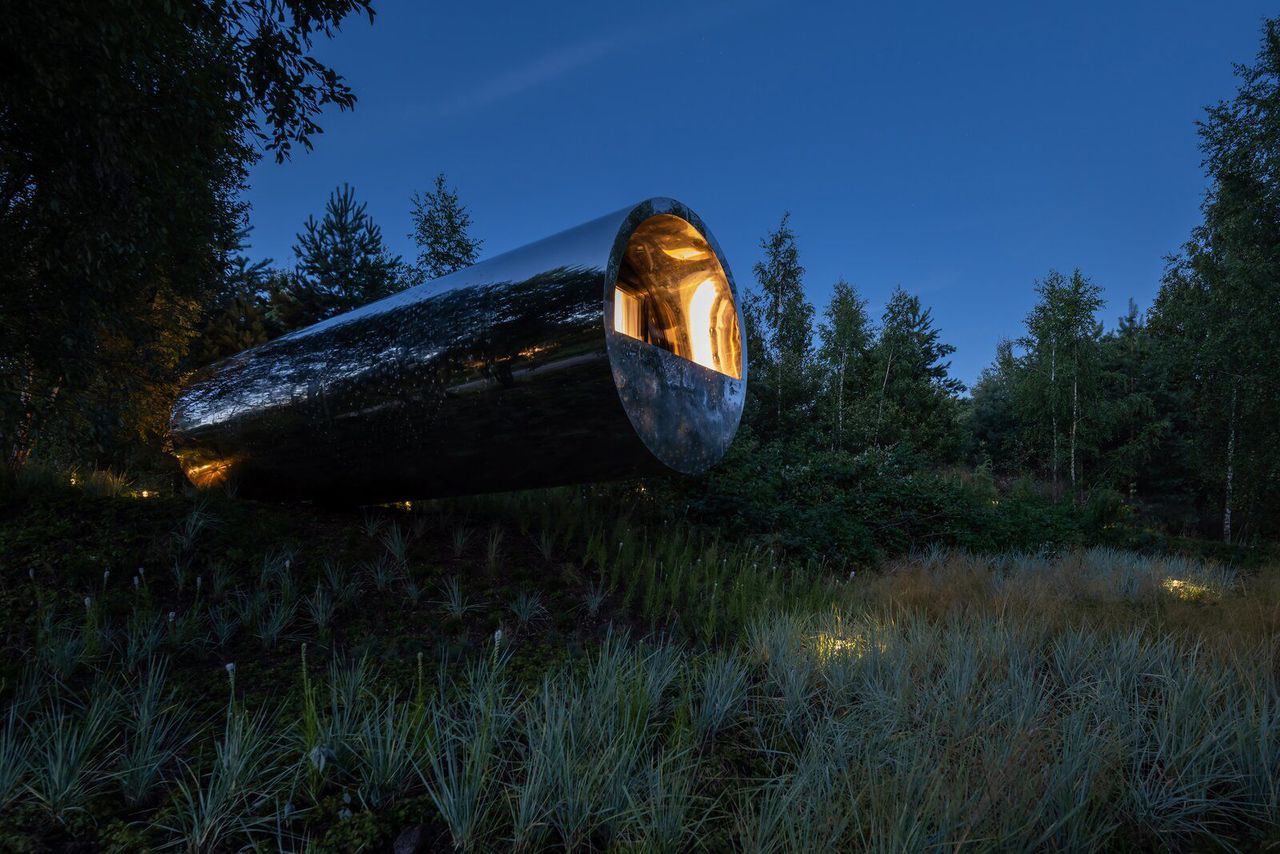 In the evenings, the glass openings on each end of the cabin glow, creating a light sculpture effect.

The cabin is arranged with a kitchen/dining area, a bathroom, and an open-plan sleeping area that connects to the terrace and the landscape beyond via a large sliding glass door and tall windows. "The interior is finished in a modern style with wood and metal and is equipped with everything necessary for a comfortable stay," Kuznetsov says. "I think this is what modern architecture should look like-high-quality ideas, interesting materials and technologies, and extraordinary solutions in terms of form and design."