The Treasury is considering changes to the process that allowed the head of Russia's Wagner group to get around UK sanctions and sue a UK journalist.
Investigative reporter Eliot Higgins faced action by Yevgeny Prigozhin - whose Wagner mercenaries are fighting for Russia in Ukraine - in late 2021.

OpenDemocracy reported the UK issued special licences so he could override sanctions and pay his legal fees.

The case was dropped when he admitted his ties to the notorious private army.

Mr Prigozhin was first sanctioned by the UK in 2020 in a bid to stop anyone doing business with him.

But under a UK law defining the Russian sanction regime, provisions allow sanctioned people to cover their "basic needs", including the ability to apply for a licence to pay for legal fees.

Decisions are taken by the Office for Financial Sanctions Implementation, a department in the Treasury which reviews applications by people placed under financial measures.

Mr Prigozhin successfully used this route to enlist the help of Discreet Law, a London-based law firm, in order to take action against Mr Higgins, reported Open Democracy, a UK website that focuses on human rights.

Treasury minister James Cartlidge told MPs on Wednesday that the guidance for these exemptions was "longstanding" - but said the government "is now considering whether this approach is the right one and if changes can be made".

A Treasury spokesman also said these applications are reviewed by officials with no political involvement - with Mr Cartlidge later telling the Commons "we are not aware of any decision being taken by a minister".

Shortly before the legal case was brought, Mr Higgins's website Bellingcat had recently published a story naming businessman Mr Prigozhin - an ally of Vladimir Putin - as the man behind the Wagner Group.

He denied involvement until after the February 2022 invasion began, despite having already been sanctioned by the UK government over the group's activities in Libya in October 2020.

The journalist was personally sued in the UK for tweeting articles by his publication and other outlets. He believes the decision to target him rather than Bellingcat was designed to intimidate.

Speaking to the BBC, Mr Higgins called for greater transparency about how the rules are applied. He said he was left with £70,000 in legal costs despite the case being dropped.

He said: "For me the question is, 'What is the process?' No one seems to fully understand that. Until there has been more transparency we can't make a judgement about if it was applied correctly.

"Then the next question is, 'Do we want this sort of process in place where journalists can be sued?'"

He added: "How do I know some other oligarch isn't going to do the same thing again to me next week? This time the costs were five figures but it might be six or seven figures next time."

Discreet Law has been under investigation by the Solicitors Regulation Authority since May 2022 following a formal complaint from Bellingcat.

Mr Prigozhin has been sanctioned by the UK, European Union and US. He has been accused of interfering in foreign elections by Western governments using online "troll farms".

The 61-year-old rose from an obscure background working as a hot dog street vendor and serving time in prison for robbery before going on to become a key Putin ally.

His lucrative catering contracts with the Kremlin earned him the nickname "Putin's chef".

The Wagner Group has been accused of committing atrocities in Ukraine and was involved in the recent operation to capture the town of Soledar.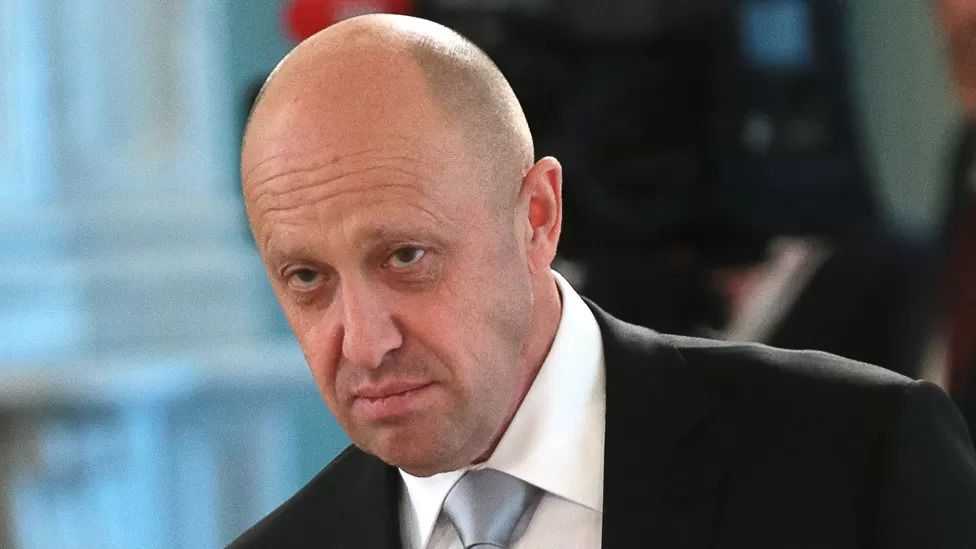 Yevgeny Prigozhin at a St Petersburg reception in 2016
The government confirmed it was conducting an internal review of the process after Labour was granted an urgent question in the Commons on Wednesday.
Shadow foreign secretary David Lammy said "the government appears to have granted a waiver for a warlord that enabled him to launch a legal attack on a British journalist".
He described Mr Prigozhin as "one the most dangerous and noxious members of Putin's inner circle" and said it would be "absolutely unconscionable" if the Treasury played a role in "alleviating pressure" on the Wagner Group.
Mr Lammy also pointed out that Mr Sunak was chancellor at the time the application was granted by the Treasury office.
Decisions on such waivers are made "on a costs basis", Mr Cartlidge said, and that it was up to the courts to decide on the "substantive merits of the case rather than the government".
He added: "However I can confirm that in light of recent cases and in relation to this question, the Treasury is now considering whether this approach is the right one and if changes can be made without the Treasury assuming unacceptable legal risks and ensuring that we adhere to the rule of law."
Mr Cartlidge defended the government's record on sanctions and said ministers were committed to cracking down on individuals who use "threatening tactics to silence free speech advocates who act in the public interest".
Dr Sue Hawley, executive director of the campaign group Spotlight on Corruption, said the exemptions used in this case could leave the UK's anti-Kremlin sanctions policy "so riddled with holes that it will be a laughing stock and it needs to be urgently reviewed".
A Treasury spokesperson declined to comment on the individual case, adding: "Everyone has a right to legal representation and the Office for Financial Sanctions Implementation grant licences to allow sanctioned people to cover their own legal fees, provided the costs are reasonable."
Roger Gherson, who founded the firm Discreet Law, told the Financial Times it had "at all times complied fully with their legal and professional obligations". The BBC has contacted them for further comment.