This is the horrifying moment a woman pushes a three-year-old girl face first onto a train track, it is claimed.
The toddler was waiting for the train with her mum in Oregon, US, when the stranger allegedly shoved her onto the line.

Shocked bystanders sprang into action to help the little girl and rushed to lift her from the rails.

The youngster hit the rocks and metal track face-first, later suffering from a severe headache and a small red mark on her forehead.

A man, who was standing nearby, hauled her to the safety of the platform before the next train arrived.

Brianna Lace Workman, 32, was arrested and charged after the incident at Northeast Portland MAX station.

She is listed as homeless and living in Portland, according to court records.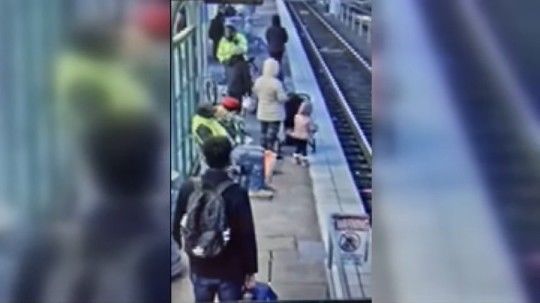 The three-year-old girl was stood with her mum waiting for a train in Oregon, US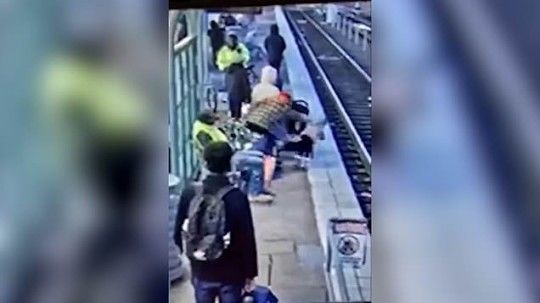 The woman, sat behind the girl and her mum, allegedly pushed the toddler face first onto the tracks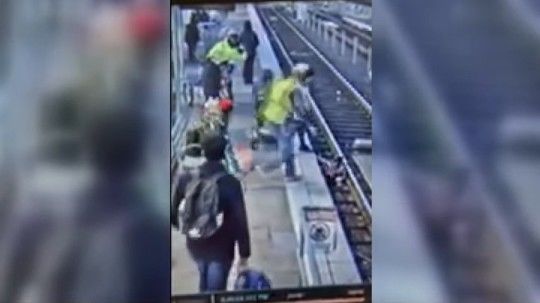 Shocked bystanders rushed to save the little girl
District Attorney Mike Schmidt said: 'A mother and child were waiting for a MAX train when Workman allegedly shoved the child, aged three, off of the platform and onto the MAX train tracks without provocation.
'The child landed face-first onto the metal rail and rocks before being quickly rescued from the train tracks. The child reported a severe headache and had a small red mark on their forehead after the incident.
'The Multnomah County District Attorney's Office has filed charges, including an offense for which Oregon law permits pretrial detention, and is requesting that Workman remain in custody and be held without bail.'