Some asylum seekers who arrive in the UK will be sent to Rwanda, under government plans.
It says the scheme - which faces legal challenges - will discourage others from crossing the English Channel.

What is the Rwanda asylum plan?

The five-year trial would see some refugees who arrive in the UK sent to Rwanda, to claim asylum there.

The first are due to be sent on on Tuesday 14 June.

It is thought to be aimed mostly at single, young migrants who arrive through "illegal, dangerous or unnecessary methods", such as on small boats or hidden in lorries.

Prime Minister Boris Johnson said Rwanda would take responsibility for those sent there, with equal access to employment and services.

How many people could be sent to Rwanda?

"Anyone entering the UK illegally" since 1 January could be sent to Rwanda, with no limit on numbers, the prime minister said.

But a Home Office source told the BBC that, of the original 37 people due to be sent on Tuesday, legal challenges about modern slavery and human rights had drastically reduced that number.

According to the charity Care4Calais, 11 people are now due to fly.

What is the legal action?

Charities and lawyers representing asylum seekers launched legal action against the UK Home Office.

Two cases were being heard on Monday:

*  The Court of Appeal rejected a bid to halt the flight, by the Public and Commercial Services Union and the charities Care4Calais and Detention Action

*  In the High Court, the charity Asylum Aid has applied for an injunction against the flight

Asylum Aid says the procedure to deport asylum seekers is unfair because it does not allow enough time to access legal aid and appeal for the right to stay in the UK.

Other human rights groups have questioned whether Rwanda is safe for asylum seekers and say the policy breaks the European Convention on Human Rights.

The prime minister said the government had anticipated "very active lawyers" would challenge the policy.

He said activists want a "completely open-doors approach to immigration" and it was important to "stop criminal gangs" trafficking people in dangerous boats.

What is life like in Rwanda?

Rwanda has adapted basic hostels near the capital Kigali to house migrants from the UK.

The country is already home to around 150,000 refugees from neighbouring Burundi and DR Congo.

It also hosts migrants who tried to cross the Mediterranean to Europe via Libya.

Some refugees work as farm labourers and domestic servants. Most are unemployed, relying on state benefits of about £35 a month.

Rwanda's government says the country has undergone a development "miracle" since 1994, when a genocidal war killed 800,000 people.

National income has risen tenfold since then. Life expectancy has increased sharply since the 1990s and is now 69.

However, about 70% of the country's 13 million people are subsistence farmers, meaning they eat, rather than sell, what they grow.

How much will it cost?

The government says the UK asylum system currently costs £1.5bn a year, with more than £4.7m a day spent on hotels to accommodate homeless migrants.

It is investing £120m into the "economic development and growth of Rwanda" as part of its plans.

However, shadow home secretary Yvette Cooper has argued that the total cost will be "substantially higher" than this.

After the scheme was announced, Home Office Minister Tom Pursglove said the £120m "payment upfront" would be followed by further contributions to Rwanda as it handles asylum cases.

He said the cost would be "similar to the amount of money we are spending on this currently" and that "longer term, by getting this under control, it should help us to save money".

Comparisons have been made to Australia's offshore processing system, which was estimated to cost $957m (£546m) in 2021-22.

The cost of removing people from the UK by charter flight was more than £13,000 per person in 2020.

Is the scheme stopping people from crossing?

The Rwanda policy was first announced by the UK government on 14 April.

Between 18 April and 5 June, 3,599 asylum seekers are known to have arrived in small boats, according to figures published by the Ministry of Defence.

Although this is less than the 4,554 people who arrived in April and June of last year, the total is likely to increase when figures for the same period this year become available.

In the whole of 2021, 28,526 people are known to have crossed in small boats - up from 8,404 in 2020. The total figure this year is set to be much higher than last year, according to Border Force union officials.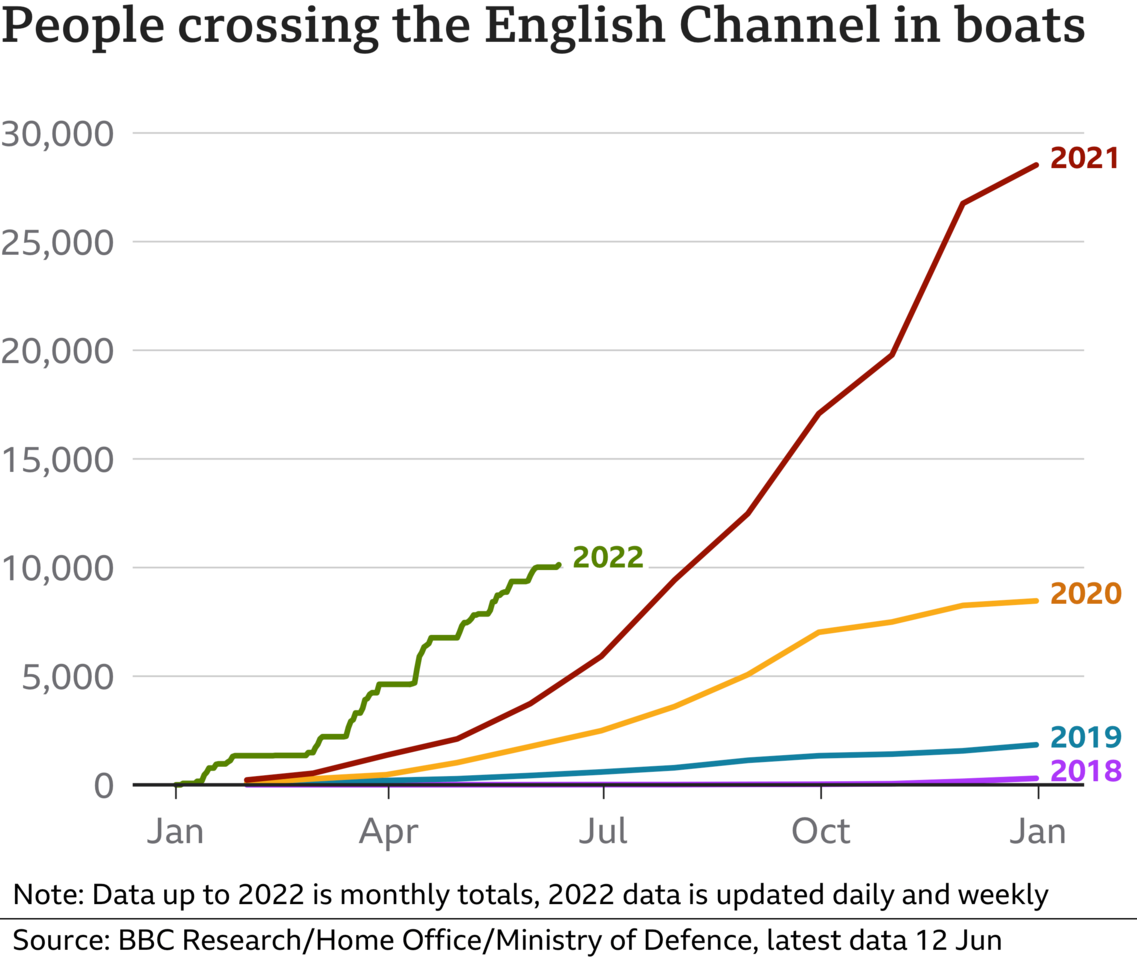 In 2021, 75% of arrivals were men aged 18 to 39. About 5% were men aged over 40, 7% were women over 18, and 12% were children under 18 (of whom three-quarters were male).

Previously, Iranians made up the vast majority of arrivals - 80% in 2018, and 66% in 2019.

Recently, there has been a greater mix of nationalities making the crossing. Iranians made up 30% of small boat arrivals last year, while 21% were Iraqis, 11% Eritreans and 9% Syrians, says the Home Office.