A former government vet has received a £1.25m settlement from the Department of Agriculture and Environment, along with an "unreserved" apology.
Dr Tamara Bronckaers resigned from the Department in 2018.

This came after concerns she raised about animal welfare and failures in traceability in the meat supply chain were not acted on.

An industrial tribunal in September 2021 found she had been constructively dismissed.

The department dropped its appeal against that decision earlier this month.

On Monday, it issued a statement in which it apologised to Ms Bronckaers for the "hurt and distress caused".

In a statement issued by her solicitors, McCartan Turkington Breen, Dr Bronckaers said the last few years had been "extremely harrowing", and she could now "move on in the knowledge that I did what was right".

Dr Bronckaers had worked at the department for 19 years before she resigned in February 2018.

The industrial tribunal heard she was regarded as an expert on livestock market legislation.

Her responsibilities included livestock markets, biosecurity and zoonoses - diseases that can move between animals and humans.

Dr Bronckaers had identified serious failings in animal welfare at some livestock markets, and the abuse of a process called "deleted moves".

That was a process whereby a dealer would buy an animal, without having someone to immediately sell it on to.

The move was allowed to be deleted when the animal did not leave the market before being sold on.

But Dr Bronckaers found out that the animal would sometimes leave the market to join the dealer's herd for a period of time before a buyer was found, and that move would then be deleted from the section of the tracing system that was visible in markets.

It remained in the section visible at departmental level.

Animals with fewer moves in their history are more valuable.

That, Dr Bronckaers claimed, could affect the traceability of meat within the food supply chain and have an impact on the spread of disease in cattle, in particular tuberculosis.

She told the tribunal that 4,800 to 5,000 animals were having their moves deleted out of livestock markets every year.

'Sheep were empty looking'

Dr Bronckaers also took photographic evidence of alleged animal abuse at Ballymena Livestock Market after a tip-off that sheep had been kept there overnight.

By law, sheep may be left overnight at a livestock market but must have bedding, water and food.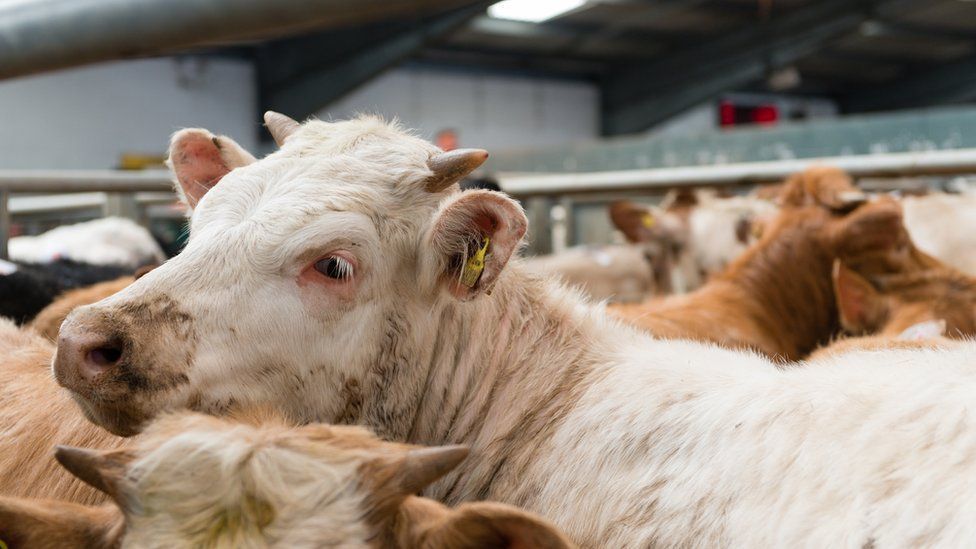 Dr Bronckaers told the tribunal last year some livestock market operators were not adhering to statutory duties

However Dr Bronckaers said she found pens overcrowded with sheep and a lack of food and drink.

"The sheep were empty looking - which means their sides were fallen in as they weren't fed.

"Sheep don't usually drink out of a bucket easily but they were coming for it in the bucket."

She added: "While we were there a double-decker lorry arrived with 100-plus sheep and they were just loaded in to the pens in the yard.

"The legislation is very specific about the need for the market to be fenced and disinfected before another sale to break the risk of disease spreading.

"That was also worrying."

In a statement, Ballymena Livestock Market said it had "zero tolerance when it comes to animal cruelty" and regrets "if there were any instances where those standards were less than what we ourselves demand".

"We have re-examined what happened in the case referenced during the employment tribunal and must acknowledge our disappointment at what was alleged.

"The alleged incident occurred five years ago. Our animal welfare systems then were robust and in the intervening period, they have been further enhanced and strengthened.

"Hay and water are provided to animals left overnight and pens continue to be regularly disinfected."

'Intimidating, patronising, belittling'

Dr Bronckaers said her concerns over livestock movement and Ballymena Livestock Market were reported to colleagues, including her line manager Dr Julian Henderson, but not acted on.

Many of her e-mails were ignored.

The tribunal judge said Dr Bronckaers had been reasonable to persist in raising her concerns, and that she had been professionally ignored, undermined and excluded by Dr Henderson in particular.

He has recently been temporarily promoted to the post of deputy chief vet.

The judge also found it was reasonable for Dr Bronckaers to regard the chief vet Robert Huey's actions towards her as "intimidating, patronising, belittling and dismissive of her as a professional".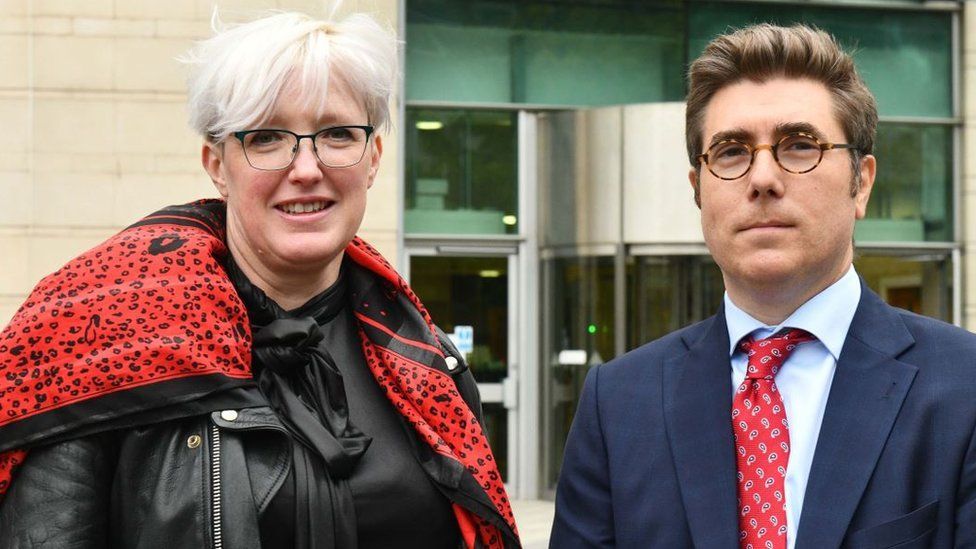 Dr Bronckaers said the past few years have been "harrowing"

Speaking to The Nolan Show, Dr Bronckaers explained why it was so important that her concerns should have been taken more seriously.

Some £40m a year is spent trying to keep TB out of herds in Northern Ireland, according to the department.

"That's why I was worried," she said.

"As vets we have to trace back all animals in a TB herd and there was no way we could see where these animals came from so we were missing potentially a source of TB infection."

She said the process had affected her mental health and family life.

"I wasn't sleeping. I was crying a lot going into work. I didn't know from day to day what would happen," she told the programme.

"Anyone who has a profession you don't go home and switch off. I'm a vet - that's my life," she added.

Dr Bronckaers' solicitor said the £1.25m settlement was the largest of its type in Northern Ireland.

"The outcome for Dr Bronckaers is wholly justified, bearing in mind the detriments she has suffered that have not only affected her career, but her family and her financial situation," said John McShane.

'Ethically right'

"I am quite simply astounded by Dr Bronckaers' bravery. She was willing to do what was ethically right to the detriment of herself, her family, and her standard of living in retirement. It is a choice that very few people would make as the easier path would have been to keep quiet.

"Hopefully, the outcome of this landmark case provides reassurance that at the very least, those individuals who choose to whistle blow do have protection under the law."

Dr Bronckaers said she "strongly believed the department was failing in its duty to protect animal welfare and therefore I couldn't continue doing a job that I wasn't being allowed to carry out ethically".

"I couldn't sit back and watch these breaches persist," she said.

"The past few years have been extremely harrowing for me and my family.

"This outcome has been a long time coming and I can move on in the knowledge that I did what was right, and I now have a long-awaited and justified apology from the department."

The department said that following the outcome of the case in October 2021, the department established an Internal Audit Review of Cattle Traceability System within the Veterinary Animal Health Group.

"The department can reassure the public and the agri-food industry that it will continue to review its risk management tools and will seek to strengthen the controls where necessary for animal traceability to ensure continued confidence in the system," it said.

"The department takes extremely seriously all the matters which contributed to the outcome of the recent tribunal and will be progressing an internal review into them. This review is being undertaken with urgency and will be completed at pace."
Dr Tamara Bronckaers: "It made me fearful going into work."