Weather warnings have been issued for snow, ice and wildfires in different areas of Scotland this weekend.
A Met Office alert for snow and ice is in place for much of the mainland from 15:00 on Saturday until 06:00 Sunday.

At the same time, the Scottish Fire and Rescue Service (SFRS) is warning of an "extreme" risk of wildfires in parts of southwest and central Scotland.

The SFRS said cold, dry conditions can create the "ideal set of circumstances" for wildfires to spread.

It comes at the end of a week which has seen temperatures plummet, with -16C recorded at Altnaharra - the lowest UK March temperature since 2010.

Further snow is forecast this weekend, with up to 10cm (4in) expected at the highest levels.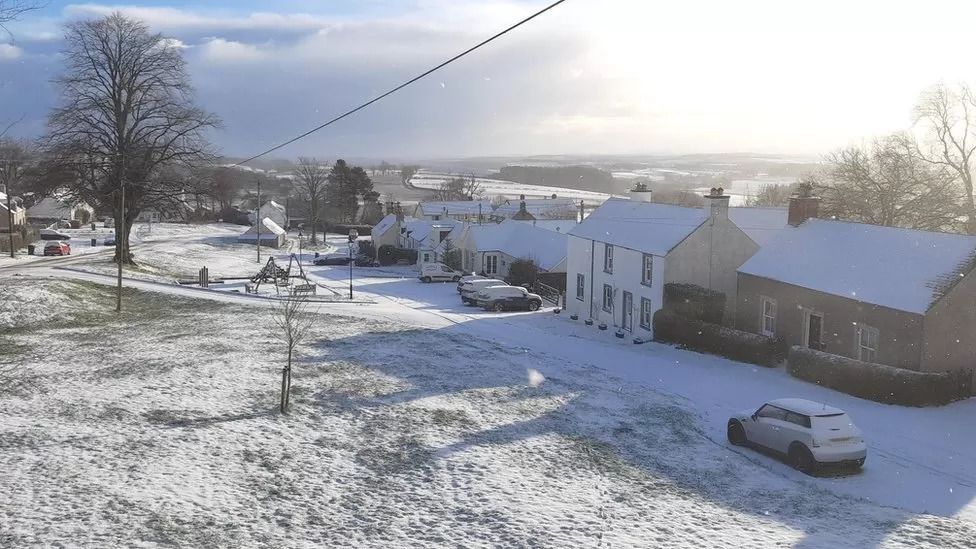 Many parts of the Borders, like Midlem, saw snowfalls overnight from Thursday into Friday

The SFRS said the increased risk of wildfires was due to the weather pattern over the next few days, dominated by low pressure, warm air to the south, cold air to the north and low humidity in the south-west.

Large amounts of dead grass and heather from last year have dried out quickly due to the combination of frost, low relative humidity, sunshine and wind.

Two warning levels are in place on Saturday, with an "extreme" risk rating in parts of south-west Scotland and central east Scotland at "very high" risk.

SFRS Deputy Assistant Chief Officer, Bruce Farquharson, said Scotland's spring weather presented the ideal conditions for wildfires.

He added: "We have the combination of vegetation that's dried out over the winter and frost has pulled all the moisture out of that vegetation.

"It just takes the slightest ignition source and we have great opportunities for fires to take hold and spread.

"So cold, dry days with a little bit of sun make an ideal set of circumstances for wildfires to start."

The fire service has urged people visiting or working outside in rural areas to exercise caution to avoid starting fires.