It's not just the Beatles who can have a good start in Hamburg.
After an inauspicious beginning, when the planned initial trip to France went up in flames, this has proved to be a very successful first overseas state visit for King Charles.

There were no disasters or dramas and Germany gave the King a warm and respectful welcome. He seemed to be relaxed and enjoyed the opportunity to make his own mark as head of state. It was a polished opening performance.

The centrepiece of the trip was his historic speech to the German parliament, the first British monarch to address the Bundestag. It must count as one of the most important speeches of his reign so far.

The event was in Berlin's Reichstag building, a place with history literally on the walls, with Russian graffiti preserved from when it was occupied by Soviet troops at the end of the Second World War.

There was a palpable sense of expectation among the German parliamentarians ahead of the speech, taking selfies as though teenagers waiting for some kind of celebrity to appear.

It was an important moment for the King too, carrying out serious work on behalf of the government, repairing some of the relations with European neighbours that had been frayed by Brexit.

And it seemed to go down very well, with a standing ovation and some affectionate laughter at the jokey parts of the speech, about the Lionesses' football success and comedies like Monty Python.

It was a crowd pleaser to deliver much of the speech in German, but he set out a thoughtful and carefully-judged balance between acknowledging past divisions and then looking forward to a modern alliance.

Even though he is the first British monarch born after the two world wars, there was no way that his visit would not be framed by those conflicts.

It's a difficult area and he spoke of the importance of reconciliation. That included a sensitive reference to those who had died in Hamburg from Allied wartime air raids - and he followed it by later laying a wreath in the city at a memorial for 34,000 who died in air raids 80 years ago.

The King also frequently mentioned another war - the one currently raging in Ukraine.

His language was strong - talking of "unprovoked aggression" against Ukraine - and he highlighted the efforts of Germany in supporting more than a million refugees.

For those looking out for a change in style, this was very direct in its language and its arguments. There was little diplomatic camouflage.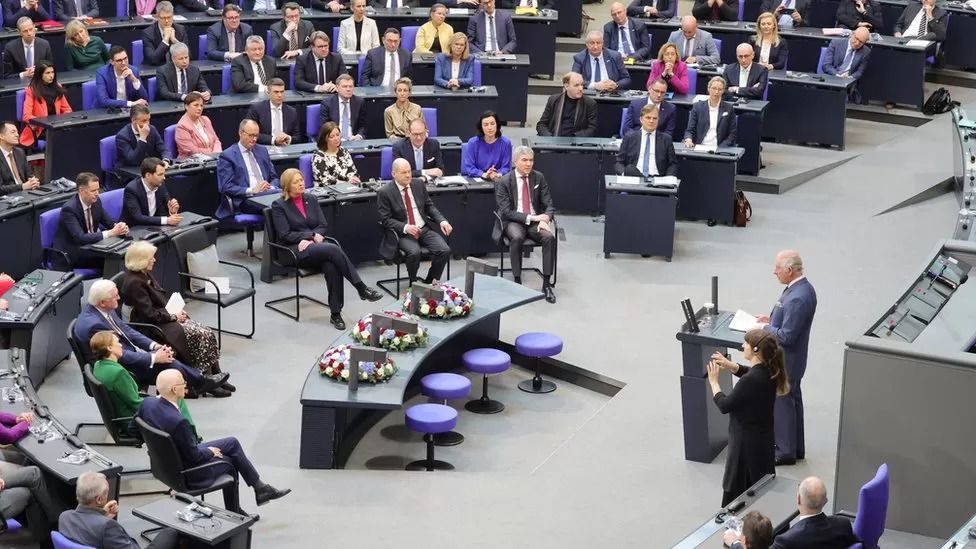 The King's speech to the Bundestag drew much applause

There was also no sign of the King going quiet on his campaigning for environmental causes and promoting green technology. There were so many eco-themes that the state visit seemed to be turning into a sustainability roadshow.

But in terms of ticking off the checklist of the purposes of the trip, there will be some satisfaction.

It was fundamentally about patching up European friendships strained by Brexit and re-establishing a partnership for future challenges.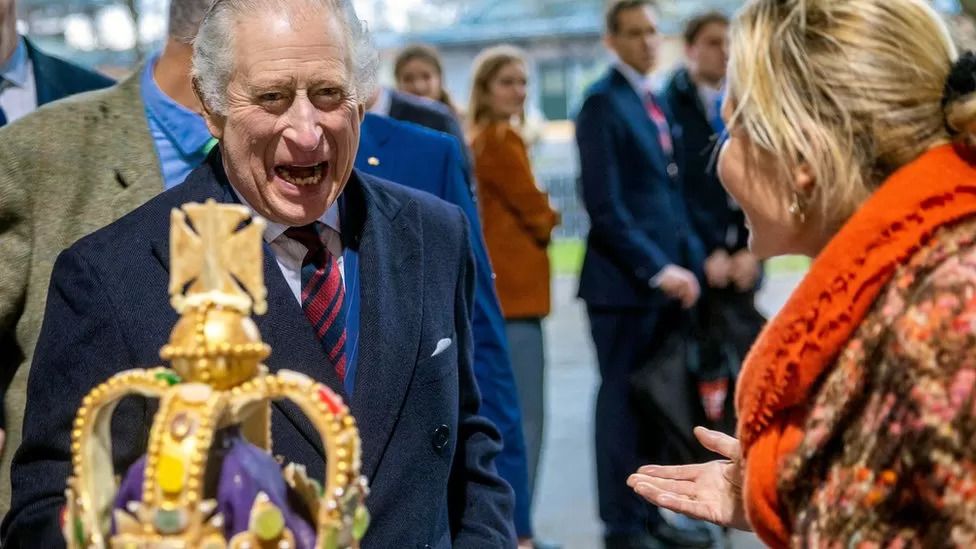 King Charles, ahead of his coronation, was offered a crown made out of cake

At the state banquet, the German president was blunt about telling the King he thought that Brexit had been a "sad day". But he seemed to be saying that Germany was ready to move on from that row and that it wouldn't jeopardise good relations.

"Many feared that Brexit could make the Germans and the British drift apart. However this did not happen. Too strong are the ties between our countries," said President Frank-Walter Steinmeier - who cited the state visit as evidence of an unbroken friendship.

A much harder question is whether such trips can really turn the dial on public opinion?

It's difficult when so many parts of these visits are held out of reach of the public and behind very tight security and police checkpoints, with scanners, dogs, divers and helicopters. There were more searches than Google to get into the events.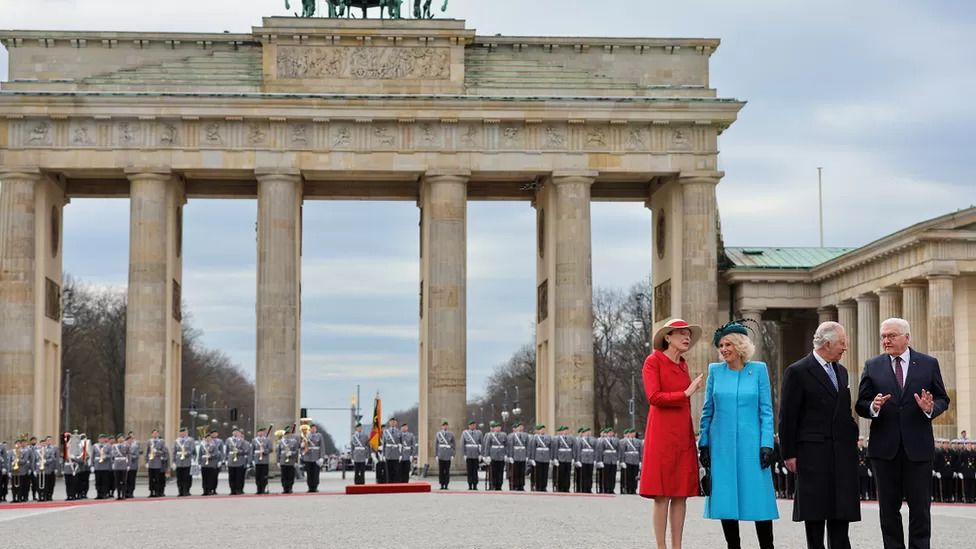 The visit began with a ceremonial welcome at Berlin's Brandenburg Gate

In the language of such security sweeps, areas for visits are made "sterile", but it can also mean in another way that events can feel rather sterile too.

It's been eight years since the last state visit and it raises the question about what should such a modern visit look like? And how do you separate it from being just another touring celebrity?

But there were big crowds who came out into the rain in Hamburg to give the King a very positive reception - and there was plenty of affectionate curiosity from Berliners, watching the royal motorcade thundering past.

There was clearly much goodwill on this German trip - and both sides will be happy, and probably relieved, with the outcome.