Northern Ireland's communities minister has called for a scheme similar to that put in place for Syrian refugees to be established for people fleeing Ukraine.
Deirdre Hargey has written to the head of the civil service to call for such a scheme to be set up.

The Northern Ireland Executive has no control over issues concerning asylum.

Ms Hargey said the British government must remove any restrictions on visas for people fleeing Russian's invasion of Ukraine.

"I think we need to follow suit on what the likes of Dublin are doing to ensure that there is a safe and seamless entry for families who are fleeing their homes," Ms Hargey said.

"Obviously, my department ran the Syrian resettlement scheme and we stand ready and able to assist in any way that we can to assist those who are fleeing Ukraine."

Unlike the European Union - which is allowing Ukrainians three-year residency without a visa - the UK has retained controls on entry, with Prime Minister Boris Johnson saying it was "sensible" to "have some basic ability to check who is coming in and who isn't".

Visa restrictions

Refugees from the war must either have family in the UK, or have a designated UK sponsor for their application.

Almost 2,000 Syrian refugees have been resettled in Northern Ireland since 2016.

Ms Hargey said that usually the first and deputy first ministers would attend meetings with the British and Irish governments on such issues.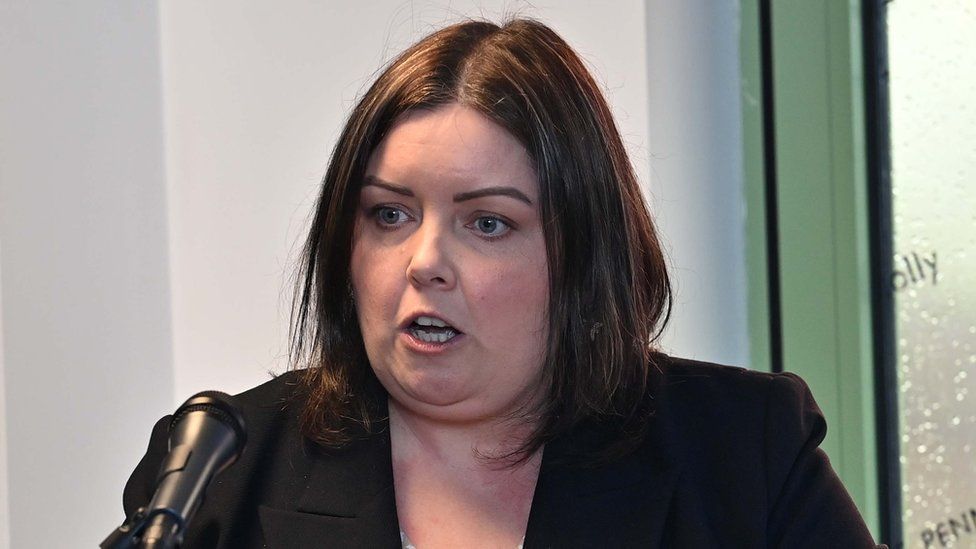 Communities Minister Deirdre Hargey said the UK government must remove restrictions on visas for Ukrainian refugees

"My department is standing up and ready in terms of engaging with housing providers, working with the Red Cross, similar to what we have done with the Syrian refugee resettlement scheme," she said.

"I have communicated with the head of the civil service in the absence of a functioning executive asking that we do put procedures and mechanisms in place.

"But obviously issues around asylum are reserved matters within the British government and I'm calling on them to show zero visa restrictions and safe passage for those who are fleeing their homes.

"I think it is a humanitarian crisis, we need to have safe, seamless entry for families who are fleeing their homes and I would be encouraging the British government to engage with the Irish government, in the same vein, to ensure we are assisting families where we can."

UK Defence Secretary Ben Wallace told the BBC the government could and would do more to support refugees, and his department would help the Home Office accelerate the system.

The UK has granted visas to 300 Ukrainian refugees under its new scheme so far, the Home Office said.

It said 17,700 applications to re-join relatives had been started.

'Enormous challenge'

On Tuesday, the Irish government confirmed that more than 2,100 Ukrainians have arrived via Dublin Airport since the Russian invasion began.

However, the total number could exceed 80,000 during the crisis, according to an estimate from Minister of State in the Department of Justice James Browne.

Those coming to the Republic of Ireland from Ukraine will be given income supports, child benefit and medical cards under plans being considered by the Irish government.

The Taoiseach (Irish Prime Minister) Micheál Martin said the EU's response in waiving visas was unprecedented and was "an illustration of the gravity of the situation".

"Essentially, Ukrainians can come into Ireland, fleeing a war zone, and can avail of all the rights of residency; access to health care; access to education; access to accommodation," he told the Dáil (Irish Parliament).

"It will be an enormous challenge, the scale of which we've never dealt with before."

'Humanitarian response'

Mr Martin was asked if UK government had raised any concerns with him about Ireland's policy towards accepting refugees.

"In relation to the United Kingdom, my understanding is that there have been contacts between the Home Secretary [Priti Patel] and the Minister for Justice Helen McEntee," he replied.

"We've pointed out to the UK that we're part of a European Union-wide response in terms of waiving visa requirements - it's a humanitarian response.

"And that will continue to be our position in respect of prioritising the humanitarian response above and beyond anything else."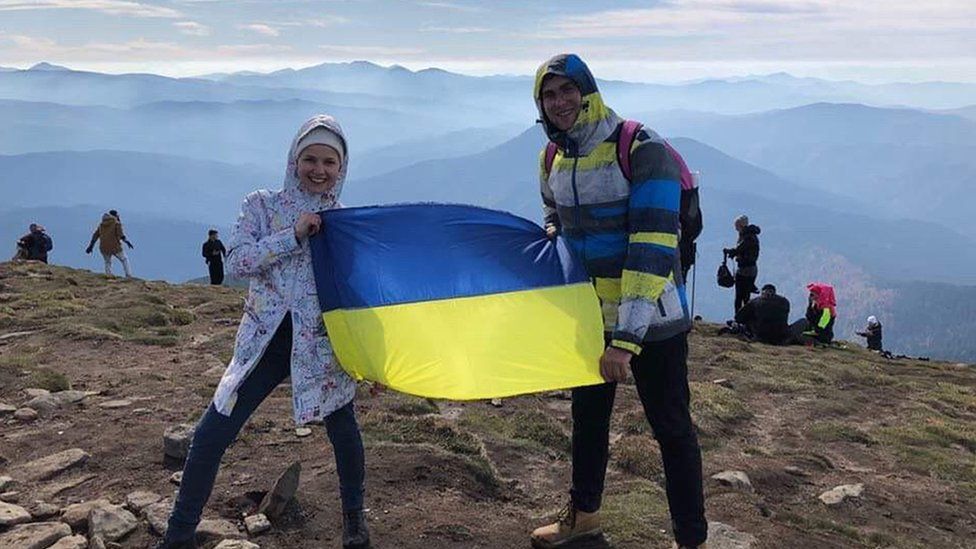 Roman Tymchyshyn travelled back to Ukraine with his wife, Ulyana Vovk, from their County Armagh home after Russia's invasion

Meanwhile, a Ukranian man who lives in Portadown has been describing how he has helped refugees fleeing into Poland.

Roman Tymchyshyn, 31, who is from Lviv, western Ukraine, travelled back to his birth country with his wife, Ulyana Vovk, from their County Armagh home after Russia's invasion.

He began driving refugees in his black cab across the Polish border on 28 February, and has been driving about 300 miles per day.

Mr Tymchyshyn said he had already transported about 80 people, including pregnant women, disabled elderly people, children - including a nine-month-old baby - and even some pets.

"My employer is very generous and has allowed me one month's paid leave so I relocated to Ukraine mainly to help people evacuate," Mr Tymchyshyn told the PA news agency.

"Until they cross the border or reach their final destination the passengers feel frightened, but they are sometimes more relaxed when they are gathered together with different families, as I form groups of random people.

"They discuss their stories and cry together about the losses or talk about their family members who have been split up."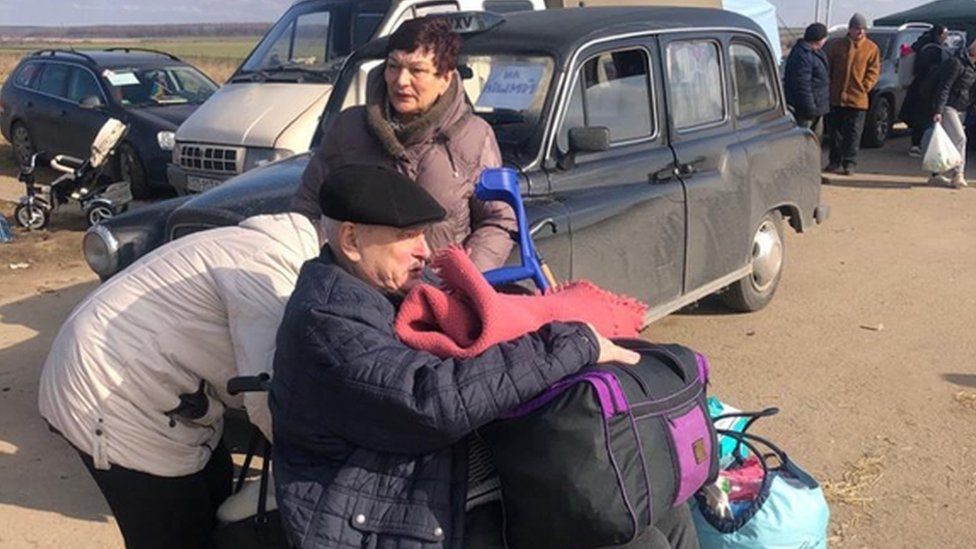 Mr Tymchyshyn said seeing the plight of refugees at first hand was heart-breaking

He said seeing the plight of the refugees at first hand was heart-breaking.

"Often children travel without parents and yesterday we had a case when an 11-year-old boy travelled all his way from Zaporizyzya to Slovakia alone - that's more than 1,000km, I would imagine.

"Very old people are scared of the bombing and airplanes as some of them experienced World War Two - most of them don't talk, but pray while I'm driving for two hours."

In Northern Ireland, Belfast's 'Black Santa' will begin a special sit-out on the steps of Belfast's St Anne's Cathedral on Wednesday to support Ukrainian refugees.

The Belfast Black Santa campaign was started in the 1970s by Dean Sammy Crooks, who wore black robes for the fundraiser which is traditionally held at Christmas.

However, it has also been held for humanitarian crises in the past.

This month's sit-out will be in partnership with Habitat for Humanity and Christian Aid.