The University of Sussex's vice chancellor has defended a professor after protesters tried to have her sacked for her views on gender identity.
Staff "have an untrammelled right to say and believe what they think," Adam Tickell told BBC News.

An anonymous campaign included posters accusing Professor Kathleen Stock of transphobia, a claim she rejects.

Prof Stock tweeted that students shouldn't "just expect to hear their own thoughts reflected back at them".

Posters put up near the University of Sussex campus and an accompanying social media campaign claimed the philosophy professor "makes trans students unsafe".

Photos also show a masked protester standing on the university's sign with a banner that reads "Stock out".

Professor Stock, who recently published a book questioning the idea that gender identity is more "socially significant" than biological sex, completely rejects the claim that she or her work is transphobic.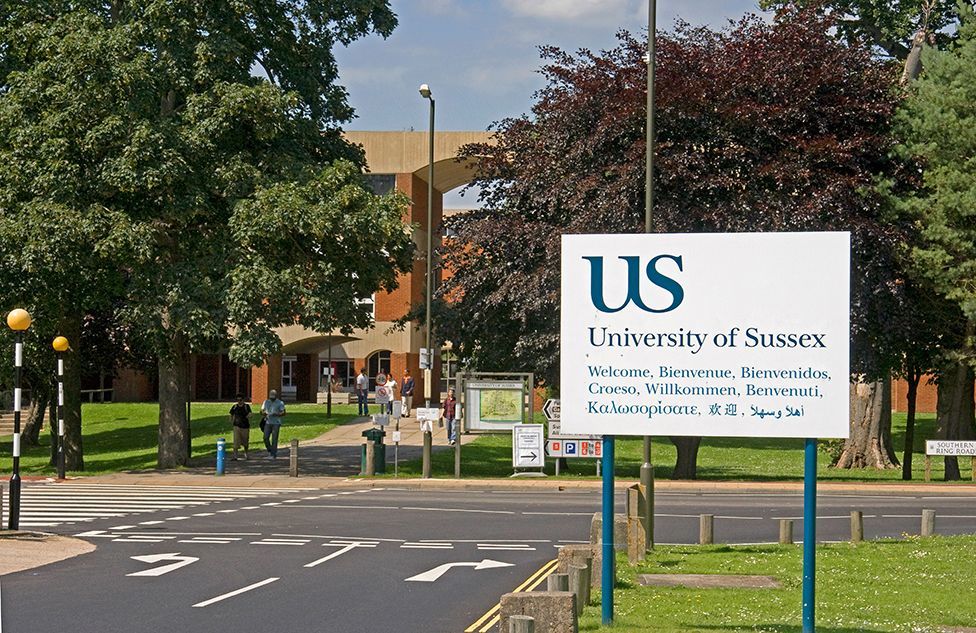 An Instagram account apparently linked to the campaign posted a "mission statement" calling for Professor Stock to be fired, alongside photos of the protest.

The statement claimed to be from "an anonymous, unaffiliated group of queer, trans and non-binary students who will not allow our community to be slandered and harmed by someone who's [sic] salary comes from our pockets".

The university is investigating the incidents, and will take disciplinary action if necessary, Vice Chancellor Prof Adam Tickell told BBC Radio 4's Today programme on Friday.

"It's absolutely clear that all of our staff have an untrammelled right to say and believe what they think, so we take it very seriously if people try to prevent that right from being exercised," he said.

"I'm really concerned that we have masked protesters putting up posters calling for the sacking of somebody for exercising her right to articulate her views."

Prof Stock thanked the vice chancellor and her supporters on Twitter and said students should not just expect to hear their own thoughts reflected back at them.

She called on her colleagues to speak up, adding: "What kind of future does a University have where intimidation determines what is said or taught?"

A University of Sussex spokesperson said: "We were extremely concerned to see the harassment towards our staff member and took immediate action in response to this, which we continue to do.

"We are deeply committed to being a safe and inclusive university, which values and advances equality and diversity, seeks to resolve conflicts, advances good relations and upholds lawful free speech."


Universities have long had to deal with highly contentious debates on campus, but few have matched the ferocity around gender identity issues.

Privately, many vice chancellors say this is the most difficult issue on campus they have had to manage.

One of the core principles they use to navigate it is protecting freedom of speech for staff, students and visiting speakers. This is already a legal duty contained in the Education Act 1986.

But now a new draft law is making its way through parliament which will require universities in England to more actively promote freedom of speech.

This will be overseen by the regulator, the Office for Students. Individuals who feel an institution has failed to protect their ability to speak freely will be able to take legal action.

So in future, disputes could in theory escalate to fines for universities, and court cases.