Union leaders have said they are "very sorry" as thousands of pupils across Scotland face another unscheduled day off due to teacher strikes.
Members of the SSTA and NASUWT unions are taking action on Wednesday and Thursday, claiming they have no other option in their pay dispute.

They have warned there could be further strikes if they do not receive a "significantly improved" offer.

The Scottish government said the unions' demands were "not affordable".

It follows the EIS strike which saw almost all schools close on 24 November and the rejection of the latest pay proposal.

Unions were offered a rise of between 5% and 6.85% but the EIS is asking for 10%.

On Tuesday the NASUWT said it was seeking a fully funded rise of 12% for 2022/23.

Union members in 17 local authorities boycotted classes on Wednesday, with action in the other 15 council areas on Thursday - resulting in the partial closures of many schools.

Iain Glennie, assistant general secretary with the SSTA union, said he expected further strike action in January unless the proposal from employers was "significantly improved".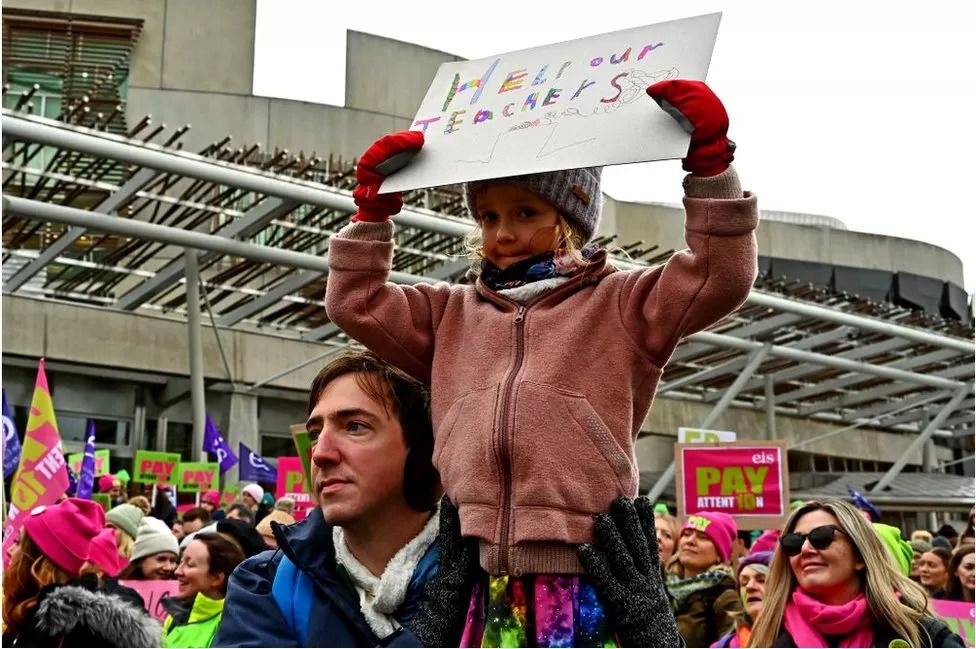 The SSTA and the NASUWT are the latest unions to strike after the EIS walked out on 24 November
He insisted the latest pay offer was "barely better" than the previous offer which was rejected.
Speaking on a picket line outside a school in Glasgow, Mr Glennie said: "These members don't want to be on a picket line, they are teachers, they came into this profession to teach, it is a vocation.
"They want to teach, they are being stopped from doing this. This is what we have to do in order to make our case.
"So we are very sorry for the disruption it causes, but if the Scottish government aren't going to make a material difference to the offer this is what is going to happen."
Mr Glennie said unions were willing to restart talks with both the government and the local government body Cosla - adding that no discussions had taken place since 22 November.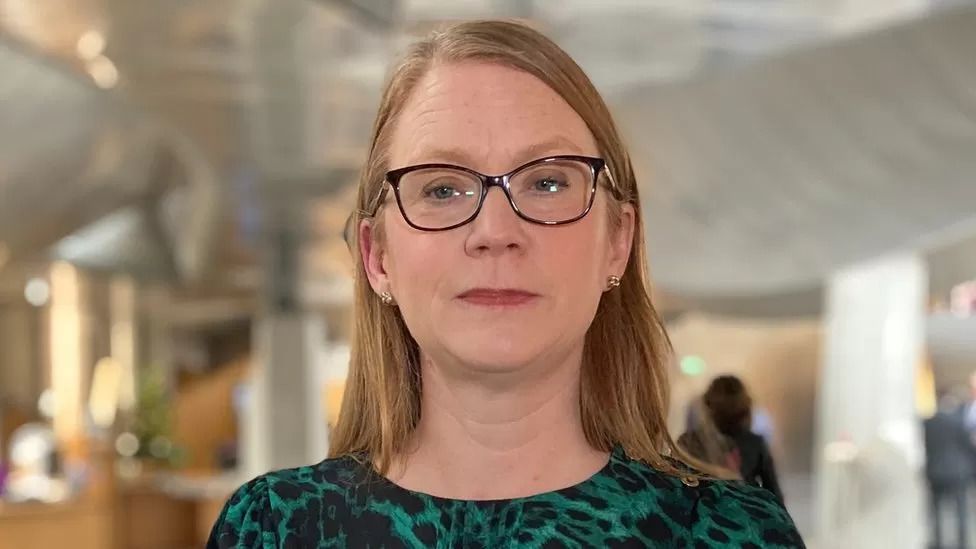 Education Secretary Shirley-Anne Somerville said the pay demands were not affordable

On Wednesday, industrial action is taking place in: Argyll and Bute; Dumfries and Galloway; East Ayrshire; East Dunbartonshire; East Renfrewshire; Eilean Siar; City of Glasgow; Highland; Inverclyde; North Ayrshire; North Lanarkshire; Orkney; Renfrewshire; Shetland; South Ayrshire; South Lanarkshire; West Dunbartonshire.

The local authorities affected on Thursday are: City of Aberdeen; Angus; Aberdeenshire; Clackmannanshire; Dundee City; City of Edinburgh; East Lothian; Falkirk; Fife; Midlothian; Moray; Perth and Kinross; Scottish Borders; Stirling; West Lothian.

Disruption is expected in most areas through either partial or full closures of schools.

Although mainly limited to secondary schools, some primaries are affected. About a third of councils said they expected "significant" disruption.

With prelim exams taking place in many schools, older pupils are being prioritised and younger pupils are being given the day off.

The latest pay offer from the Scottish government was formally rejected last Wednesday.

The NASUWT said that a typical teacher in Scotland is almost £50,000 worse off as a result of their pay failing to keep pace with inflation since 2010, a loss they say will be further compounded by the current below-inflation pay offer.

The union also confirmed that following this week's strikes, members would begin a programme of ongoing action, including a refusal to cover for absent colleagues and attendance at only one meeting per week outside pupil sessions.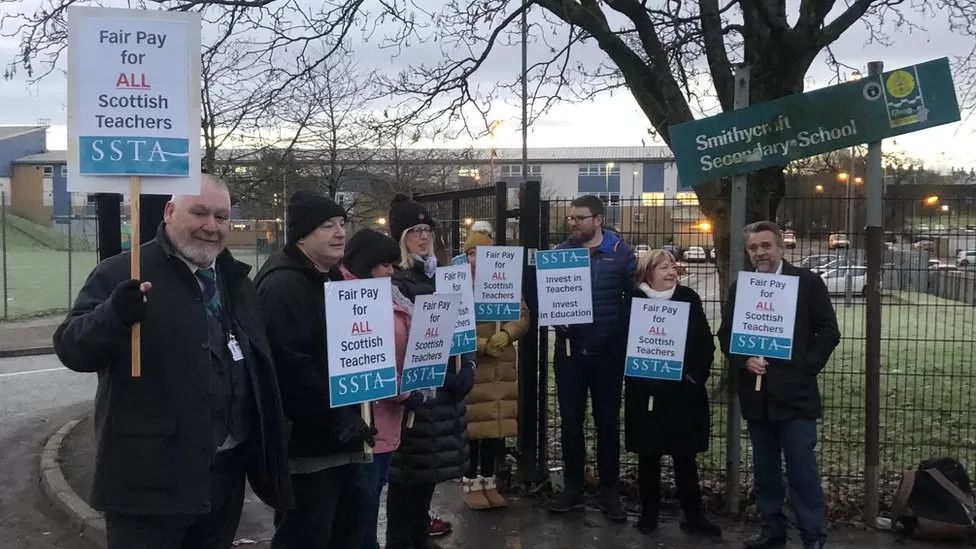 There was a picket line at Smithycroft Secondary School in Glasgow on Wednesday morning

Mike Corbett, NASUWT National Official Scotland, told the PA news agency that members were "angered" after being asked to take a "significant, real terms pay cut" for the second year in a row amid rampant inflation.

He warned that the dispute is likely to continue unless employers and the Scottish government make an improved offer for all teachers.

Mr Corbett said: "There was a revised offer tabled on November 22 but that revised offer, although it was an improvement for those at the lowest end of the salary scale, was exactly the same offer for all experienced classroom teachers and for some in promoted posts it was actually a worse offer.

"So that was immediately rejected by all of the teacher trade unions and I think until employers and government come back with what is an improved offer for all teachers then I fear the dispute might continue."

He added: "Our members do not want to be on strike, they do not want to be disrupting children's education in any way, but their hope is that this, the ultimate thing they can do, actually brings an end to the dispute by bringing a revised and improved offer."

'Engage constructively'

Education Secretary Shirley-Anne Somerville said: "Strike action is in no-one's interest, least of all learners, parents and carers. We remain committed to a fair, sustainable settlement for Scotland's teachers and will continue to engage teaching unions and Cosla constructively.

"It is very disappointing that the teaching unions have rejected the latest offer - the fourth which has been put to unions - which mirrors the deal accepted by other local government workers.

"The request for a 10% increase for all teachers - even the highest paid - is not affordable within the Scottish government's fixed budget.

"While councils are responsible for managing the impact of industrial action, I expect schools to remain open wherever possible, so that disruption can be minimised. Any closures would follow risk assessments made in individual areas."

Meanwhile the EIS has said its members should not cover for striking colleagues in the two other unions.

It said: "The EIS position is that no member should engage in any duty which is normally carried out by members of another union who are on strike action.

"We are aware that some local authorities are attempting to exert pressure on teachers to provide cover, but the EIS believes that it is unreasonable for our members to be instructed to strike break for colleagues of another trade union carrying out official industrial action in a common dispute.

"The EIS will offer its full support to any member who is subjected to this type of intimidation by their employer."

More strikes have already been announced.

The EIS says its members in primary school members will take part in a national strike on 10 January, while those in secondary schools will walk out the following day.

Sixteen additional days of strikes in January and February have also been announced by the union.