A road in Westminster has been renamed Kyiv Road to mark the first anniversary of the invasion of Ukraine by the Russian army.
The new address will cover a stretch of Bayswater Road that is only a short distance from the Russian embassy.

It comes after protest group Led by Donkeys turned the same street blue and yellow on Thursday.

The Kyiv Road sign will be installed on Friday afternoon by Westminster City Council.

Labour councillor Adam Hug, leader of Westminster City Council made the pledge to rename a Westminster street to mark the Russia-Ukraine war on taking office in May 2022.

He said the request for a new road name came from the Ukrainian community itself, adding that "Westminster is home to Ukrainians displaced by the war, and our residents have opened their hearts and their doors to those fleeing Putin's war machine."

He said the council wanted to "show the people of Ukraine that their struggle has a visible place in our city" and the name change was part of a "long tradition" in London to mark "momentous points or figures in history".

The change of street name was paid for from existing ward budgets at no additional cost to residents.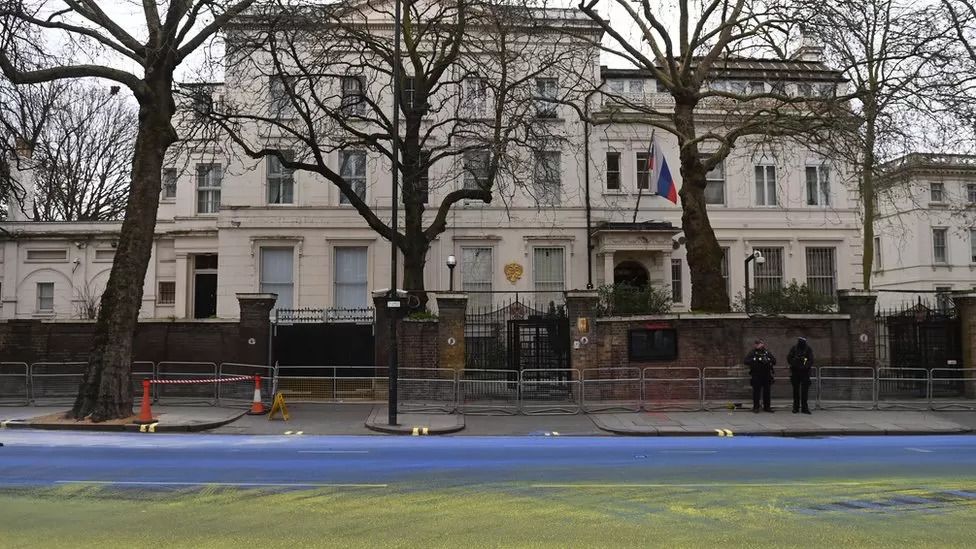 Led by Donkeys painted the same road in the Ukrainian flag colours on Thursday

Westminster Labour councillor Paul Dimoldenberg told BBC Radio London it was "a small recognition of what's happened and our determination to stand shoulder by shoulder with the people of Ukraine".

When asked whether the choice of location was deliberate, he said: "Of course it is. We want to send a message to Putin and the people of Russia that we stand solidly with the people of Ukraine".

On Friday evening, Marble Arch will be lit up in the Ukrainian colours and the Ukrainian flag will fly above Westminster City Hall in Victoria Street.