The daughter of a Ukrainian refugee has warned of the anger and frustration of people waiting for visas at an "understaffed" UK application centre.
Marianne Kay from Yorkshire says if delays continue much longer "it does feel like there will be riots".

She has travelled to Rzeszow in Poland to help her 79-year-old mother Antonina Kolodii to safety in the UK.

People were gathering outside the centre in freezing temperatures from the early morning, she says.

MPs have criticised the Home Office for a slow response to the flight of more than two million people from Ukraine, saying those seeking sanctuary are being held up by bureaucracy or turned away.

About 500 visas have been granted under the Ukraine Family Scheme, with more than 10,000 people having applied to join relatives in the UK. A second visa route, requiring a British sponsor, is also being set up.

Prime Minister Boris Johnson told broadcasters the "huge and very generous" visa programme could eventually help "hundreds of thousands" of refugees enter the UK.

The government has rejected the European Union's approach of a three-year residency without a visa, however, claiming officials had seen people in Calais with false documents claiming to be Ukrainian. Mr Johnson said: "To have a system of simply uncontrolled immigration isn't right."

In addition to long waits at visa centres, hundreds of Ukrainians are stuck in Calais trying to complete paperwork, with French authorities saying almost 300 Ukrainian refugees have been turned back by the UK Border Force, and repeating their criticism of the UK's "lack of humanity".

At the Rzeszow visa application centre, Marianne says the situation is "desperate" and tense, with people "shouting at each other all the time".

"It's quite clear that this place is understaffed quite severely so that there is absolutely no way that people who work here can process so many applications," she says.

Marianne left her job and children at home in Yorkshire on Friday to travel to Poland and help her mother get to the UK.

Amid conflicting advice about whether refugees should apply online or walk in to the centre, she was initially told the next available appointment was 14 March. But after waiting at the centre for two days, her mother's application was finally processed.

Now they will need to see if the application is approved and attend another visa centre in Warsaw before they can finally travel to the UK.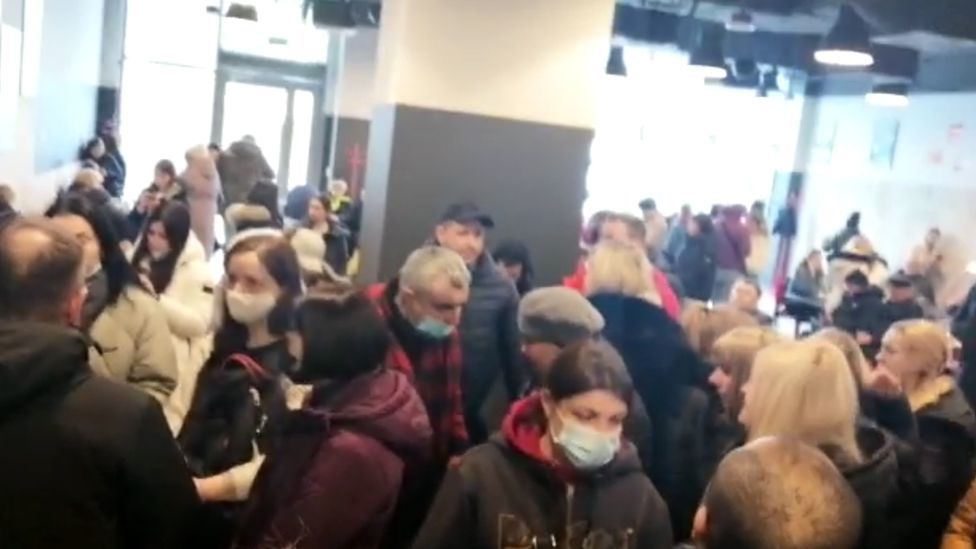 Marianne says there is no order or queuing system for visas, with many people waiting from the early morning

Tory MP Tracey Crouch said in the Commons that some people had been told there were no appointments until the end of April.

Marianne says crowds including elderly people and young children gather from the early morning, with some people left outside in freezing temperatures.

"It's really inappropriate to treat people who haven't slept for days and nights for a long time," she says.

"They have crossed the border in the cold, in the dark, in difficult conditions. And they can't cope with the situation very well."

She says she understands the need for security checks, but refugees have been grappling with contradictory advice.

"You can't tell people that they can apply for something and then make it completely impossible to do so and change rules every day," she says.

She adds that there is only one biometrics machine in Rzeszow. Other refugees have told the BBC they arrived in Lviv, western Ukraine, only to find the biometrics machine had been removed and the visa centre closed due to the increasing dangers of the war.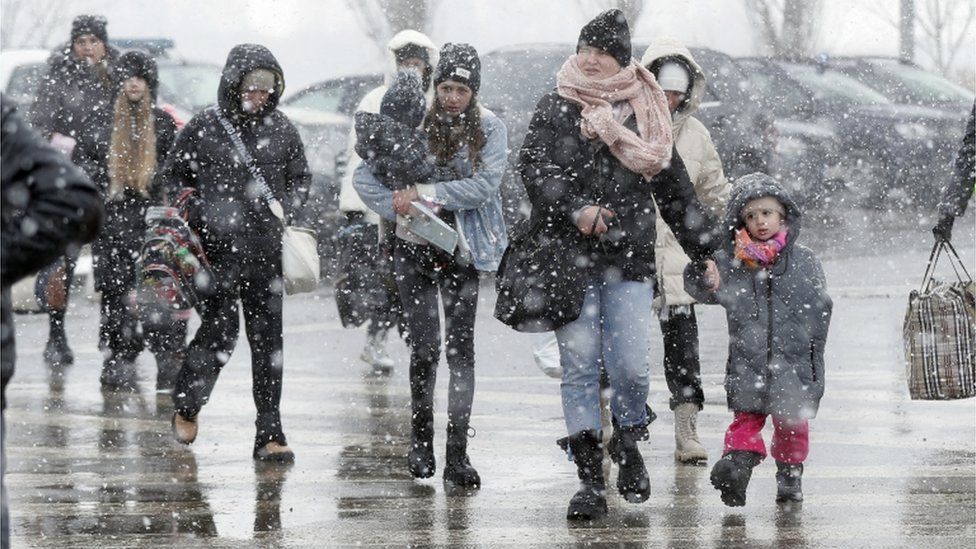 Two million people have fled Ukraine, the UNHCR says, mostly into neighbouring countries such as Poland and Romania

Responding to an urgent question in the House of Commons, Home Office minister Kevin Foster told MPs that a new visa processing centre would be established in the northern French city of Lille.

Ukrainians without their own transport will be allowed to travel on the Eurostar free to get to the Lille centre, as well as those in Paris and Brussels.

Mr Foster insisted ministers would "not take chances with the security of this country and our people" - citing the Salisbury Novichok attack in 2018 - where Russian nationals used a nerve agent in an attempt to murder the former Russian double agent Sergei Skripal and his daughter Yulia.

"A crucial part of the application process is providing biometrics so we can be sure applicants are who they say they are", he said.

Meanwhile, the government has created a new minister for refugees in the Home Office and the Department for Levelling Up, Housing and Communities.

Richard Harrington, who stood down as an MP in 2019, will be made a life peer.

Criticising the absence of Home Secretary Priti Patel in the Commons, Labour's Yvette Cooper called for visa centres to be established at all major travel points, on-the-spot security checks and for Ukrainians to be given emergency visas.

"The government should not be continuing to change this in a chaotic way, rather than opening the system properly," she added.

Ms Cooper criticised the apparent lack of clarity over the locations and operation of visa centres.

She said: "Yesterday the home secretary told the House twice that a visa centre en route to Calais has now been set up but it still doesn't exist.

"The foreign secretary just said it might be in Lille - nearly 72 miles from Calais.

"The Home Office said this morning that no decision had been taken. Well, which is it? Has it? Where is it? Can people get there yet?"

Downing Street said the Lille centre is expected to be set up "in the coming days".

A string of Conservative MPs joined opposition politicians in demanding further and faster action from the government in helping Ukrainian refugees enter the UK.

Former Foreign Secretary Jeremy Hunt told LBC radio: "This is a big area of failure where I think we've misjudged the public mood."

Conservative Mark Harper, a former immigration minister, said even if security checks were needed, the government needed to "grip the pace of this" and called for a minister to set out the details of the humanitarian sponsorship route within days - not weeks or months.

Tory MP Alec Shelbrooke said the speed of response was a "disgrace".
Watch: Yvette Cooper calls for emergency visa centres for Ukrainians over UK's "chaotic" response