Russia has been banned from using British management consulting, accounting and PR services in new sanctions announced by the UK.
Foreign Secretary Liz Truss said the ban will cut off service exports "critical to the Russian economy".

Ms Truss said the ban will "help ensure Putin fails in Ukraine".

Other sanctions among the 63 introduced on Wednesday target Russian media organisations and those working for them.

The government said UK accountancy, management consultancy and PR services account for 10% of Russian imports in these sectors.

"Doing business with Putin's regime is morally bankrupt and helps fund a war machine that is causing untold suffering across Ukraine," said Ms Truss.

"Cutting Russia's access to British services will put more pressure on the Kremlin and ultimately help ensure Putin fails in Ukraine."

Business Secretary Kwasi Kwarteng added: "Our professional services exports are extraordinarily valuable to many countries, which is exactly why we're locking Russia out.

"By restricting Russia's access to our world-class management consultants, accountants and PR firms, we're ratcheting up economic pressure on the Kremlin to change course."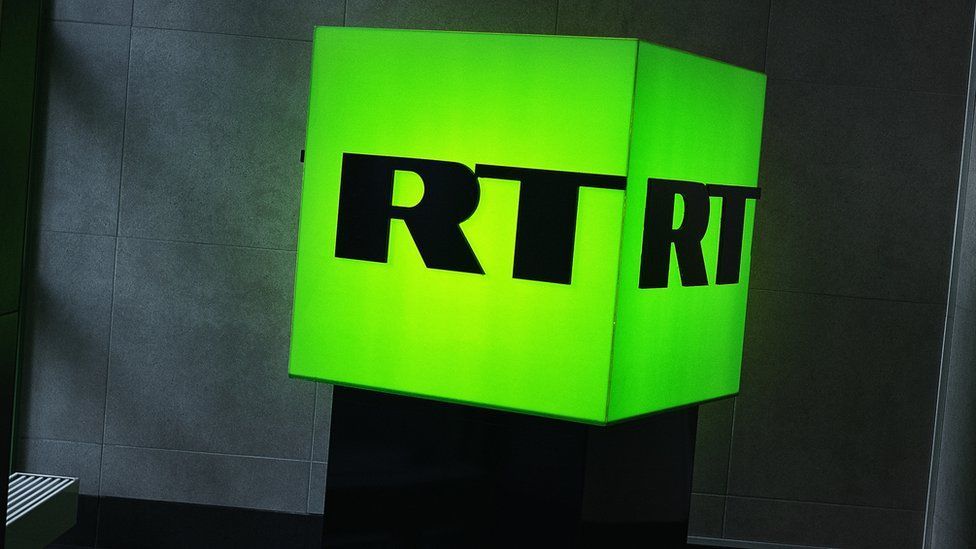 RT was removed from the airwaves in the UK and across the EU in March

Legislation is now in force requiring social media and internet services to block content from Russian state-controlled media RT and Sputnik.

Tech and Digital Economy Minister Chris Philp said: "For too long RT and Sputnik have churned out dangerous nonsense dressed up as serious news to justify Putin's invasion of Ukraine.

"These outlets have already been booted off the airwaves in Britain and we've barred anyone from doing business with them.

"Now we've moved to pull the plug on their websites, social media accounts and apps to further stop the spread of their lies."


Ever since Russian forces invaded Ukraine, Britain has imposed unprecedented sanctions on Russia.

Assets frozen, banks cut off, oil imports curbed, luxury goods exports banned, oligarchs targeted.

So in that context, stopping British public relations executives having Russian clients might seem small beer.

Many of the big accountancy firms have already reduced their business in Russia and farmed off local staff.

And - if you look at the small print - these latest sanctions do not apply to the whole of the UK service sector.

There is no mention of the lawyers and the estate agents and the rest which have, in the past, helped smooth the path of Russian money and influence into the UK.

But UK officials insist more restrictions on the service sector are to come and similar curbs are also being agreed by the EU.

In March RT disappeared from all broadcast platforms in the UK after UK access to the TV network was affected by a ban imposed by the European Union.

Media regulator Ofcom also revoked its licence to broadcast in the UK.

Media organisations facing sanctions include All Russia State Television and Radio Broadcasting.

Other media companies sanctioned include news agency InfoRos, disinformation website SouthFront and the online journal Strategic Culture Foundation.

War correspondents, including those embedded with Russian forces in Ukraine, are also on Wednesday's list.

They include Evgeny Poddubny, a war correspondent for the All-Russia State Television and Radio Broadcasting Company; Alexander Kots, a war correspondent for Russian newspaper Komsomolskaya Pravda; and Dmitry Steshin, a Russian journalist and special correspondent for Komsomolskaya Pravda.

Others sanctioned include those working for Channel One a major state-owned outlet in Russia, which described the invasion of Ukraine as a "special military operation".

The UK has now sanctioned over 1,600 individuals and entities since the Russian invasion of Ukraine.

The latest sanctions come as Defence Secretary Ben Wallace said it was "inconceivable" that the UK would not help Finland or Sweden if they were attacked by Russia, even if they had not joined Nato.

The two countries are expected to make a bid to join the alliance.

Speaking on a visit to a military exercise in Finland, Mr Wallace said it was up to Finland to decide whether or not to join.

"I cannot conceive a time when we wouldn't come to support Finland and Sweden no matter where they were with the Nato debate or where they are with agreements," he said.
UK Defence Secretary Ben Wallace said: "Russia is always sensitive about its borders"