Payments to people hosting Ukrainian refugees should double after six months to £700 a month, the refugees minister has said.
Lord Harrington told the BBC hosting a refugee was "no insignificant commitment" and some families had struggled with costs.

A recent survey found a quarter of sponsors intend to drop out after the initial six-month period is up.

The Treasury said payments to hosts were continually reviewed.

Labour has accused the government of "inaction", with the risk that large numbers of Ukrainians are left without a permanent home this winter.

About 115,000 Ukrainians have been housed under the government's Homes for Ukraine scheme, launched in March following Russia's invasion.

Sponsors have to agree to provide accommodation in their own home for a minimum of six months, and receive "thank you" payments of £350 a month.

An Office for National Statistics (ONS) survey published earlier this month found 25% want to end their sponsorship after six months or less.

Of these sponsors, just under a quarter said their decision was down to the rising cost of living - although the survey also found four in 10 might be prepared to host for longer if there was more financial help.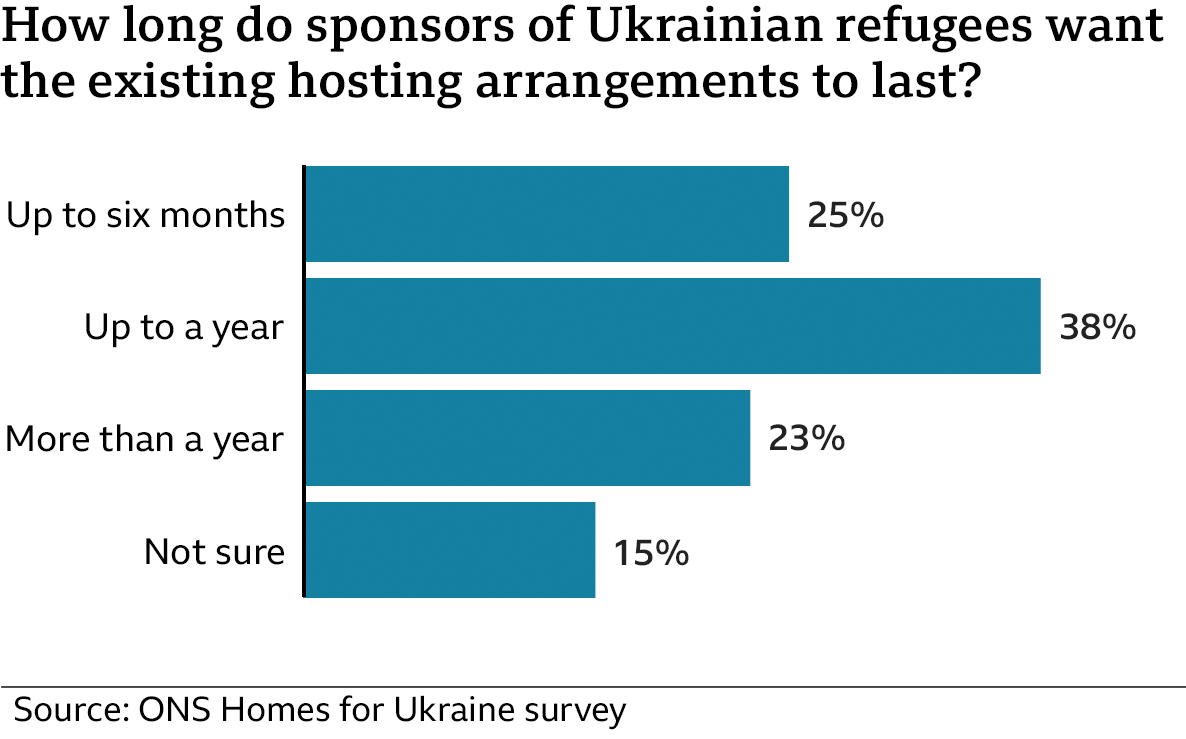 Lord Harrington, who was handed the refugees minister role in March, said he had asked the Treasury to look into doubling the payments for those who continue to host over the six-month period is up.

Speaking to the BBC, he added the £350 "was always meant as a thank-you payment, rather than an exact calculation of the costs that people are incurring".

"We couldn't really calculate people's costs - this has never really been done before," he added.

"I do understand that taking a family of refugees is no insignificant commitment, and some people find it quite difficult to afford."

He added that he had written to around 185,000 people who expressed an initial interest in hosting refugees when the scheme launched, to see if they would be interested in joining now.

And he suggested a new advertising campaign using platforms such as Facebook would be able to target parts of the country where there was a shortage of hosts.

'Out of pocket'

Meanwhile, the British Red Cross is calling on ministers to make payments to UK residents who have helped support family members fleeing Ukraine under a separate scheme called Homes for Ukraine.

People taking part in this programme do not currently receive any payments, and the charity has called on the government to "chip in a bit" to help with increased living costs.

Boris Johnson has said he will not make big spending decisions before stepping down as prime minister on 6 September, meaning any decision on payments is expected to be made by his successor.

Labour's shadow communities secretary Lisa Nandy said British households had "stepped up" to help those fleeing conflict, but "the Conservatives' inaction on the cost-of-living crisis means thousands could be left out of pocket for opening up their home".

"If the government do not act now, they will risk a huge number of Ukrainian refugees becoming homeless this winter," she added.

The Treasury said the £50 payments were exempt from tax, and the department continues to "monitor and review the support provided under the scheme".