It's been over a week since Home Secretary Priti Patel first appeared in Parliament to outline the government's response to the growing humanitarian crisis caused by Russia's invasion of Ukraine.
Now the number of people fleeing the country has reached two million, according to the UN's refugee agency, and yet the number granted access to the UK still sits in the hundreds.

Ministers talk of moving "at pace" to ensure the UK has a "generous" policy towards those Ukrainians who want to come to the UK.

But there is growing frustration - even fury - from some MPs at what they so far see as an inadequate response.

On Tuesday, Home Office Minister Kevin Foster was met with a barrage of criticism from all sides when he was sent to the House of Commons to defend the government's approach.

MPs cited tales of chaos and confusion told to them by their constituents; relatives turned away from visa centres in Poland, appointments only available weeks from now, centres closed in Brussels, personal details lost and applications delayed.

Tory backbencher Alec Shelbrooke called on the Home Office to "get a grip".

So what is going on?

The Home Office says it had made significant progress in providing routes for refugees in a short space of time - talking of "surging" staff to countries across Europe to support visa applications, training more case workers in the UK, and establishing help-lines and pop-up centres.

The government has been clear that security checks must be carried out, saying some people in Calais had already presented with false documents pretending to be Ukrainian to gain entry to the UK.

While some MPs want these requirements waived, others say the checks themselves aren't the problem - it's the pace at which things are moving.

Labour MPs say the system is being held up by Home Office bureaucracy, which has resulted in a slow, shambolic and chaotic response.

Some Conservatives agree.

Whole new approach

There is understanding that the department responsible for law and security might ordinarily take a cautious approach, but there is frustration that ministers have failed to realise the current situation requires something out of the ordinary.

Former Home Secretary Amber Rudd told the BBC that the Home Office needed a whole new approach rather than business as usual, saying it was "baffling and disappointing" that so few visas had so far been issued to Ukrainian refugees.

Several Conservative MPs point to the fact it's been a week since the Department for Levelling Up, Housing and Communities was tasked with setting up a new humanitarian route for refugees, but so far there's scant detail about how it might work, while the existing scheme for family members of those in the UK seems to be moving slowly.

The former Immigration Minister Mark Harper drew comparisons with the implementation of the furlough scheme at the start of the Covid pandemic.

"The Home Office does, of course, have to make sure the appropriate security measures are in place, but it needs to move at a pace that matches the scale of events," he said.

"The government can do this when it needs to, as we saw when the Treasury designed and rolled out the furlough scheme in four days at the start of the pandemic.

"That's the scale of bold, imaginative policy and operational response we need to see from the Home Office."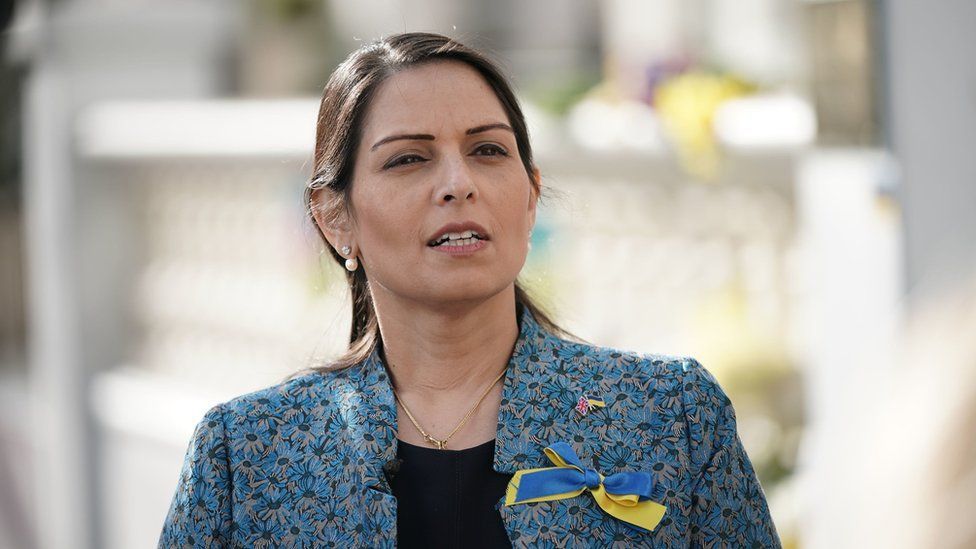 Home Secretary Priti Patel has come under scrutiny over visa numbers for Ukrainians

For some, it comes down to leadership.

Ms Patel's claim that a visa application centre had been established in Calais when it hadn't was described as "eye watering" by one backbencher.

One former cabinet minister said Home Office officials needed direction and drive that had so far been lacking, a combination of strong leadership and micro-management to make things happen.

Another Conservative backbencher suggested a home secretary keen to display a tough stance on immigration might have misjudged the public and political mood - something strongly rejected by Ms Patel's supporters, who point out there's no planned cap on the number of Ukrainians who can come to the UK.

Some Conservative backbenchers agree the problem has been one of practicalities - failing to get the right people in the right place quickly enough - rather than political ideology.

Strikingly, two former ministers with knowledge of the Home Office both used the same phrase - it's more likely cock-up than conspiracy.

The government has now appointed Richard Harrington as a minister for refugees to work across the Home Office and the Department for Levelling Up, perhaps an acknowledgement of the need for progress.

Ministers have promised regular updates on efforts already underway to speed up the system, though MPs will want to see results on the ground.

So far there's been a deliberate display of unity from across the political spectrum over the response to Russia's invasion of Ukraine, but when it comes to the government's response to a growing refugee crisis, there will be continued pressure.