Boris Johnson says Ukrainians are "fighting heroically" and with "great success" in some places.
Following a call with the Ukrainian president, the prime minister said things "are not going all the way of President [Vladimir] Putin".

But he said more had to be done to "change the heavy odds that Ukraine faces" from the Russian invasion.

Tougher sanctions, including a move to shut Russia out of the global payments system Swift, were needed, he said.

Shortly after Mr Johnson's comments on Saturday night the European Commission alongside the US, Canada and UK announced that selected Russian banks would be removed from the Swift messaging system.

The prime minister, who was speaking during a visit to RAF Brize Norton in Oxfordshire, said the UK was sending humanitarian, military and financial supplies to Ukraine.

He added that 1,000 troops were being sent to the region to help with the influx of refugees and he said the government would "of course help people fleeing for their lives".

"Things are not going all the way of President Putin. Very far from it, the Ukrainians are fighting heroically, and in some places with great success," Mr Johnson said.

He said some "terrible atrocities" were being committed and there would be some "very grim days ahead for Ukraine".

Mr Johnson said that Europe had to face the "hideous reality" that previous attempts at diplomacy with Mr Putin were "a charade".

A curfew has been imposed in the Ukrainian capital Kyiv until Monday morning as Russian forces close in, and there has been fighting near several other cities.

During a call with Ukrainian president Volodymyr Zelensky on Saturday evening, Mr Johnson paid tribute to the "incredible heroism and bravery" of Mr Zelensky and his people, Downing Street said.

They expressed concern for the role Belarus was playing in the violence and agreed on the need for "the international community to isolate Russia completely diplomatically and financially".

In a tweet Mr Zelensky said he was grateful to Mr Johnson and said they had agreed on further steps to "counter the aggressor".

Excluding Russia from Swift would not stop its banks sending and receiving cross-border payments, but it would make the process much more difficult and expensive.

So far, sanctions have included freezing the assets of Russian President Vladimir Putin and his Foreign Minister, Sergei Lavrov, as well as halting Russia's Nord Stream 2 gas pipeline.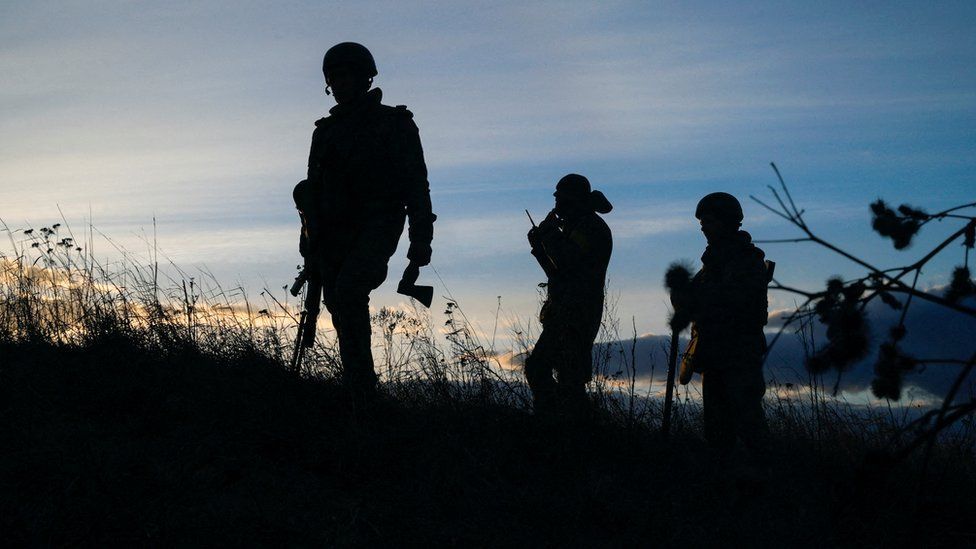 Ukrainian servicemen take positions at the military airbase Vasylkiv in the Kyiv region

Mr Johnson also said that "of course" the UK would take Ukrainian refugees, saying the country had a "historic and proud role of taking refugees from all conflicts".

It comes after some criticism from opposition MPs that the government had continued to apply the existing rules for Ukrainians seeking to come to the country. Mr Johnson suggested that there was "fake news" on the internet about the government's willingness to help refugees.

Immigration minister Kevin Foster was criticised on social media after writing, in a later deleted tweet, that there were a number of routes to the UK which Ukrainians could qualify for, "not least our seasonal worker scheme".

The prime minister also said that it was "inconceivable" to imagine that normal sporting relations could continue with "Putin's Russia" after Poland and Sweden refused play world cup play-off fixtures with Russia.

It comes after Chelsea owner Roman Abramovich handed over "stewardship" of the football club to the trustees of its charitable foundation.