The government is in talks with energy firm Centrica about re-opening a giant gas storage facility in case European supplies from Russia are cut off.
The discussions form part of contingency plans being exploring ahead of winter amid the war in Ukraine.

Centrica's facility in Yorkshire was mothballed in 2017 when the government refused to subsidise it.

The BBC understands the government may now be prepared to contribute to re-establishing a strategic gas reserve.

The talks are part of plans for a "reasonable worst case scenario" in which Russia shuts off all gas supplies to Europe resulting in Norwegian gas supplies being redirected from the UK to Europe.

Those plans also include extending the life of the few remaining coal fired power plants in the UK. Business Secretary Kwasi Kwarteng wrote to the owners EDF, Drax and Uniper in April and on Friday of last week instructed National Grid's Electricity System Operator to explore what would be needed to extend production.

The government has also been in touch with EDF to see what scope was available to extend the life of Hinkley Point B, a nuclear plant in Somerset.

The UK gets a very small amount from natural gas from Russia but is reliant on Norway for a third of supplies. There are concerns that if Russia cuts off supplies to the European Union or the bloc boycotts supplies because of the Kremlin's attack on Ukraine, Norwegian supplies might be diverted.

The EU relies on Russia for 40% of its gas supplies.

The UK also imports liquified natural gas (LNG) from Qatar and the US.

There has been a glut of liquefied natural gas arriving in the UK in recent weeks as suppliers use the UK's terminals as a hub for deliveries to Europe. Tankers have been turned away as there is nowhere to store it.

At full capacity, Centrica's facility in Rough, Yorkshire can store between 10 and 12 days' worth of the UK's gas needs. Industry experts say that if they started work now, it might be able to hold up to six days' worth of the UK gas demand by this winter.

It was shut five years ago when Centrica told the government that the £2bn-£3bn worth of investment needed to extend its life made no economic sense to a private company.

At the time, the government declined to subsidise the facility telling Centrica "if the market doesn't think it makes sense - neither does the government", according to a company insider.

Government sources indicated that there was a low probability that Russia would cut off all gas supplies to the EU or Norway would divert supplies from the UK.

They pointed out that many Norwegian gas sources are directly connected to the UK and could not be diverted.


Nuclear power

Another power source could be the Hinkley Point B nuclear plant which has already had its life extended from an original decommissioning date of 2011 and was due to come off line in July of this year.

An EDF insider told the BBC it would not be without cost and the timing was very tight.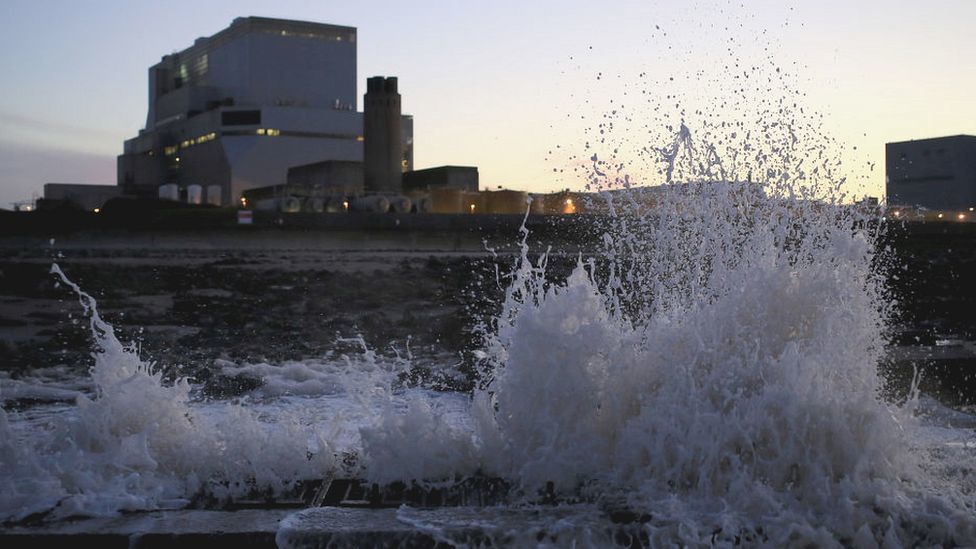 The Hinkley Point B nuclear plant is due to come off-line in July

"Extending anything costs more in terms of investment, just like deciding to get your car through the next MOT but nuclear has the added safety case dimension," he said. "So it is not necessarily easy and given the closure date is July 2022, that's very soon to change direction when they are planning on closing in a few weeks."

The BBC understands there has been no formal request to EDF from the government which is waiting for evidence on the business case and the safety implications of such an extension.

A spokesperson for The Office for Nuclear Regulation (ONR) said: "Any extension to the operating life of a nuclear power station would need a robust safety case produced by the operator to demonstrate that the plant is safe to run for any extended period.

"This evidence would then be thoroughly assessed by a team of expert ONR inspectors."

Talking to Times Radio, government minister Chris Philp described the contingency plans as "a sensible precautionary measure given that the gas supply coming out of Russia and Ukraine is, for obvious reasons, so heavily disrupted and we do, of course, use quite a lot of gas to generate electricity."

He added: "A lot of ours comes from Norway and in the form of liquified natural gas, but of course disruption to the global gas market will have a "knock on effect" on the UK."