The UK is set for another heatwave this week with highs of up to 35C (95F) in some parts, forecasters have said.
The Met Office said while conditions would be below the 40.3C recorded last month, the hot weather could last for a longer period.

More parts of England are also facing hosepipe bans amid very dry conditions, as fire crews warn of wildfires.

Heat health-alerts have been put in place across England by the UK Health Security Agency.

A level three warning will cover southern and central England from midday on Tuesday until 18:00 BST on Saturday, with a level two alert in place for northern England for the same period.

Met Office meteorologist Tom Morgan said a "fairly widespread heatwave" was developing across the UK this week with the peak of the temperatures likely to be on Friday or Saturday.

"It does look like a prolonged period of dry weather and obviously that's bad news for southern England where some rain would really be useful now," he said.

Temperatures will build from 28C or 29C on Tuesday and reach the low to mid-30s from Thursday, Mr Morgan said.

He said the West Midlands and West Country could see with highest temperatures with a maximum of around 35C, but this is uncertain.

A heatwave is defined as above average temperatures seen for three days or more.

England had its driest July since 1935, said the Met Office. For some parts - south-east and central southern England - last month was the driest since records began in 1836.

There have also been calls for more hosepipe bans to be brought in ,including from Environment Secretary George Eustice.

Southern Water already has in place a hosepipe ban for customers in Hampshire and on the Isle of Wight, and from Friday South East Water will do the same in Kent and Sussex.

A ban has also been in place in the Isle of Man since 29 July, where customers could face a £2,000 fine if they break the rules.

Welsh Water will bring in a ban for Pembrokeshire and Carmarthenshire later this month.

In France, the government has set up a crisis team to tackle a drought that has left more than 100 municipalities short of drinking water.

'Wild fire risk increases'

Last month's record temperatures saw a series of wildfires across the country and Riccardo la Torre, from the Fire Brigades Union, described them as "brutal".

"They burn at extremely high temperatures, they spread faster than firefighters can move and they are very labour intensive," he said.

He said fire services were under strain and claimed the reason blazes "spread with regularity is because we do not have resources to get there quickly enough".

The government said spending for fire services had been increased by around £141m to £1.37bn over the last six years, "demonstrating our commitment to ensuring fire services have the resources they need".

Essex County Fire and Rescue Service has urged people not to light bonfires or barbecues, or let off fireworks or sky lanterns, after a large blaze which damaged gardens, sheds and trees was started by a chiminea.

Mark Hardingham, chair of the National Fire Chiefs Council said: "I have not seen a distinction between the two heatwaves - it has remained hot between then and now and equally there's been no rainfall."

He said crews were expecting the busiest time of day to be between 13:00 and 19:00 BST every day and said fire chiefs would aim to maximise on-call firefighters in rural areas to help cope with demand.

A combine harvester and the surrounding field caught fire in Gloucestershire on Monday, following a weekend of fires in the West which saw thousands of square metres of farmland destroyed.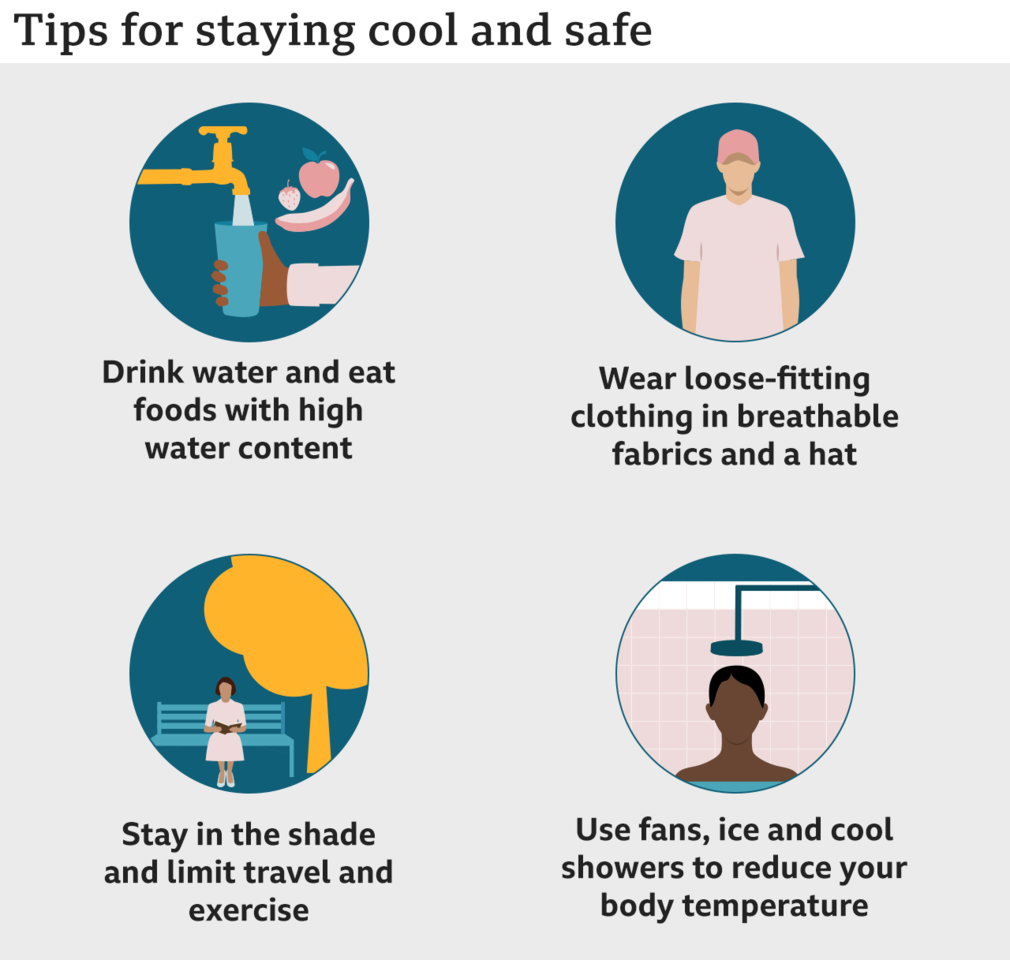 'Relieve pressure on rivers'

Sir John Armitt, chair of the National Infrastructure Commission (NIC) said water companies who have not called for a hosepipe ban "will be keeping it under constant review".

"The advantage of doing it [a hosepipe ban] right now would be that it relieves pressure on their rivers," he said.

Speaking on the BBC's The World at One programme he said there were simple steps people could take to help such as "reducing the number of minutes we spend in the shower".

He said there was no doubt climate change was affecting our infrastructure and said water was something we took for granted.

'Agriculture will be hit'

The National Farmers Union warned the heatwave was compounding problems already caused by months of dry weather - grass not growing and irrigation water running out are two.

Deputy president Tom Bradshaw told the BBC: "The biggest concern is always animal health and welfare and trying to make sure the animals are well looked after.

"There's also an impact on crops, particularly some vegetable crops - once they get over the mid-20s in temperature they stop growing".

Keith Stones, who farms in Swaledale, North Yorkshire, has been struggling to find grass to feed his livestock.

He told the BBC: "The ewes producing the milk for the lambs are thin because they're not picking up enough nutrition from the forage.

"The lambs are becoming pot-bellied and thin because they're not getting nutrition from the grass or from the milk because the mums aren't supplying."

The dry weather has also caused staff at Kew Gardens, in south-west London, to prioritise which plants that have high conservation value, historic importance or which are extinct in the wild.

Director of gardens Richard Barley said this included not irrigating wider lawns and natural habitats.

The heat-health alerts, which are designed to help healthcare professionals manage periods of extreme temperatures, mean care homes will be monitoring residents closely.

David Lewis, manager of Cwmbran House Care Home in Cwmbran, Wales, said they were encouraging drinking as "much as possible" and offering ice creams and lollies if residents get warm.

"We're ventilating the rooms and have got fans in the lounges", he said.