Bal Kumar Khatri has worked harvesting rice and beans in his native Nepal before, and been a trekking guide in the Himalayas.
But this year, instead, the 26-year-old is in a polytunnel in north Nottinghamshire picking strawberries.

Every spring thousands of seasonal workers come to harvest the UK's soft fruits, but this year they're coming from much further afield.

Before Brexit many came from Poland, Romania and Bulgaria.

Now as well as Nepalese, UK growers are employing Indonesian, Mongol, Tajik, Kazakhs and Kyrgyz workers.

Mr Khatri hasn't been here long, but he speaks some English and the farm's owners are relieved he's made it here.

Getting enough workers for the summer season is always a challenge, but this year, with the soft fruit season just about to hit its peak, many growers say they're more worried than they've ever been that there won't be enough pickers.

Jenny Tasker from Harwill Farm near Retford which supplies Waitrose, Tesco and Marks and Spencer, has always had a mix of nationalities. But this year their workers come from nine different countries, including 35 from Nepal for the first time, 45 Tajikistan, and even three from Indonesia.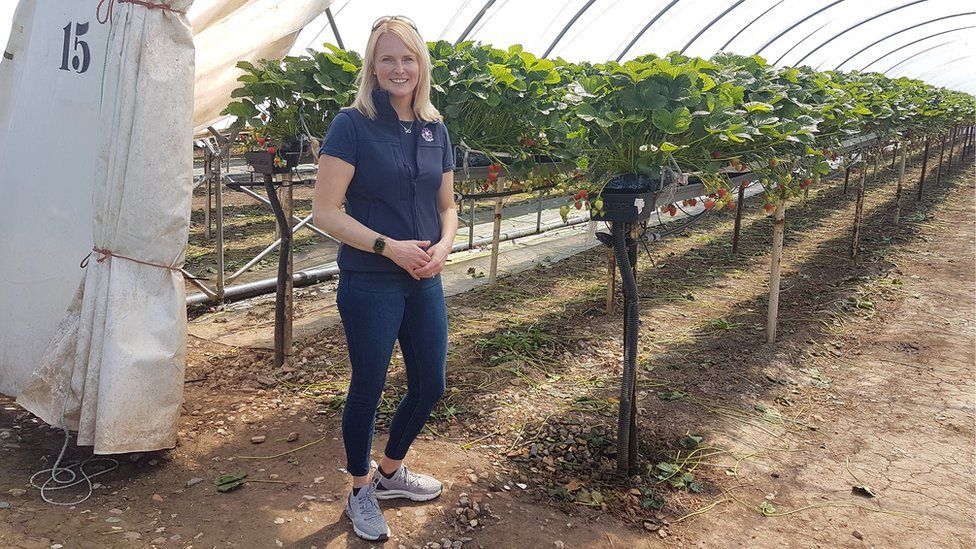 Jenny Tasker from Harwill Farm is using workers from a wide range of countries

The new recruits are fitting in well, says Ms Tasker, but there are challenges.

"We're having to do lots of training, so it's slow," she says. "It's about having patience on both sides," she says. But she, like others, is worried that she won't get all her berries harvested before they spoil.

UK production of soft fruit has been rising steadily, according to the industry body British Berry Growers (BBG) but wastage has been increasing too. It's hard to predict when berries will be ready to pick, and when they are, they can't wait.

The value of production lost due to labour shortages has approximately doubled in each of the last two years, based on a survey of BBG members. Last year, an estimated £36m worth of soft fruit was wasted, against total production of £760m, the BBG says.

'Very nervous'

At Harwill, workers like Mr Khatri and his brothers are provided with accommodation and free wifi has been installed for all the caravans. British farms are going to ever greater lengths to persuade workers to return year after year, partly because since Brexit the number of returnees from EU countries has dwindled.

Last year, Ukrainians filled the gaps, but this year Ukrainian men between 18 and 60 years old have been told to stay at home and fight.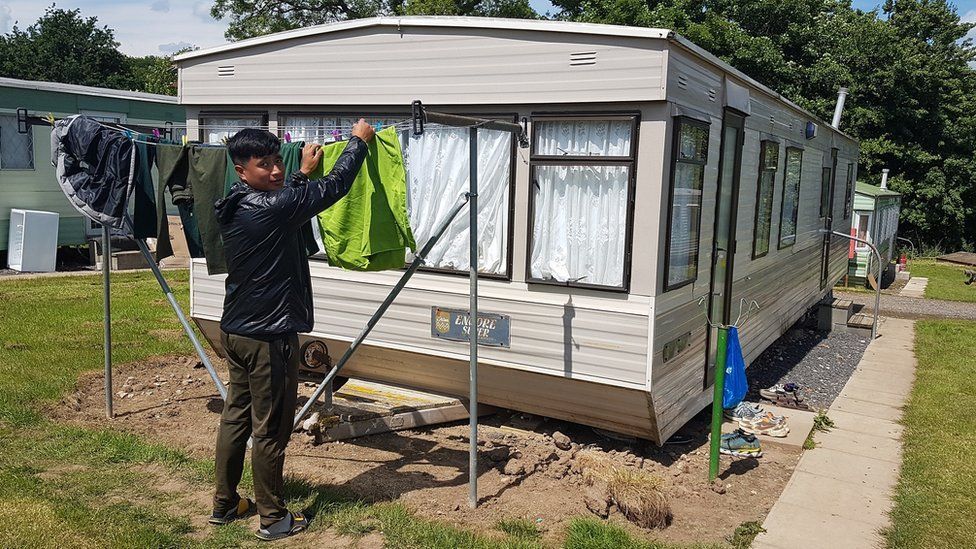 Workers of different nationalities share caravan accommodation on site at most UK fruit farms

The combination of war, Brexit and Covid led a parliamentary committee to warn in April that acute labour shortages across the UK food sector could threaten food security if action wasn't taken.

And since then the process of issuing visas to seasonal workers seems to have stalled, says BSF chairman Nick Marston. He welcomes the "league of nations" approach but says he's worried workers from so far away will end up arriving too late.

"It's making farmers very nervous," he says. "I don't think it has hit crisis point yet, but I am very concerned it may do."

Justin Emery says there are plenty of workers willing to come. He is director of the labour company Fruitful Jobs, one of four firms licensed to recruit seasonal workers overseas.

Fruitful Jobs is recruiting in 37 countries from South Africa to Kurdistan, Canada to Mongolia. But recruits have to find £244 for a visa plus their return air fare. That, plus the bureaucracy and language barriers, means it's not a quick process to recruit from new, far-flung places.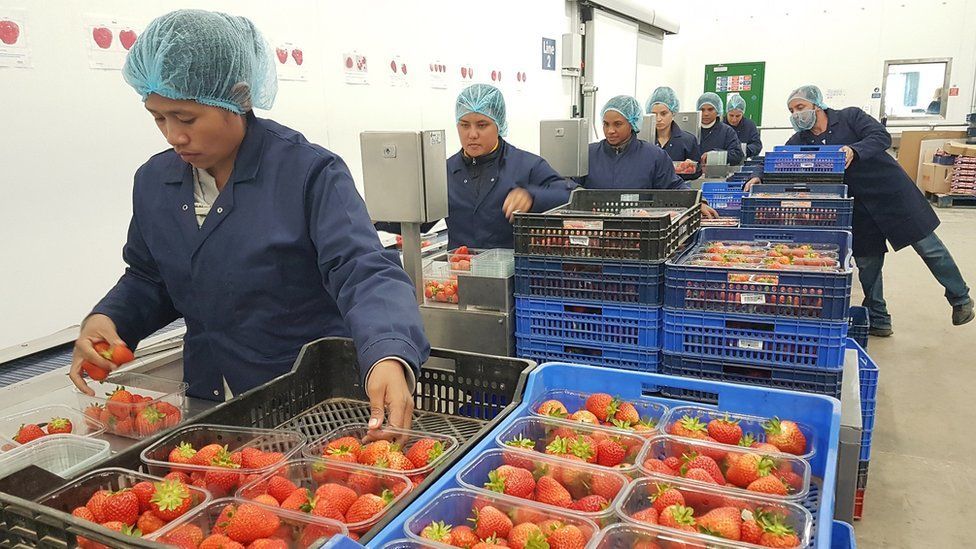 Tim Chambers (l) and his father John own one of the largest berry growers in the UK

At this end, the arrival of Ukrainian refugees has diverted resources and held up visa processing, Mr Emery says. But, he adds: "They've caught up quite well, and people are coming in now."

But that's not enough to reassure everyone that the new system will work.

Tim Chambers, who owns a network of 24 farms in south east England, has told the recruitment firms he doesn't want workers from countries like Indonesia, Vietnam or the Philippines.
"It's not because I in any

way have an issue with race, creed, or colour," he says. "[But] if you suddenly bring in a whole new country, culture, way of life, into your farm, it can cause major problems.

"In terms of efficiency, a new recruit in the first season is 25% less productive," he says.

"There will be cultural and lifestyle things too," he says.

Mr Chambers says he has a large number of experienced workers from central and eastern Europe still returning to work on his farms - he's already making sure not to put Russians and Ukrainians in shared accommodation to avoid friction.

But competition for labour is getting so "hot", he can see he may have to accept workers from new sources, if he wants to avoid what happened last year, when a shortage of labour meant he walked away from around 12% of his raspberry crop.

He blames the government for not issuing enough visas. This year there is a limit on numbers, of 30,000, with the potential to go up by 10,000 if necessary. The number of visas will begin to taper from 2023, with an increased focus on British workers and automation supposed to compensate.

"They don't understand the responsibility they've given themselves and the carnage they can cause by their actions," he says.

The other "bombshell" says Alastair Brooks, at Langdon Manor Farm in Kent, was the government's stipulation seasonal workers from overseas must be paid £10.10 an hour, well above the £9.50 minimum wage.

He can't pay his existing workers less than the new arrivals, so wages have gone up across the board.

"I don't begrudge them that, they work really hard. The problem is we'd fixed prices with our customers," he says.

The Home Office said the government was ready to back the UK's farmers and growers and "ensure that they have the support and workforce that they need".

"The Seasonal Workers scheme is now operating until the end of 2024," a spokesperson said, adding the government was working towards attracting UK workers into the sector.