The UK is facing "a significant risk" of gas shortages this winter, according to the industry regulator, which could impact electricity supplies.
Ofgem said due to Russia's war with Ukraine, there is a possibility the UK could enter a "gas supply emergency".

This would lead to supplies being cut to power stations which use gas to generate the country's electricity.

Gas-fired power stations generate between 40% and 60% of the UK's electricity.

Firms are at risk of running out of money because of huge charges they pay if they cannot deliver electricity.

Ofgem said: "Due to the war in Ukraine and gas shortages in Europe, there is a significant risk that gas shortages could occur during the winter 2022-23 in Great Britain. As a result, there is a possibility that Great Britain could enter into a gas supply emergency."

If this happens, supplies would be cut to "the largest gas users" which are likely to be "large gas-fired power stations which produce electricity to the National Electricity Transmission System".

It is not clear if this could result in electricity blackouts or mean homes and businesses will face energy rationing this winter.

During the Conservative Party leadership campaign, Prime Minister Liz Truss ruled out rationing.

Asked about the risk of blackouts this winter, Ofgem told the BBC: "This winter is likely to be more challenging than previous ones due to the Russian disruption of gas supplies to Europe."

But it said: "Britain is in a good position with little direct import of gas from Russia

"Nevertheless, we need to be prepared for all scenarios this winter. As a result, Ofgem is putting in place sensible contingency measures with National Grid as well as the government to ensure that the UK energy system is fully prepared for this winter."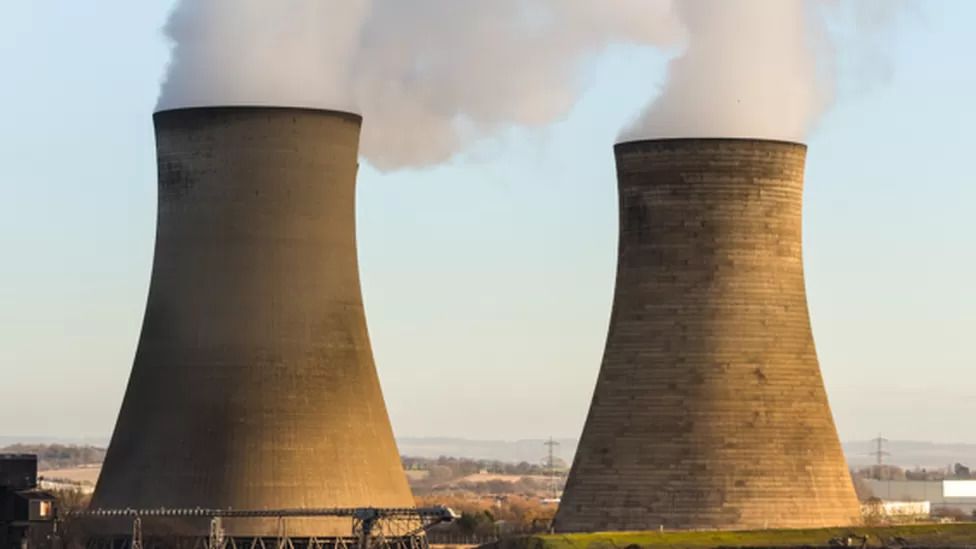 Ofgem wrote a letter in response to SSE, which operates four gas-fired power stations in the UK that produce electricity.

SSE is concerned that operators of gas-fired power stations face millions of pounds worth of costs if they are unable to fulfil promises to supply electricity "caused by events outside their control".

A power station will burn gas to create heat which powers a turbine. This creates electricity which is transmitted up and down the UK's National Electricity Transmission System via pylons or underground cables.

In the event electricity supplies are disrupted because of constrained gas supplies, generators would have to pay what are known as "imbalance charges".

These cover the cost of National Grid having to find electricity from elsewhere to meet demand.

Ofgem said this "could result in potential insolvency of gas-fired generators if a gas supply emergency occurs".

SSE said that an averaged-sized power station could face charges of around £276m a day if it is unable to generate electricity.

In its letter, which was first reported in The Times, Ofgem said it would look at the issue of charges as a matter of urgency because it will have a "significant impact on the safety and security of the electricity system".

SSE said that by raising the issue with Ofgem it "would protect security of supply by ensuring gas-fired power stations are able to provide vital flexible generation through challenging periods".

A spokesperson said: "There is broad industry agreement on the need to examine this issue, with the decision ultimately one for Ofgem."

RWE, which also generates electricity in the UK through gas-fired power, said it shares and raised the same concerns.

"Due to circumstances beyond our control, the station would be heavily penalised for not meeting its generation obligations."

David Cox, an independent energy analyst, said that the UK was heading into a "very dangerous situation" this winter.

"The problem is we get about 40% of our electricity from gas-powered plants in the UK," he said.

Mr Cox noted that the UK will face challenges importing gas from storage sites in Europe this winter, with European countries facing their own supply crunch due to Russia's war in Ukraine.

A spokesperson for the Department for Business, Energy and Industrial Strategy said the UK "has a secure and diverse energy system and the government is confident that the steps it is taking will protect security of electricity and gas supplies".

"To strengthen this position further we are working closely with regulators and our international partners to ensure UK households and businesses' energy needs are met this winter."

Since its initial invasion of Ukraine, the Kremlin has reduced energy supplies to Europe while many countries have pledged to shift their reliance for oil and gas away from Russia.

While the UK does not rely on Russia for oil and gas, any disruption causes a widespread impact on international supplies.

Most recently, leaks were discovered at Russia's two main gas pipelines to Germany, Nord Stream 1 and Nord Stream 2. Though neither were operational, the EU, US and Nato suggested the damage was intentional. Russia has denied any involvement.