Thousands of people took part in parades across Northern Ireland to mark the Twelfth of July.
The annual Orange Order parades celebrate the Battle of the Boyne, when William of Orange - also known as King Billy - defeated the Catholic King James II in 1690.

Main parades, accompanied by marching bands, took place in 18 locations.

Police said this year's Twelfth was one of the safest and most peaceful in recent memory.

The night before, hundreds of bonfires were lit across Northern Ireland.

Known as the Eleventh Night, it is usually one of the busiest nights of the year for the Northern Ireland Fire and Rescue Service but it has recorded a fall in the number of bonfire-related call-outs.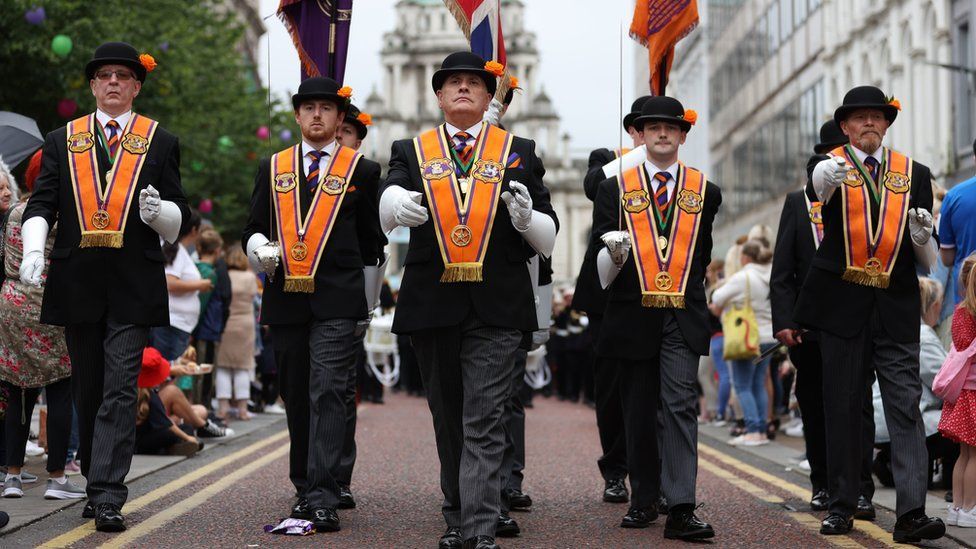 Main parades took place in 18 places - the biggest was in Belfast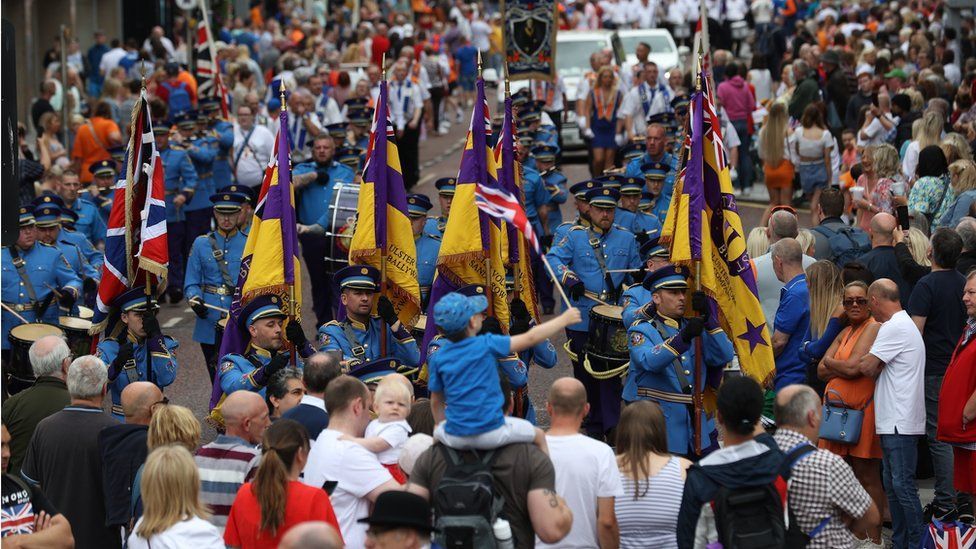 This year saw a return to the full traditional programme after the Covid-19 pandemic

The 11 and 12 July also involve the largest policing operation mounted each year.

More than one third of the Police Service of Northern Ireland (PSNI) - 2,500 officers - were on duty to facilitate almost 600 parades.

Assistant Chief Constable Bobby Singleton said: "I want to take this opportunity to thank all those involved for their help in making this one of the safest and most peaceful 12th July events in recent memory."

Eight arrests were made and police are investigating a small number of potential breaches of Parades Commission determinations.

The 24-hour operation has cost more than £1m in previous years.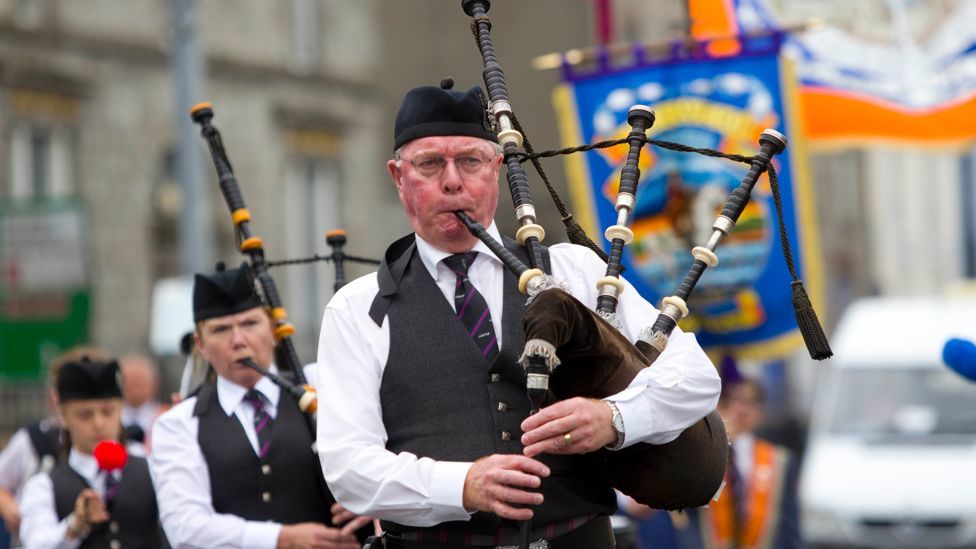 The sound of the bagpipes was heard during the demonstration in Newry

Twelfth of July parades were called off in 2020 because of Covid-19.

In 2021, smaller parades were held due to the pandemic but 2022 is a return to the full traditional programme.

Twelfth demonstrations were held in: Glenarm, Ballymena, Bushmills, Antrim, Cullybackey, Magheragall, Armagh, Belfast, Ballygowan, Greyabbey, Newry, Ballymartin, Enniskillen, Limavady, Tobermore, Castlecaulfield, Omagh and Aughnacloy.

Grand master of the Orange Order Edward Stevenson, who attended the demonstration in Bushmills, said it was wonderful to see the streets packed with spectators.

He urged unionist leaders to "maintain their firm opposition" to the Northern Ireland Protocol.

He said the order was paying close attention to the progress of the government's Northern Ireland Protocol Bill.

"While it does not provide the answer to all our problems, it must be viewed as a step in the right direction," he added.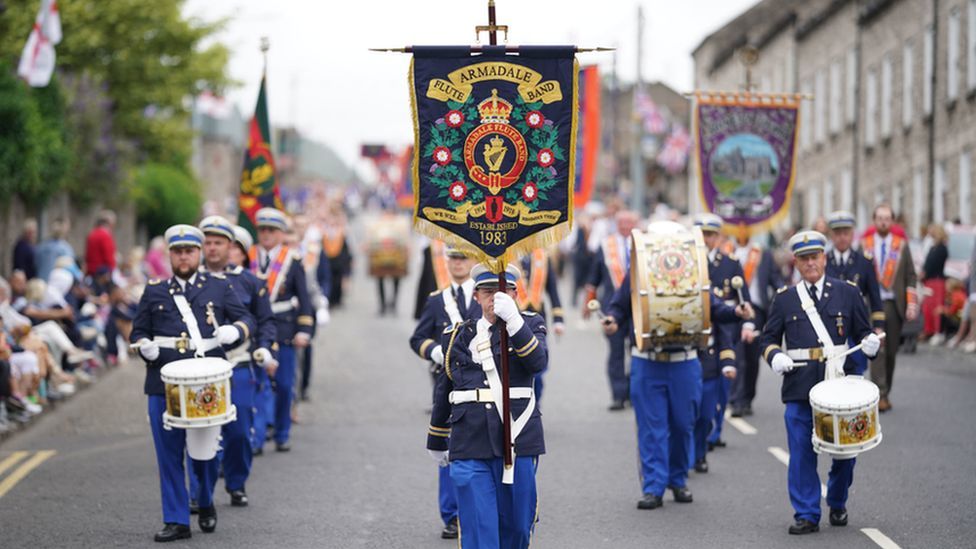 Orange Order members in Armagh were joined by 65 bands

Orange Order grand secretary Rev Mervyn Gibson told those attending the demonstration in Newry that the Republic of Ireland needed to decide if they want "good relations with the unionist community in all parts of the United Kingdom" or if they "want to cling to the protocol".

"Micheál Martin (Irish prime minister) - you cannot have both," he added.

Belfast County grand master Spencer Beattie welcomed the resumption of a full programme of parades in Northern Ireland after the pandemic.

"We've had various smaller parades over the last couple of years, reduced down because of Covid, but it's great to be back in full swing again," he added.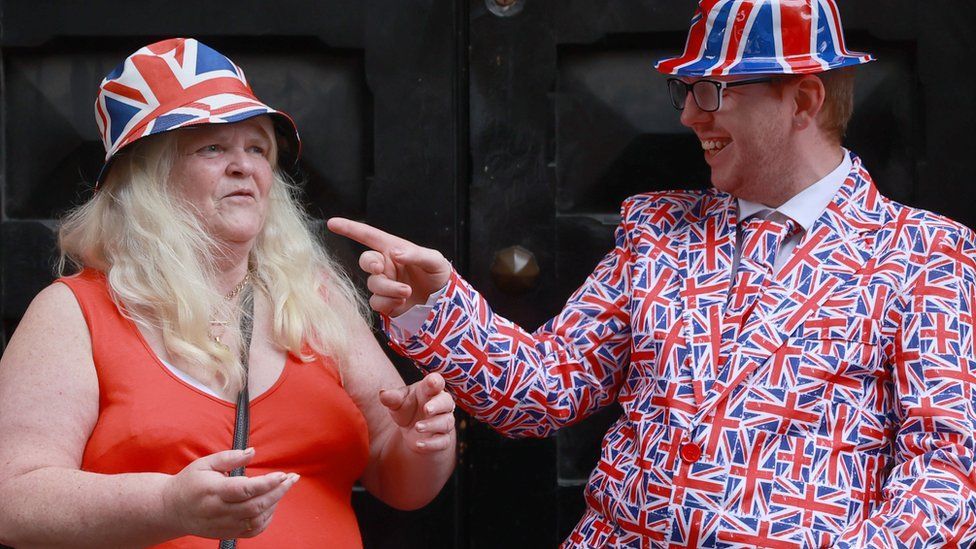 These friends in Belfast were suitably dressed for the parades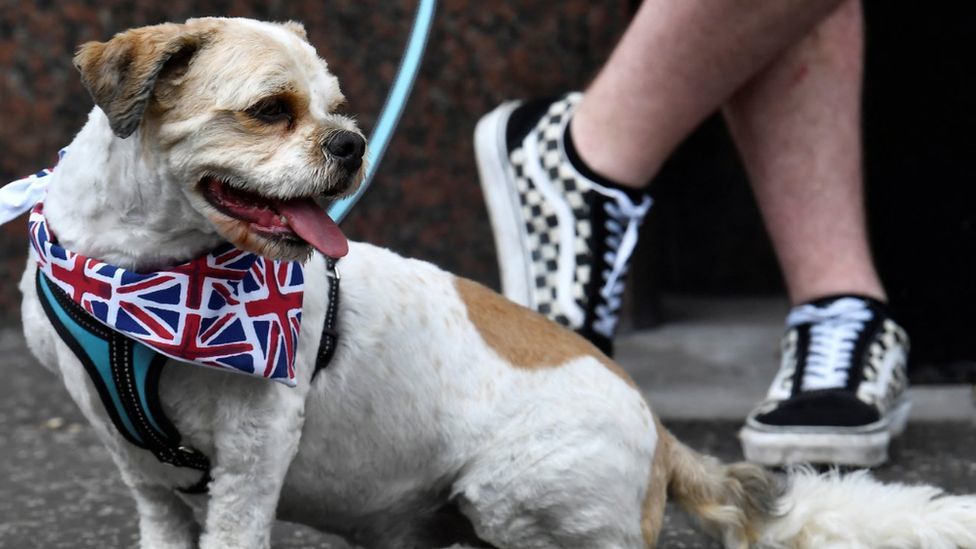 This pooch was also dressed to impress

​About 10,000 Orange Order members took part in the Belfast parade, with crowds lining the streets in the city centre.

A wreath-laying service was held at the cenotaph at City Hall on Tuesday morning.

Participants later headed to Barnett Demesne in south Belfast before embarking on their return journey on Tuesday afternoon.

Thousands of people turned out for the parade in Limavady, with 15 lodges and 11 bands taking part.

The parade includes the Coleraine and Macosquin districts, the City of Londonderry Grand Orange Lodge, as well as members from east Donegal.

Some 60 lodges took part in the event in Antrim town, which hosted the east Antrim demonstration for the first time in 12 years.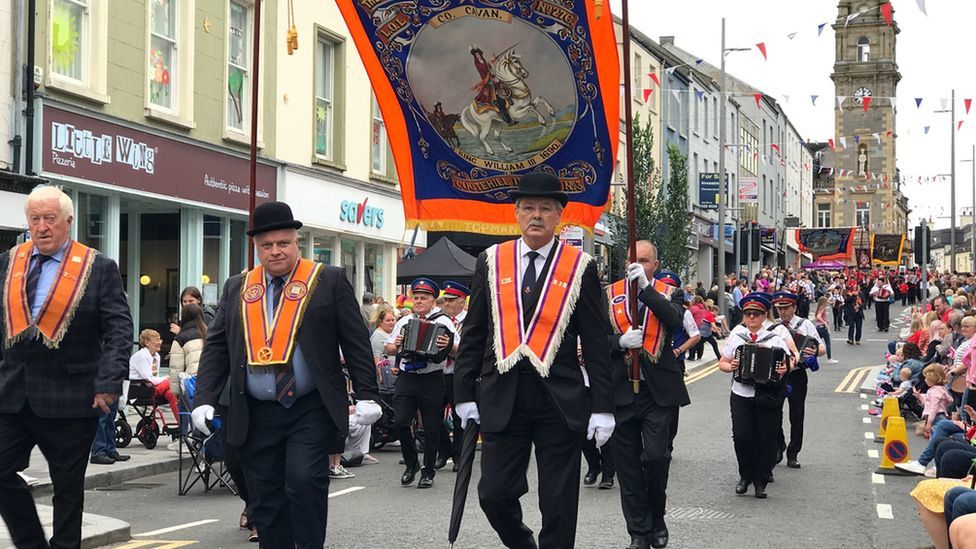 In Enniskillen, lodges from County Fermanagh were joined by brethren and bands from Donegal, Leitrim, Cavan and Monaghan

Orange Order members in Armagh were joined by 65 bands accompanied by bagpipes, flutes, and the Lambeg drum.

Maguiresbridge District and Silver Band led the parade in Enniskillen, with lodges from throughout Fermanagh joined by brethren and bands from Donegal, Leitrim, Cavan and Monaghan.

The parade paused at the Enniskillen war memorial where a wreath was laid on behalf of County Fermanagh loyal Orange institutions.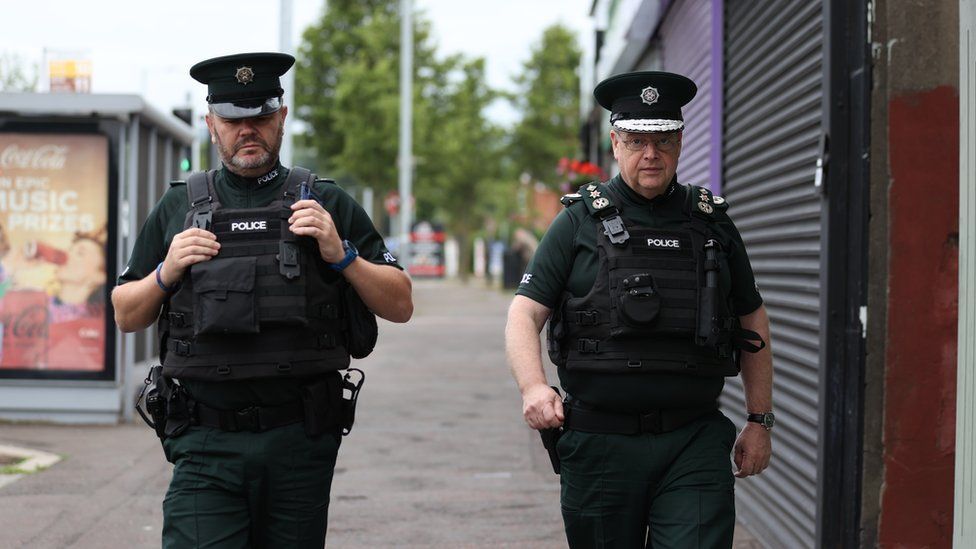 Chief Constable Simon Byrne (right) was out on patrol in north Belfast ahead of the Twelfth parades

The traditional Rossnowlagh parade in the Republic of Ireland took place on 9 July.

In June, BBC Northern Ireland said that after careful consideration it had decided not to resume live coverage of Belfast's Twelfth of July parade.

The Grand Orange Lodge of Ireland voiced its "immense disappointment".

The Belfast demonstration will be covered in an hour-long BBC programme on Tuesday evening, featuring events at eight locations.

GB News broadcast this year's parade live from Armagh city with former Democratic Unionist Party leader Dame Arlene Foster as lead commentator.

Meanwhile, the Department of Health has appealed to the public to be patient when using health and social care services over the Twelfth holiday period.

It said rising Covid infections were once again having an impact on staff absences in health and social care and that more people with Covid were being admitted to hospitals.
The Twelfth: Thousands take part in Orange Order parades