Sculptor Veronica Ryan, who made the UK's first permanent public artwork to honour the Windrush generation, has won this year's Turner Prize.
For her Windrush memorial, Ryan placed giant sculptures of Caribbean fruits on a street in Hackney, east London.

"Power! Visibility!" she shouted after her name was announced at the ceremony.

Ryan, 66, became the oldest winner in the prestigious art award's 38-year history when she picked up the £25,000 cheque at the event in Liverpool.

"Better late than never," she said afterwards, telling BBC culture editor Katie Razzall it was "overwhelming" to win.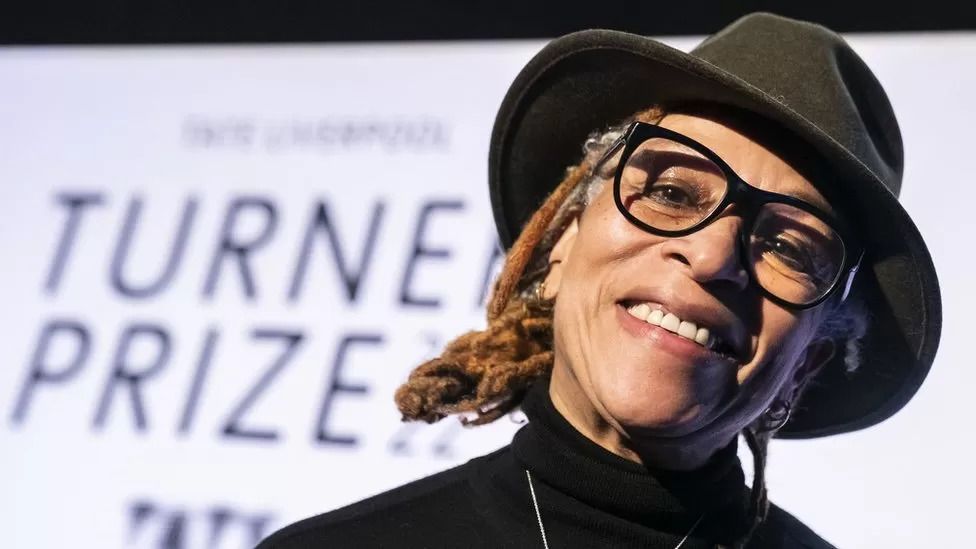 Ryan wore her late father's hat to the ceremony
Ryan was born on Monserrat before moving to the UK as a toddler, and her art uses the fruits, seeds and even volcanic ash from her home island.
Her winning works included the custard apple, breadfruit and soursop sculptures that were unveiled in Hackney in October 2021.
Her career has been "an incredible struggle" at times, she explained. "There were 20 years, almost, when no-one was paying attention to my work."
'Making work from rubbish'

But she credited her upbringing in a thrifty family for giving her an attitude that enabled her to make art in lean times with whatever materials she had to hand.

She thanked people "who've looked out for me when I wasn't visible and I was making work from rubbish", adding: "But actually some of the rubbish [works] are some of the most important works, I think."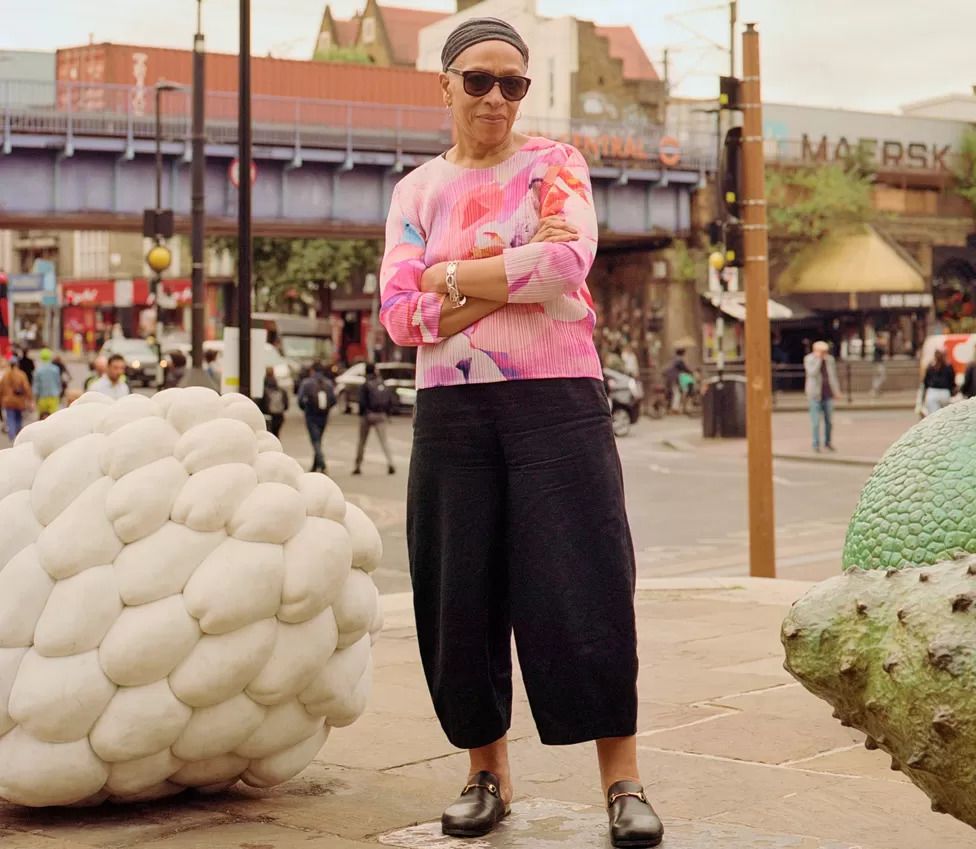 Ryan's marble and bronze fruit sculptures were inspired by her memories of visiting Hackney's Ridley Road Market as a child

She also won for an exhibition in Bristol last year that featured cocoa pods, avocado stones and orange peel.

Crocheted bags made from fishing line were included, as well as tea-stained medical pillows that were made during the pandemic to reflect acts of care and nurturing.

Ryan wore her father's hat as she accepted the award and paid tribute to her family, including three late siblings, on stage. "They were fantastic people and I think they're looking at us right now, and they're proud," she told the audience.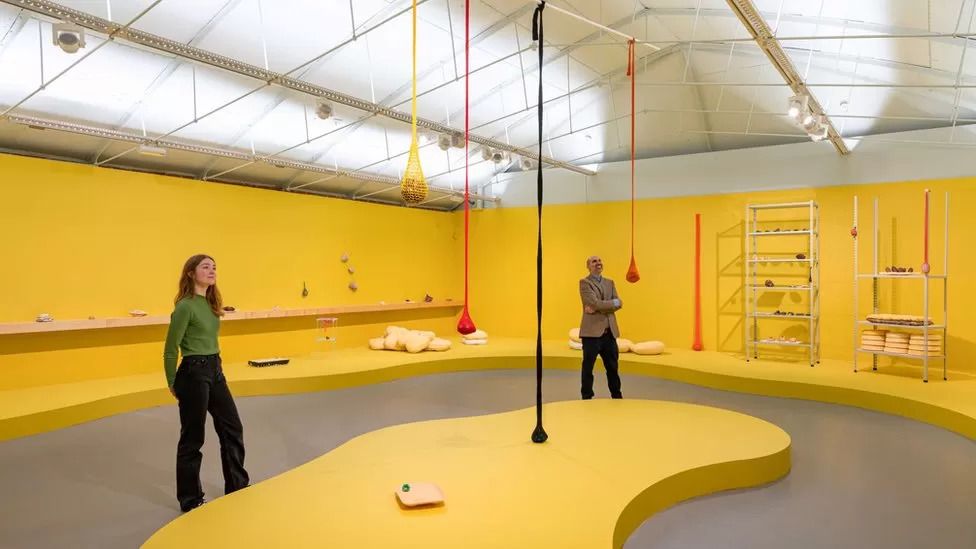 Turner Prize judges praised Ryan's "really poetic" art, which uses "things that normally are thrown away or lost"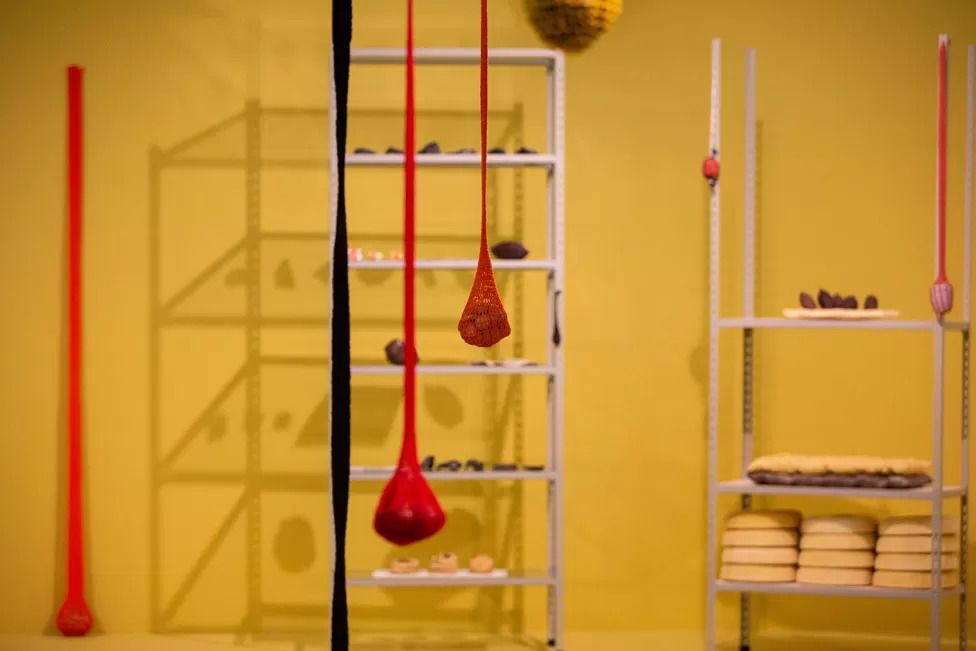 Ryan's Turner Prize exhibits include long crocheted sacks made from fishing lines, containing avocado stones, drift seeds and other items

Art critic Louisa Buck told BBC Radio 4's Front Row the moment Ryan won was "incredibly moving".

"It obviously means a huge amount, in her dad's hat up there, having been overlooked for a long, long time," she said.

"She is a great, great artist, and she really works with stuff, and she makes stuff speak."

Tate Britain director Alex Farquharson, who co-chaired this year's jury, said Ryan's work had "a quiet but very compelling presence".

"There's a kind of subtle autobiographical component to the work, and the jury feel that she's extending the language of modern contemporary sculpture in new and subtle ways," he said.

'A sense of beachcombing'

Ryan's was "perhaps the most abstract and elusive work" of this year's four nominees, he added.

"But it's quite insistent. And it's ultimately really poetic as a sculptural practice - but you're aware that this poetry is a result of working with the most humble forms, things that normally are thrown away or lost.

"There's a sense of beachcombing to how the materials are found, kept and brought back to life. And I think that is something that people can relate to."

The prize comes a year after Ryan was made an OBE for services to art. Farquharson said the Turner was not intended as a "lifetime achievement award", noting that her work had taken "a very interesting turn over the last year or two".

Ryan received the trophy from Frankie Goes To Hollywood frontman Holly Johnson at Liverpool's St George's Hall on Tuesday.

The three other nominees - Heather Phillipson, Ingrid Pollard and Sin Wai Kin - will receive £10,000 each.

Before announcing the winner, Johnson referred to the fact that there were three women nominated, with the fourth contender being non binary.

"It's about time, after the years of misogyny in the art world where women were only good for baring their breasts and reclining on couches, it's about time they were nominated and held in high esteem," he told the audience.

The Turner Prize is Britain's most well-known - and often most controversial - award for contemporary art, and Liverpool is the first city outside London to host the ceremony and accompanying exhibition more than once.

Ryan is the first individual artist to pick up the award since 2018.

In 2019, all five nominees asked to share it rather than having one winner; in 2020, the pandemic meant it was replaced with 10 artist bursaries; and last year all the nominees were collectives who helped to "inspire social change through art".
"We are visible people!" Veronica Ryan accepts the award