For a greener capital, the switch to electric vehicles is important, but is the charging infrastructure there yet? Here are three Londoners who put the cars through their paces
Electric cars are undoubtedly the future, in terms of developing a greener, safer capital. But what is the reality of using them right now? With electric vehicle owners set to pay road tax for the first time after the new budget, there may be more reason for scepticism on top of charging anxiety. Yet, the need is there, so we asked three Londoners to try out a vehicle to see if they are functional and fun, and if the charging infrastructure is up to speed. The verdict from our drivers? Mixed!

"So easy"

Elisa Bray swapped her petrol car for an electric SUV — the Volkswagen ID4 — and enjoyed the comfort and quiet of a guilt-free car run.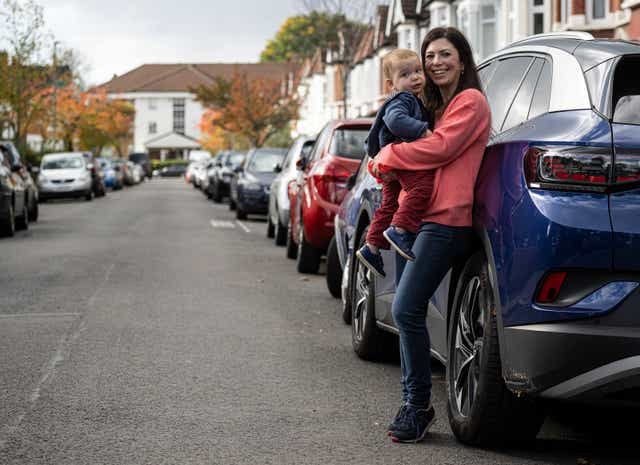 Daniel Hambury

I drive a Renault Twingo for the school run, which is among the smallest cars into which you can cram three children, and perfect for London parking, so I was full of trepidation about driving an SUV. Luckily the gadgets of this electric car quickly helped me get over my worries.

Parking and reversing were surprisingly easy thanks to the sensors; you can see the distance between your car and those in front and behind, and lines guide the direction to steer. With a dodgy shoulder due to lugging a heavy toddler around, it was a relief not to have to constantly crane my neck to check distances.

The "heads up display" meant the speedometer was helpfully projected onto the windscreen along with the compulsory speed limit. Google Maps was also on the screen to adapt to traffic — when I could locate it.

The screen is complicated to manoeuvre, which isn't ideal when you're focusing on the road while contending with the chatter of small people. However, the children could be appeased by connecting my phone to the entertainment system with Apple CarPlay to play their favourite music on Spotify.

Our two-mile school run is 10 minutes on a good day, and half an hour in stop-start traffic at worst. I'm used to making these short, polluting journeys as economical as possible, driving smoothly to conserve fuel, so it's been refreshing to use the brake mode: one-foot driving where the car automatically slows down when you take your foot off the accelerator. It's easier for driving in stop-start traffic and beyond efficient given that braking recharges the battery.

A petrol car of this size would be a real gas-guzzler so we enjoyed not having to think about fuel cost, our impact on air pollution or petrol running out as we kept an eye on the electric-mileage gauge. Incredibly, the miles didn't even drop on one of those painfully long four-mile round trips, because of the regenerating battery.

The 245-mile capacity of the ID4's battery more than lasted a week, and charging was clean and convenient while doing the supermarket shop.

For the children, comfort was the draw. With no exhaust tunnel, bespoke EV-architecture cars have flat floors which meant there was equal legroom for my eldest child in the middle seat as either side. Downloading the car app allowed us to set the heating before we got into the car, and not having to drag children out the house early on a winter's morning into a freezing cold car is a definite plus.

The ID4 took off beautifully, there was no roll back on hills and we couldn't feel the many potholes in the area.

All in all, we loved how comfortable, smooth, and easy to charge and drive it was. Size wasn't an issue. And the serene silence after dropping off the children at school was golden.

Elisa drove a Volkswagen ID-4, starting from £37,410. volkswagen.co.uk

"Stressful!"

Nick Howells wanted to test out the Ford Mustang Mach-E on one of his regional sojourns but its charge thirst wasn't compatible with his off-grid holiday.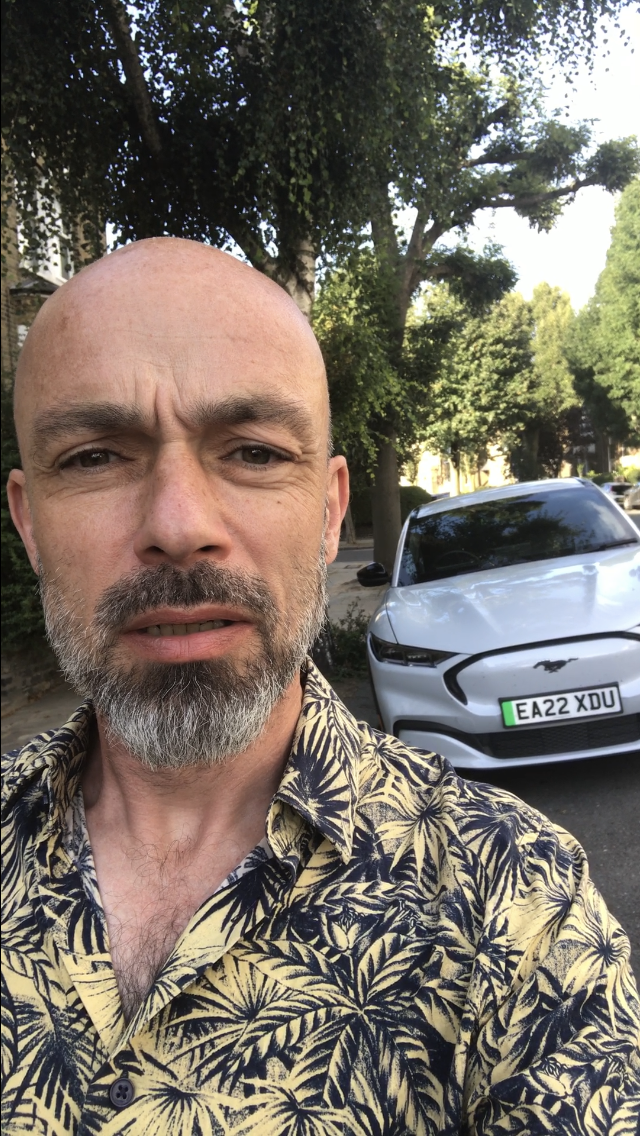 Nick Howells

Do Androids Dream of Electric Sheep? That was the title of prescient science fiction writer Philip K Dick's 1968 novel. Well, for some time I've been dreaming of electric cars. Smooth, quiet driving, no iffy emissions polluting the air we breathe, saving the planet… what's not to love?

On first impressions, the Mustang Mach-E had all the elements I would expect from a reasonably high-end (around £60,000) electric car: iPhone-type buttons to open the doors, a massive central touchscreen to control everything, luxurious and infinitely adjustable seats.

It turned out to be incredibly easy and enjoyable to drive too: just twist a dial for forwards, backwards or park, and put your foot down. I even found a setting where you didn't have to use the brake; simply releasing your foot from the accelerator slows or stops the car.

It also accelerates like a cheetah, which was useful for zipping past traffic on busy single-lane roads, even when going uphill. Before setting off from London for a three-night camping trip in Devon with my daughter, I was aware that there might be a little elephant in the room, though: range anxiety.

Our drive was 270 miles and the range 200, so I planned to stop 160 miles in, at a quirky American diner that had a couple of quick chargers. But when we arrived at the diner, both chargers were being used. We parked up to wait 40 minutes before it was our turn, then dined for about an hour and 20 minutes to get a full charge.

I had hoped not to need another charge for our stay, but by the second day, it became clear that we didn't have enough range to drive to a stone circle on Dartmoor, return to the campsite and then get to a charge point the following morning.

Sadly all the local chargers were so slow that by the following night I'd spent more than two hours in concrete car parks that day instead of relaxing on a beach.

We did manage to plug into a fast charger to go home the next day, but… 30 miles outside London we had to recharge yet again.

Cue one broken charger and one busy charger (no idea how long we would have to wait) on a desolate industrial estate with just a crap restaurant that we didn't want to eat in. It was 7pm, I was shattered from driving and dreaming of my sofa.

Did I love my Mustang? Yes, it's a fabulous car. However, a holiday dominated by recharging isn't my idea of fun. It's not Ford's fault; there just weren't enough decent chargers in rural Devon.

It certainly would not put me off ever getting an electric car. I just hope the UK gets a gigantic boost in fast charge points for rural areas so that I can stop dreaming and start buying.

Nick drove a Ford Mustang E-Mach, Ford's first all-electric SUV. From £49,950. Ford.co.uk

"Fantastic"

Tristan Wynne, 29, drove a Peugeot e-208 and was pleased to find it was the almost-perfect local runaround. It even had space in the back for his black Labrador, Rudy.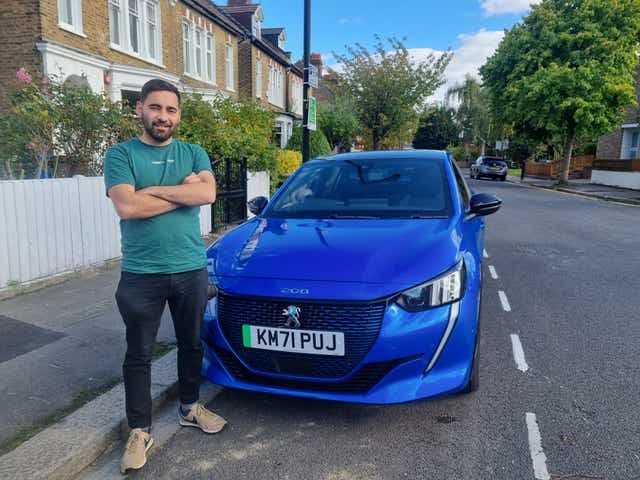 David Moffett

Like many people who work flexibly — sometimes popping in to an office on public transport and sometimes from home—I don't use my car much, but I do still like to have one to get around on errands, to my weekly squash game and on weekend jaunts with my wife and our young dog, Rudy. I was keen to see if going electric might suit us, ahead of choosing a new car. The Peugeot e-208 seemed a great choice for us from the start. It looks great and has lots of modern features, a 200-mile suggested range on full charge and space in the back for the dog.

Driving around the city on local trips, the car was excellent: comfortable, super smooth yet zippy. It was fun to drive and I found myself feeling cheerful — not your normal feeling when in London traffic — whether I was nipping down to Tesco or popping to the gym. What's great about electric cars is that the power is there immediately and hill starts are not a problem. The car also had some really cool functions, like cruise control (I had to watch a YouTube video to find out how that worked). I particularly liked the proximity key engine start where you can just keep the key in your pocket and still start the engine. Most of the time driving around London, I found it was easy to keep my range anxiety under control. In our area (East Dulwich) there are lots of charging points, including a pay-as-you-go lamppost outside our flat. There are apps and websites that can track your spend and how much charge there is remaining. I used Char.gy for the lamppost charger and Pod Point in Tesco.

At the weekend it was enjoyable to take it for a longer jaunt, to the in-laws in Oxfordshire — although I did notice that driving on the motorway depleted its range very fast, faster than I was expecting. I hadn't realised how much a wet and cold day would impact it either. The battery life isn't as obvious to work out as petrol levels, which made me slightly anxious about traffic jams.

Working out the costs of charging with different companies and apps can be a bit overwhelming, too — and a full charge can cost from £15 to £50. But overall my experience has made me feel positive towards electric cars. Based on my experience I would think of buying an EV, but if making long trips would opt for one with a bigger range.