Trade minister Conor Burns has been sacked from the government after a complaint of serious misconduct.
Mr Burns, 50, has also had the Tory whip removed while allegations of inappropriate behaviour during the party conference are investigated.

Downing Street said the prime minister "took direct action on being informed of this allegation".

Mr Burns said: "I will fully cooperate with the Party's enquiry and look forward to clearing my name."

In a string of tweets Mr Burns said he was not given any information about the complaint, "nor was I asked to provide any information".

He said: "I hope the party will be as quick to conduct their enquiry as they were to rush to judgement".

In a statement No 10 said: "Following a complaint of serious misconduct, the prime minister has asked Conor Burns MP to leave the government with immediate effect.

"The prime minister took direct action on being informed of this allegation and is clear that all ministers should maintain the high standards of behaviour - as the public rightly expects."

A spokesman for the Whips' Office said: "We have suspended the whip pending [an] investigation into allegations of inappropriate behaviour earlier this week.

"We take all such allegations extremely seriously. The prime minister has been clear that the highest standards in public life must be upheld."

The LGBT+ Conservatives have suspended Mr Burns as a patron "pending the conclusion of investigations".

Labour's deputy leader Angela Rayner said: "After just a month as prime Minister, Liz Truss's government is already beset by scandal.

She said it was "the latest in a long line of serious misconduct allegations, and raises serious questions not only about yet another minister but about the prime minister's judgement in refusing to appoint an independent ethics adviser."

MP for Bournemouth West since 2010, Mr Burns has served as a minister under both Liz Truss and Boris Johnson.

In 2020 he resigned as a trade minister after a parliamentary watchdog ruled he used his position to "intimidate a member of the public".

He later returned to government as a minister in the Northern Ireland Office, and had been working on this week's discussions about the Northern Ireland Protocol.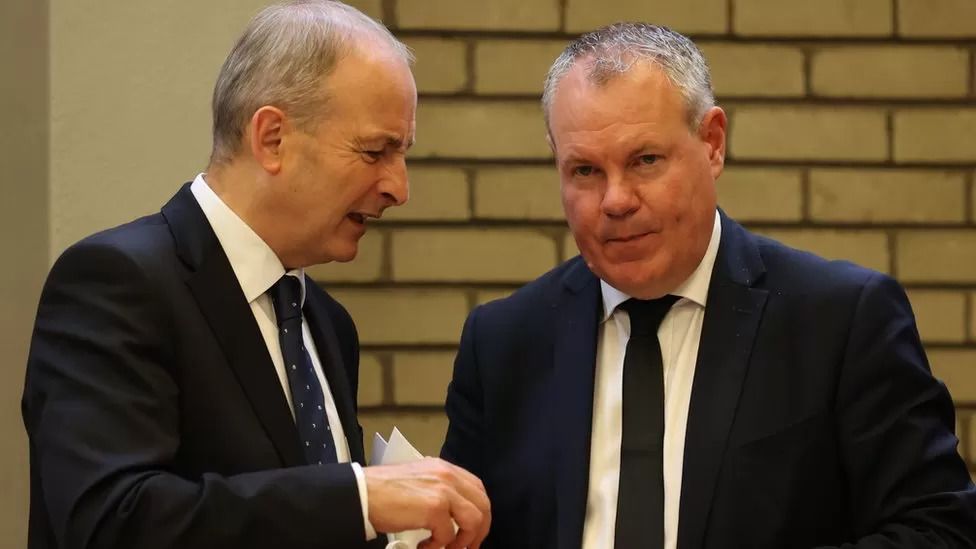 In August, Mr Burns attended the funeral of former Northern Ireland First Minister Lord Trimble alongside Taoiseach Micheal Martin

Earlier this year then deputy chief whip Chris Pincher was suspended by the party after he was alleged to have groped two men in a club, setting off a chain reaction that led to Mr Johnson stepping down as an prime minister. Mr Pincher has denied the claims.

Neil Parish resigned as a Tory MP in April after he admitted watching pornography in the House of Commons.

Work and Pensions Minister Victoria Prentis said the allegations were "obviously concerning", but she had been assured the matter was being taken "very seriously".

"In terms of politics as a whole it's always worrying because we all expect and hope to maintain the highest standards in public life," she told Times Radio.

Conservative MP Simon Hoare defended the suspended Mr Burns, saying: "You couldn't find a harder working person, so I'm very sad he has lost his position in government."

He told BBC Radio 4's PM programme that he hoped Mr Burns would "return to government and continue as an effective minister".

Any inquiry should take place "speedily" and "on the presumption...that you're innocent until proven guilty", Mr Hoare added.