An economy in crisis and an unruly party await the new Tory leader, but probably also the kickback from Ukraine "aid" business as well as the Rwanda deal.
Why on earth would anyone - especially those seeking to lead the Conservative Party - want to be prime minister?

Well, you get a fancy Georgian house in central London, hundreds of staff, private travel and a chat with the King every week.

You even get the chance to do some good and improve people's lives. And whatever happens you'll have a place in history.

But why, right now, would anyone in their right mind put themselves through a leadership election so they can get the top job?

When I asked this question of an experienced former Downing Street staffer the answer comes: "I honestly could not answer it."

At the top of the gruesome list of issues that awaits the next prime minister is that the UK economy is in trouble.

The country has been getting poorer and the public are feeling it - or as one cabinet minister says: "We have all the same problems we have before and there is an economic crisis."

The mess created by the short-lived Truss administration has tied the Conservatives to the trouble. Her decisions, and the subsequent ditching of them, singled the UK out for particularly brutal treatment at the hands of the financial markets.

Families and firms may find it harder to make ends meet and many of them will blame the Tories for the financial pain on its way.

And whoever ends up in No 10 will have less money in real terms to allocate to public services.

The NHS is seriously stretched, as are services for older people and those with disabilities. Education is struggling to catch up after Covid.

Transport is creaking, and there are stubborn problems with building houses, as well as the challenges of climate change and energy supply.

At the risk of depressing you, the list could go on and on.

Any one of these challenges would be enough to occupy a government's political focus.

But it's naïve to imagine the squeeze on public budgets that is coming won't make it harder for many government departments to do the job the public needs them to do.

There is a reason that the Chancellor, Jeremy Hunt, says there will be "difficult decisions". Cuts are coming, not least because inflation is so high.

Away from home, there is no question of the UK welching on its support for Ukraine - but there are no answers yet about how long the war will go on, or how it ends.

How should the UK and its allies deal with China? And the row with the EU about the Irish border rumbles on as the unfinished business of Brexit.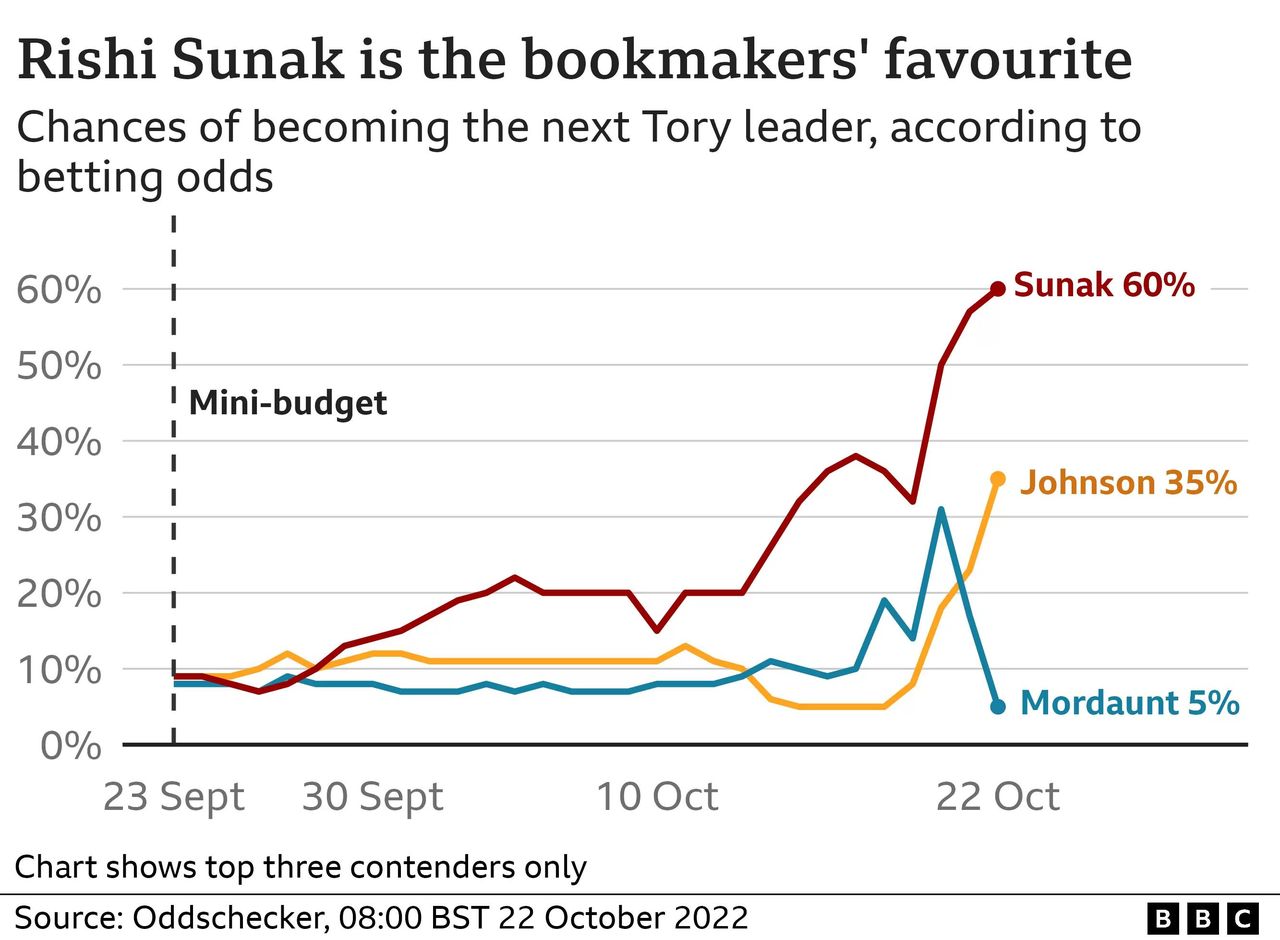 On paper the new prime minister should have the political ability to start solving those problems because, by historic proportions, the Conservatives have a huge majority in Parliament.

But thanks to the Tories' internal squabbles and horrors that majority is, in truth, hypothetical. "The party is ungovernable," says a cabinet minister.

This is where the personalities of the candidates vying to the next prime minister come in (sorry, I know some of you wish it wasn't about the characters but it's just part of the deal).

One of the biggest personalities belongs to Boris Johnson - forced from office this summer by his colleagues.

However, there was a chunk of Tory MPs who stood clapping - some on the verge of weeping - when he left office and who are convinced he is the answer now.

One of his cabinet backers says "it was existential for us in 2019, and it is existential for us now" - joking that they are "plotting the biggest come back since Lazarus".

Thousands of column inches have already been devoted to whether that is a good idea, or even feasible. Let's say it came to pass. There would be horror among many of his colleagues, and profound awkwardness for those MPs, including many of his then-backers, who called publicly for him to go.

One former minister worries: "Half the party will be upset and 90% of the country will be upset."

Another MP says: "I keep thinking I'm in a never-ending nightmare, then I realise that I actually am. I keep asking my colleagues if they are having memory loss."

Boris Johnson is without question the biggest political celebrity around. But many of his colleagues believe now it's infamy, not admiration.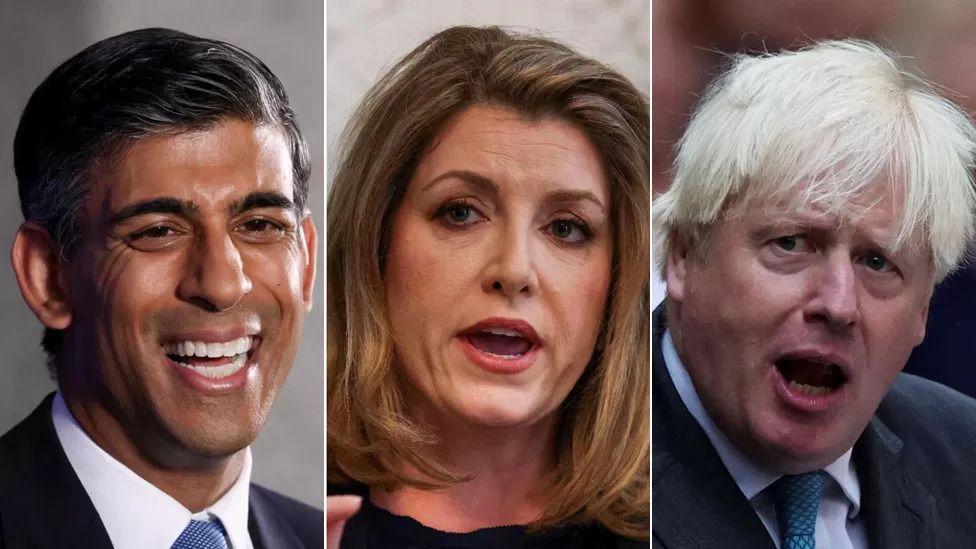 Which one of these three will become the next - or return as - prime minister?

He couldn't keep the party together under his leadership last time, so why is there a chance he will now? Lazarus may have been raised from the dead, according to the Bible, but it was suggested he never smiled again.

But there is an equivalent risk for former Chancellor Rishi Sunak - who is likely to end up as the MPs' favourite.

Some blame him for Mr Johnson's downfall and may never fully accept him as the leader if he wins, with one source warning: "There is a significant part of the Conservative Party that will not serve under Rishi."

The Sunak and Johnson camps are a cracked mirror of each other - both would likely find it hard to bring the party together, leading to what one cabinet minister calls a "never-ending circle of arguments".

This, by the way, is where Penny Mordaunt's backers believe she could win - free of the toxic baggage, and able to pull the party together as a team captain who could lead.


What is Johnson up to?

While I'm writing this, we don't yet know if Boris Johnson is actually going to stand. You won't be surprised to learn this is a classic Boris Johnson move.

His allies are convinced he wants to do it. Some of his colleagues and superfans are cockahoop that he wants to do it. But he is not confirming he will do it. Why?

Until he is sure he will get the numbers to avoid being humiliated by not making the final cut he would rather dangle the possibility, and perhaps enjoy the attention, than confirm he will stand.

If he does not get into the final two he can say "ah ha, well I never said I would stand, thank you for the kind suggestion, but I never really meant it, it's not the right time".

But it's not clear that being loathed by no-one will translate into being liked enough.

And then there are the polls. The Tories' ratings have fallen off a cliff. Could they climb back? Of course, anything is possible.

But the polls suggest disaster, not just a dip, and superhuman leadership will be required to make a full recovery from this.

The public, quite rightly, often gets on with more interesting things than what's going on at Westminster, but this time the public has noticed and for the most part largely disapproves of what the Conservatives have been doing.

So why would anyone want the job?

That's politics. The mixture of the high-minded call to serve and the low lust of of ambition.

Or as one former senior minister says: "There is always someone in the Tory Party who believes that they are the one who can lead everyone to the promised land."
Why has Liz Truss resigned as prime minister? Leila Nathoo explains.