These daily doses in democracy are dizzying.
Because while, each time, the electorate in the leadership contest - Conservative MPs - stays the same, the ballot paper changes.

So as a Tory MP supporting a particular candidate, that support has a sell by date - the point at which the person you have backed gets knocked out.

Then it's on to Plan B.

And dozens of Conservative MPs are considering their Plan B, or C, with each passing round.

There isn't another round until Monday. And before then there are TV debates, with their capacity to catapult or crush the reputation of the participants.

They take place at 19:00 BST on Channel 4 on Friday, then at 19:00 on ITV on Sunday and at 20:00 on Sky News on Tuesday.

The frontrunners have everything to lose. The outsiders everything to gain. So who knows what might happen?

But, with the colossal caveat inserted that some zinger of a thing might happen that revolutionises everything, let's explore the state of play right now.

With two rounds now done, the top three have stayed the same each time: Rishi Sunak, Penny Mordaunt, Liz Truss.

The working assumption of the various campaigns is Mr Sunak is likely to snaffle one of the two golden tickets to the final run off decided by Conservative Party members. That is assuming the debates do not inflict a mortal political wound.

So what about the contest for the other spot?

As I wrote previously, Team Truss think the "natural ceiling" of her parliamentary support is higher than Penny Mordaunt's, despite being beaten by her twice.

Now we have some evidence there might be something in their claim.

The Attorney General for England and Wales, Suella Braverman, knocked out in the second round, has told me she will now support Liz Truss. It's thought most of her supporters will follow suit.

One who definitely will is the formidable campaigner Steve Baker. And now, writing in the Daily Telegraph, the former Brexit minister Lord Frost has signed up to Team Truss too.

As a peer, Lord Frost doesn't have a vote in the parliamentary stages of this race, but he does have a suggestion. He argues it is time to unite the right of the party around Liz Truss, and that Kemi Badenoch should give up.

Just because he's suggested this doesn't mean it'll happen. In fact Team Badenoch say it won't and she's in it to win it. One source suggested he should have waited to see the debates on telly and then he might have reached a different conclusion on who to back.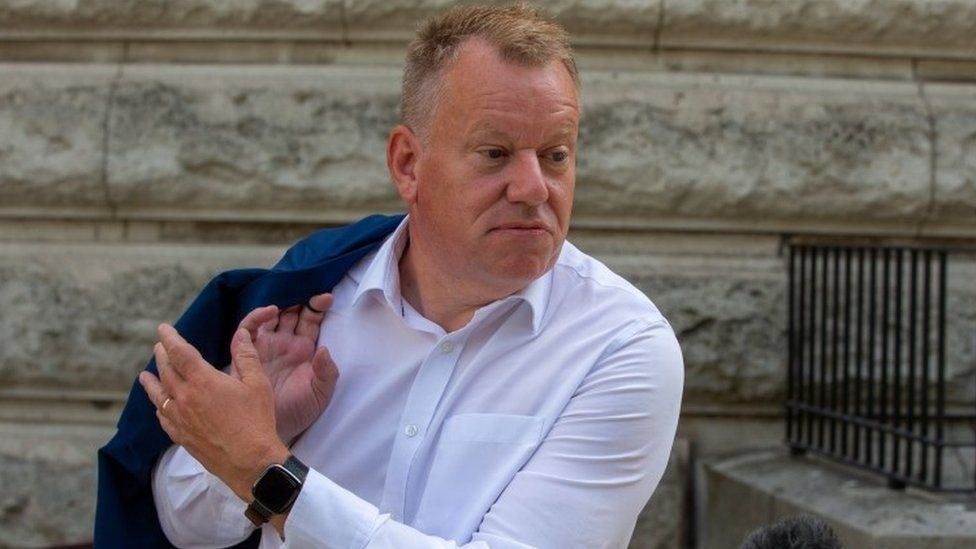 Former Brexit minister Lord Frost has signed up to Team Truss

But barring a transformational shift in support in the coming days, it seems unlikely Mrs Badenoch will make the final two and so it's reasonable to ponder where her supporters will move to if she is eliminated.

And while labels like "anti-woke" being attached by some to Kemi Badenoch and Penny Mordaunt being called "woke" by others are crude and simplistic, there is no doubt the two of them are some distance apart on issues of identity politics.

So how many supporters of Kemi Badenoch could perhaps switch to Penny Mordaunt? Maybe not a vast number.

And while there is still the question of where Team Tugendhat, another likely casualty of the early rounds next week, shift their loyalties to, you can begin to assemble an argument that points to Liz Truss being able to dislodge Penny Mordaunt from making the final two.

But, but, but: Penny Mordaunt has surprised many already and may do so yet again; her team have the effervescence and confidence that their candidate has a freshness, breadth and capacity to communicate none of her rivals have.

TV debates can be unpredictable. The scrutiny of all the candidates is about to crank up several notches; what might the Sunday newspapers be able to reveal?

And so round three on Monday seems a long, long way off.

Have a good weekend.