The race to be our next prime minister is reaching a crucial phase.
By Wednesday, the shortlist will have been whittled down to two by Conservative MPs, who will then be put to Conservative party members over summer.

There is a lot to play for in the next few days - and you could tell in the first TV debate.

Three things stuck out for me in the exchanges.

Firstly, the Conservative Party is keen to move on from Boris Johnson.

Although it's just eight days since Mr Johnson agreed to resign, the candidates to be his successor want the next chapter to start as soon as possible.

None of the five would say out loud that the prime minister was an honest man. Even Liz Truss, seen as closest to Mr Johnson and endorsed by his key allies, wouldn't say it.

Just over a week ago, four of the five would have been expected to come out to bat for Mr Johnson as members of the government. Politics moves on quickly.

Secondly, there is an important ideological debate among the candidates over tax, which sometimes boiled over in the exchanges between Rishi Sunak and Ms Truss.

Mr Sunak wants to portray himself as a fiscal realist. Ms Truss wants to be seen as a low tax Tory.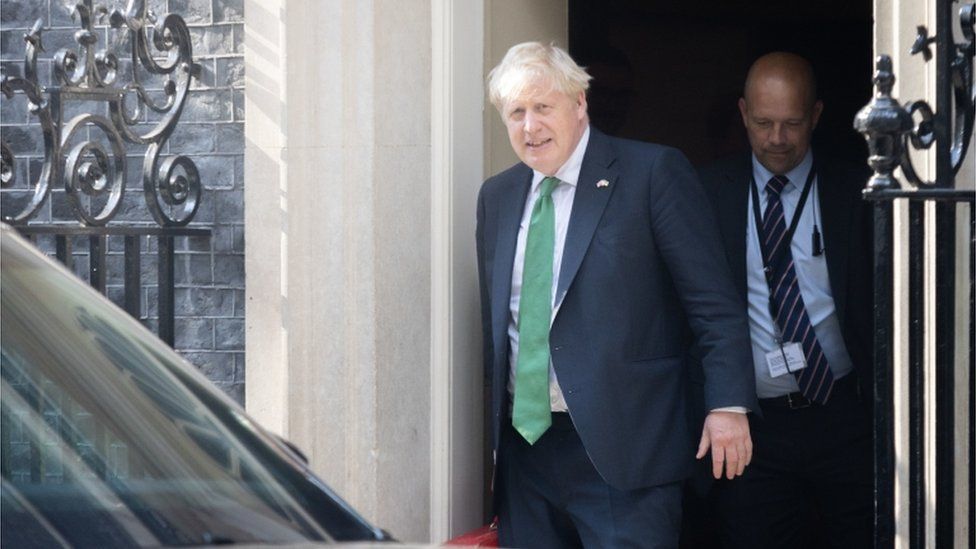 The candidates were asked about Boris Johnson's honesty during the debate

We saw a more combative, less robotic side to Mr Sunak, as he launched a defence of his economic stance.

He was highly critical of Ms Truss, saying her plans to cut taxes were a fairy tale and she should be more honest about the impact of her strategy to borrow money and pay back Covid debt over time.

Ms Truss criticised Mr Sunak for putting up national insurance and corporation tax when he was at the Treasury.

Tom Tugendhat also went in hard - when he accused Mr Sunak of saying he was only increasing National Insurance because the prime minister had told him to.

Penny Mordaunt's supporters say she wanted to rise above the squabbling on tax. But the risk is, she gets squeezed in a debate which could well define this leadership contest.

Third, we also saw tonight the divisions on self-identification for trans people in the Conservative Party aired very publicly.

Ms Mordaunt has faced questions over her position in the last few days. She tried to clear it up; saying legal changes to a person's gender identity can happen, but biological differences will remain.

She said she opposed changes when it comes to sport and trans athletes.

But Kemi Badenoch did not hold back, questioning Ms Mordaunt's account of her position when she was minister for women and equalities.

This did not feel like a friendly debate between colleagues in the same party. It felt like a fight for the future of the Conservative Party.

So where next?

Tory MPs expect Rishi Sunak to make it into the final two.

The race at the moment is to be the other candidate.

Until today, Penny Mordaunt had the momentum and seemed to be on the march. But Liz Truss's team are hoping that this debate may have changed that.

There is a lot for Tory MPs to mull over this weekend.