The Labour Party are "very clearly the favourites" to form the next government, pollster Sir John Curtice has told Tory activists in Birmingham.
New PM Liz Truss was now as unpopular with voters as Boris Johnson was when he was ousted, said Sir John.

And even if Labour's current double digit poll lead reduced before the next election in 2024, Labour were still likely to gain power, he suggested.

His analysis was greeted with dismay and cries of "wow" from activists.

The veteran pollster, who masterminds general election exit polls, said Labour already had a nine point lead in the polls when Ms Truss won last month's Tory leadership election and she had not enjoyed a honeymoon period.

Chancellor Kwasi Kwarteng's tax-cutting mini-budget just over a week ago - and the market reaction to it - had produced a 7% swing to Labour, he said.

"The truth is, whatever the merits of Liz Truss's package, it has resulted in very serious electoral damage to the Conservatives as an institution and to this new leader," he told the Demos fringe meeting.

The swing to Labour was similar in size to that seen on Black Wednesday in 1992, the first time the policies of a Conservative government had produced turmoil on the money markets.

If voters remembered the events of the past week when they go to the polls in two years' time, Labour could be on course for a three figure majority, said Sir John, even if Ms Truss's policies work as intended and produce economic growth.

In the event of a hung Parliament, opposition parties would be unlikely to prop up a minority Tory administration, he suggested, which made Labour clear favourites to gain power.

Tory activists received a similarly sobering message at an earlier fringe meeting, from pollster with links to the party.

Veteran US pollster Frank Luntz told them: "If you want to win, stop bitching, stop griping, stop complaining and get [it] together."

He said the party's MPs had to start communicating with voters in a language they understood, and talking about things which mattered to them.

He also took aim at defeated Tory leadership contender and former chancellor Rishi Sunak, who has opted to stay away from this week's conference.

"Where is Rishi Sunak? Why is he not here?" he asked the audience of Tory members.

If Mr Sunak was here he could "start to unify the party, you guys can go forward together," added Mr Luntz.

"When people don't even show up, what are the voters supposed to think?"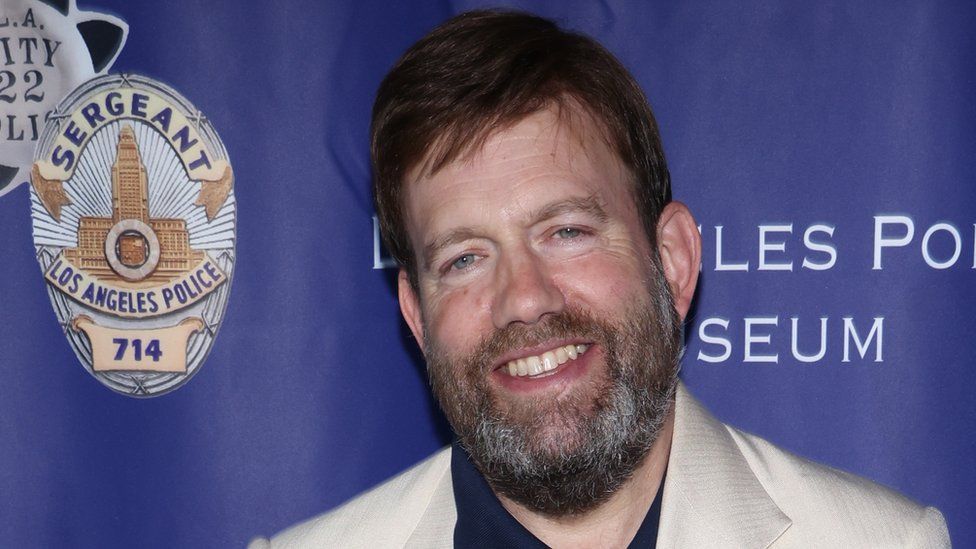 Frank Luntz is a friend of ex PM Boris Johnson and a longstanding Tory observer

In a scathing assessment of Liz Truss's first weeks in power, Rachel Wolf, who co-wrote the Conservatives' 2019 election manifesto, said the new prime minister had no mandate from voters or her own MPs for the "ambitious" Thatcherite agenda she was pursuing.

She accused Ms Truss of "appearing not to care" about the impact her policies will have on voters worried about the cost of living,

"People are feeling poorer," she added, and they don't think the solutions Liz Truss has come up with "make any sense".

Ms Wolf, co-founder of polling company Public First, and a former adviser to Michael Gove, picked apart Ms Truss's claim to be a strong leader in the mould of Margaret Thatcher, and not afraid of unpopular policies.

The crucial difference between the two, she argued, was that Lady Thatcher had an electoral and Parliamentary mandate for her policies and was capable of articulating them in way that resonated with ordinary voters.

"Thatcher was always a strong leader," she told the meeting, "but she was of the people, she spoke in their language".

Pursuing an "ambitious Thatcherite agenda" without a mandate was a recipe for disaster at the polls, she suggested, and she hoped Conservative MPs could at least start to demonstrate some unity and competence.

She also had a message for Sir Keir Starmer.

"People are voting against the government but they are not voting for Labour, That might quite possibly be enough but it is the thing I would be most worried about if I were him.

"The thing that always comes up with Starmer, and still does, is that he has no views, no ideas of his own."

Asked about the qualities needed in a modern leader, she said: "It's very hard to support a leader who is uninterested in, or despises, you.

"It's not whether they are strong, whether they have a view of their own, if they fundamentally don't seem to like their electorate very much, or don't think they are worth considering it's very hard to vote for them."