The outgoing Conservative leader of Monmouthshire council said the party was not currently in a position "to win the next general election".
Richard John said it "needs to move with urgency" to turn things around before the next election.

The Tories lost control of the council in Thursday's election and lost 44% of their council seats across Wales.

Welsh Conservative leader Andrew RT Davies blamed the cost of living crisis and Partygate on party results overall.

Mr John told BBC Politics Wales "I don't think the party is in a position right now where it's poised to win the next general election."

Responding to reports in January that Mr Johnson had attended lockdown parties, Mr John told BBC Wales there had been a "complete" breakdown in trust between the prime minister and the British public.
Move to the centre ground

"I haven't changed my position," said Mr John.

"I really do think the party needs to move with urgency to consider how we can make sure we're in the best place possible to win the next general election.

"We are not going to do it by appealing to the right, we've got to move to the centre ground.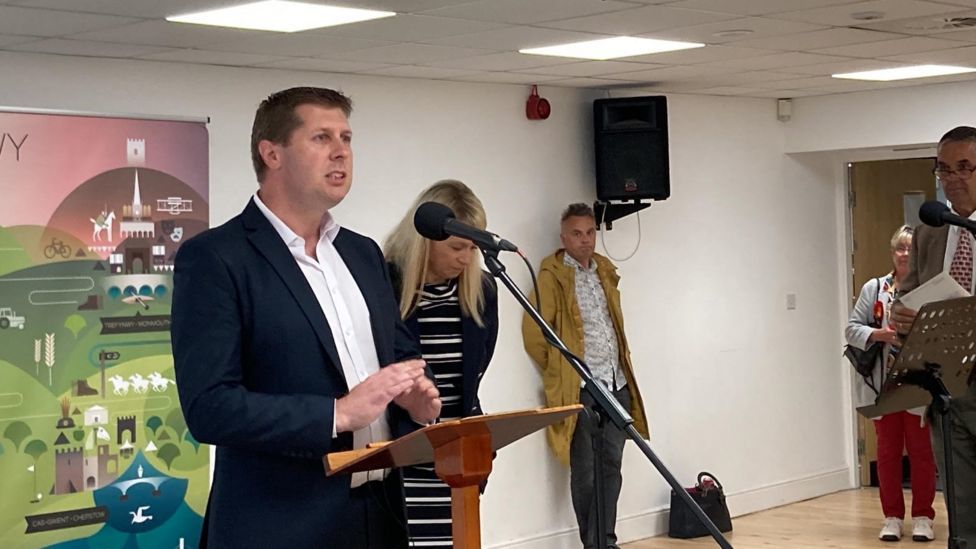 Richard John: "I don't think the party is in a position right now where it's poised to win the next general election"

"That compassionate agenda about appealing to families - what we're going to do to show that we're in touch and demonstrate that we understand the challenges that people are facing - I don't think the government is quite in that place right now."

Until Thursday, Mr John was the leader of Wales' only Conservative controlled council.

He took over as leader of Monmouthshire in 2021, following Peter Fox's election to the Senedd.

However, Friday's results meant the Tories lost overall control, slipping to second place behind Labour.
'Absolute faith in the integrity of Keir Starmer'

Meanwhile, Labour's hopes at the next general election could also take a blow if its UK leader, Keir Starmer, is found to have breached lockdown rules.

Durham police are investigating after Mr Starmer had beer and curry with colleagues last April - with calls for him to step down if he is fined.

Cardiff Council labour leader Huw Thomas said he believed Mr Starmer would resign if he was found to have broken the law.

"I have absolute faith in the integrity of Keir Starmer," he said.

"He maintains he's done nothing wrong and there has been one investigation.

"Let us see the results of the second investigation.

"If Keir is found to have done something wrong, he will resign, and for me that is the difference between him and Boris Johnson."

Labour managed to regain much of the ground it lost in Wales in the 2017 local elections with additional 66 council seats across Wales.

It regained overall control in Blaenau Gwent and Bridgend councils but it failed to retake Merthyr and lost control over Neath Port Talbot council over a local schools controversy.

Plaid Cymru made significant gains in its heartlands, taking overall control for the first time in Anglesey, Ceredigion and Carmarthenshire councils.

It also trebled its number of councillors in Wrexham - taking nine of the 56 seats there.

But Plaid Cymru lost nine councillors in Rhondda Cynon Taf, including the former council leader Pauline Jarman - in an authority where it had overall control 20 years ago.

Anglesey council's Plaid Cymru leader, Llinos Medi, saw the party gain five extra sets to take overall control of the authority.

She said the message for the party in the rest of Wales was to focus on candidate selection.

"We had 24 candidates who wanted to be councillors and they were all firm, firm candidates and varied from 27 years of age to 80 years of age," she said.

"We were the group of people that were able to represent our society, and we were then sending a positive message on the doorstep - and that's how we've done it."