Participants had lost their antibody protection against symptomatic infection of Covid-19 since taking their initial jabs, but one medical expert says decline is no cause for alarm and booster shots should go to the immunocompromised and elderly.
Several top advisers to Hong Kong's leader have joined a study examining how people fully inoculated against Covid-19 respond to a third dose.

The antibody levels in some participants were almost non-existent more than half a year after they received their initial jabs, but one leading medical expert said on Friday that any booster shot programme should prioritise the immunocompromised and elderly.

The city also confirmed three new cases, all imported and involving arrivals from Qatar, Germany and the United Arab Emirates, while fewer than five people tested preliminary-positive.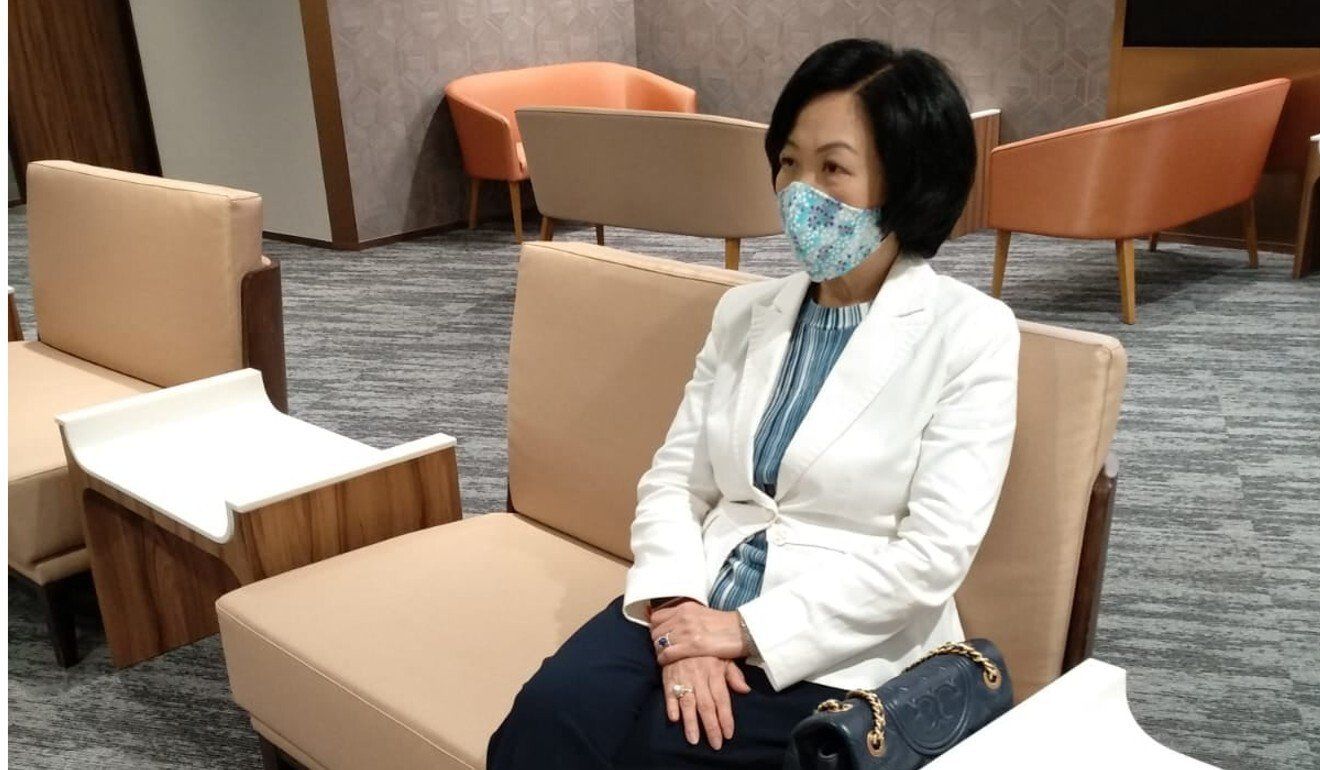 Regina Ip takes part in the clinical study at the Hong Kong Sanatorium and Hospital on Thursday.

Additionally, current health director Dr Constance Chan Hon-yee, who has been in the role since June 2012, will go on leave ahead of her retirement. Dr Ronald Lam Man-kin, controller of the Centre for Health Protection, will take over on Tuesday, while Dr Edwin Tsui Lok-kin, previously controller of the Centre for Food Safety, will take up Lam's role in early October.

Regina Ip Lau Suk-yee was among the members of the chief executive's de facto cabinet, the Executive Council, taking part in the research conducted at the Hong Kong Sanatorium and Hospital in Happy Valley.

The participants were given the choice of staying with the same brand of vaccine as their first two shots or switching to a different one. Hong Kong offers shots by Sinovac, made in mainland China, and BioNTech, produced in Germany.

"It is worthwhile to help [contribute] data on the third shot," Ip said, noting current information on the subject was limited. "I also want to find out the results of mixed shots."

Ip and two other Exco members the Post contacted chose BioNTech for their latest jab.

They said their antibodies used to guard against symptomatic infection had already fallen to undetectable levels after receiving Sinovac jabs in February.

Ip, who is also a lawmaker and chairwoman of the New People's Party, said that following the administration of her third dose on Thursday, she would need to undergo five blood tests to monitor her physical condition.

The other Exco members who had joined the study were Chow Chung-kong, Fanny Law Fan Chiu-fun, Joseph Yam Chi-kwong, Dr Lam Ching-choi and Wong Kwok-kin, according to Ip.

Lam also dismissed suggestions that the lack of neutralising antibodies was a cause for concern.

"I'm not worried," he said. "A drop in antibodies happens with almost every vaccine, including Sinovac and the BioNTech jabs. It does not mean the vaccines do not offer protection, as T cells and other memory cells also help protect us."

Lam expressed hope his participation in the study could improve public understanding about inoculations.

"As the first doctor in Hong Kong vaccinated with a Covid-19 vaccine… I felt obliged to be a guinea pig to enrich the data on the third dose of Covid-19 vaccine," he said, adding he chose to go with the alternative brand, BioNTech, this time around.

Wong, who received his latest jab on Friday, said individuals who were vaccinated months ago and had lost most of their antibodies might want to take a third shot as a safeguard.

"To play safe, it is better to get one more shot," Wong said. "And as this is a trial, participating in it is also a contribution to society."

But government pandemic adviser Professor David Hui Shu-cheong questioned the need for booster shots for people who were generally healthy. While higher antibody levels could help reduce the risk of symptomatic infections, their waning after Sinovac shots was consistent with data previously reported on the mainland, which had found levels were undetectable six to eight months after taking the jabs, he noted.

"They still have T cell responses, which can protect them from death or severe conditions," Hui said.

Healthy individuals whose antibodies have significantly dropped following vaccination should not be given priority for third shots, said Hui, who chairs one of the scientific committees under the Centre for Health Protection.

"Priority should be given to immunocompromised people, such as those who have undergone organ or bone marrow transplant, followed by the elderly," he said.

The Sanatorium said its clinical study was approved by its research ethics committee and the Department of Health. The findings would be released in due course.

Additionally, compulsory testing notices would be issued to the Aigburth in the Mid-Levels and a unit at the International Commerce Centre in Tsim Sha Tsui – the residence and workplace of one of Friday's new cases.

Two overseas Covid-19 cases were also being investigated by the health authorities. The first involved a 36-year-old man who travelled to the United States in mid-August and tested positive later that month. He flew back to Hong Kong last week after testing negative, but tested positive again.

The second case concerned a 16-year-old student who travelled to Britain on September 6 and was tested positive there. Their residences and places of work or study have been included in a compulsory testing notice.

The overall tally of infections stood at 12,152, with 213 related deaths.

Meanwhile, the Labour and Welfare Department said it would temporarily suspend on Sunday its quarantine booking arrangements for domestic helpers arriving from overseas after receiving many complaints from employers and recruitment agencies.

All 800 quarantine rooms at the government-run facility dedicated for the helpers were snapped up within minutes after an online reservation platform launched on Tuesday.

Those unable to secure accommodation at the Penny's Bay quarantine facility were able to try for 50 new slots at 9am Friday, for stays beginning on October 20.

"After how the arrangement went this morning, many users have expressed their opinion and do not want to wait every day for new slots to open up [due to inconvenience]," the department said.

Further details would be announced later after the government completed a review of the current arrangements for the quarantine system for foreign domestic helpers arriving from the Philippines and Indonesia, it said.