The chocolate bar, which was first sold in the Swiss capital of Bern in 1908, will now feature a generic peak on its branding, rather than the Matterhorn, as well as a different typeface, and will feature the words "established in Switzerland".
Toblerone is to lose the image of the Matterhorn mountain peak from its branding due to a change in where it is made.

The chocolate bar, consisting of nougat, almonds and honey, will now be mostly made in Slovakia, meaning due to strict rules about the use of Swiss iconography it has to drop its classic logo.

Under Swiss law, only milk-based products entirely produced in Switzerland can use national symbols in their marketing.

The 4,478-metre-high (14,690ft) Matterhorn is in the Swiss Alps, with its near-symmetrical peak mimicking the triangle-shaped chunks in a bar of Toblerone.

Instead, the peak of a more generic mountain will be used, according to its US owner, Mondelez.

Not only will the mountain on the packaging change, there will also be a new typeface, and it will feature the signature of its founder, Theodor Tobler.

A Mondelez spokesperson told Sky News: "To respond to increased demand worldwide and to grow our Toblerone brand for the future we are continuing to invest in innovation across our Toblerone portfolio, marketing and production.

"As part of this, an evolved visual identity is being unveiled through updated packaging that includes a distinctive new Toblerone typeface and logo that draw further inspiration from the Toblerone archives and the inclusion of our founder, Tobler's, signature."

"Bern is an important part of our history and will continue to be so for the future."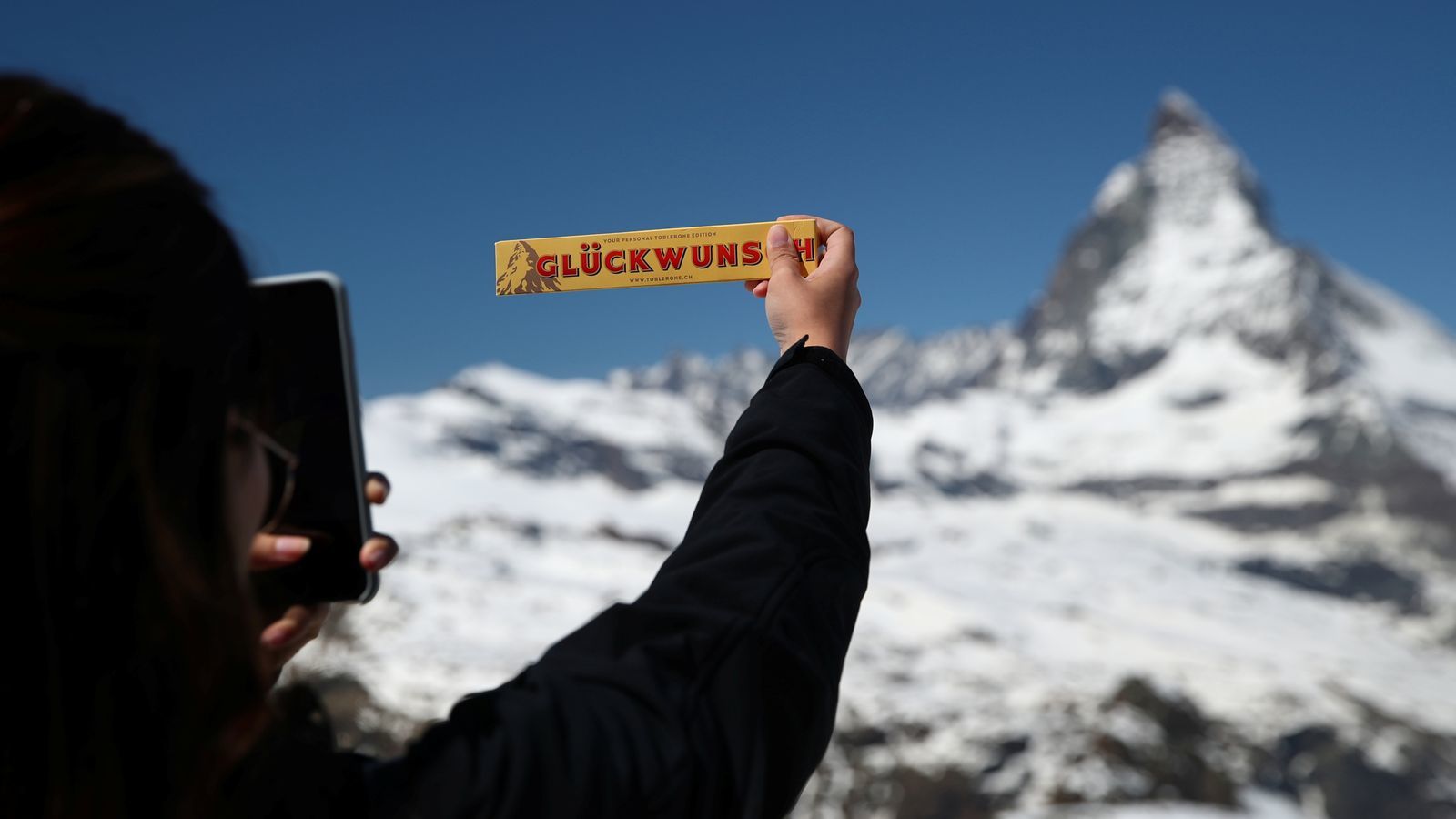 The bar first went on sale in the Swiss capital of Bern in 1908, with the company remaining independent until 1970, when it merged with the company that made Milka.

It was ultimately bought out by Kraft, and later spun off to Mondelez in 2012, which also makes Ritz crackers and Green & Black's chocolate.